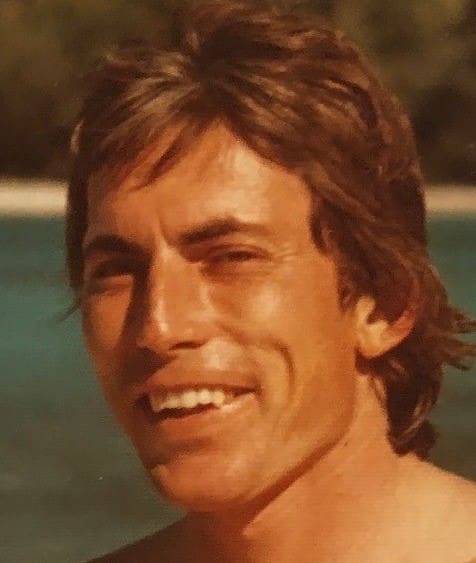 Eric Leslie "Ricky" Simmons Jr., 74, died on March 9, 2021, on St. Thomas, USVI.  He was born in Chicago, Illinois, to Eric L Simmons and Virginia Cowan Simmons on April 3, 1946.
As a young child, Ricky came to live on St. Thomas with his paternal grandparents, Captain Engle L Simmons and Estelle Vanterpool Simmons.  Captain Engle Simmons and his wife emigrated to St. Thomas, from Saba in 1919, and raised their six children on the island. Capt. Simmons was harbormaster of St. Thomas for much of his career.
Ricky grew up in downtown Charlotte Amalie and graduated from Charlotte Amalie High School.  He attended the University of Illinois in Champaign-Urbana, Illinois, and received a Bachelor of Architecture degree in 1970.
During the 1970s, Ricky and his wife, Carole Di Gangi Simmons, and their good friend, Willie Wilson, of St. Thomas enjoyed traveling across the United States, Mexico and Central America, and they worked in Lima, Peru, S.A.
Ricky enjoyed architecture, painting and creative expression with photography.  He loved the waters around St. Thomas, and he liked to swim, surf and Scuba dive.
Ricky eventually retired to St Thomas. He is survived by his sister, Nancy Simmons Green (Roy), of Fort Myers, Fla.; half-brothers: David Simmons and Greg Simmons, of Chicago, Ill.; niece, Laura G. Shrable (Kevin) of Bella Vista, Ariz.; niece, Dr. Victoria Simmons (Matt Garrity) of Grosse Point Park, Mich.; nephew, Thomas Simmons of Crofton, Md.; and his uncle, Allan E Simmons (Barbara) of Elmhurst, Ill.; as well as numerous cousins who are descendants of the Captain Engle and Estelle Simmons family.
He is remembered and missed by his family and his dear friends: Willie Wilson and Karen Bertrand of St. Thomas.  We all share their love for this special island home of St. Thomas.