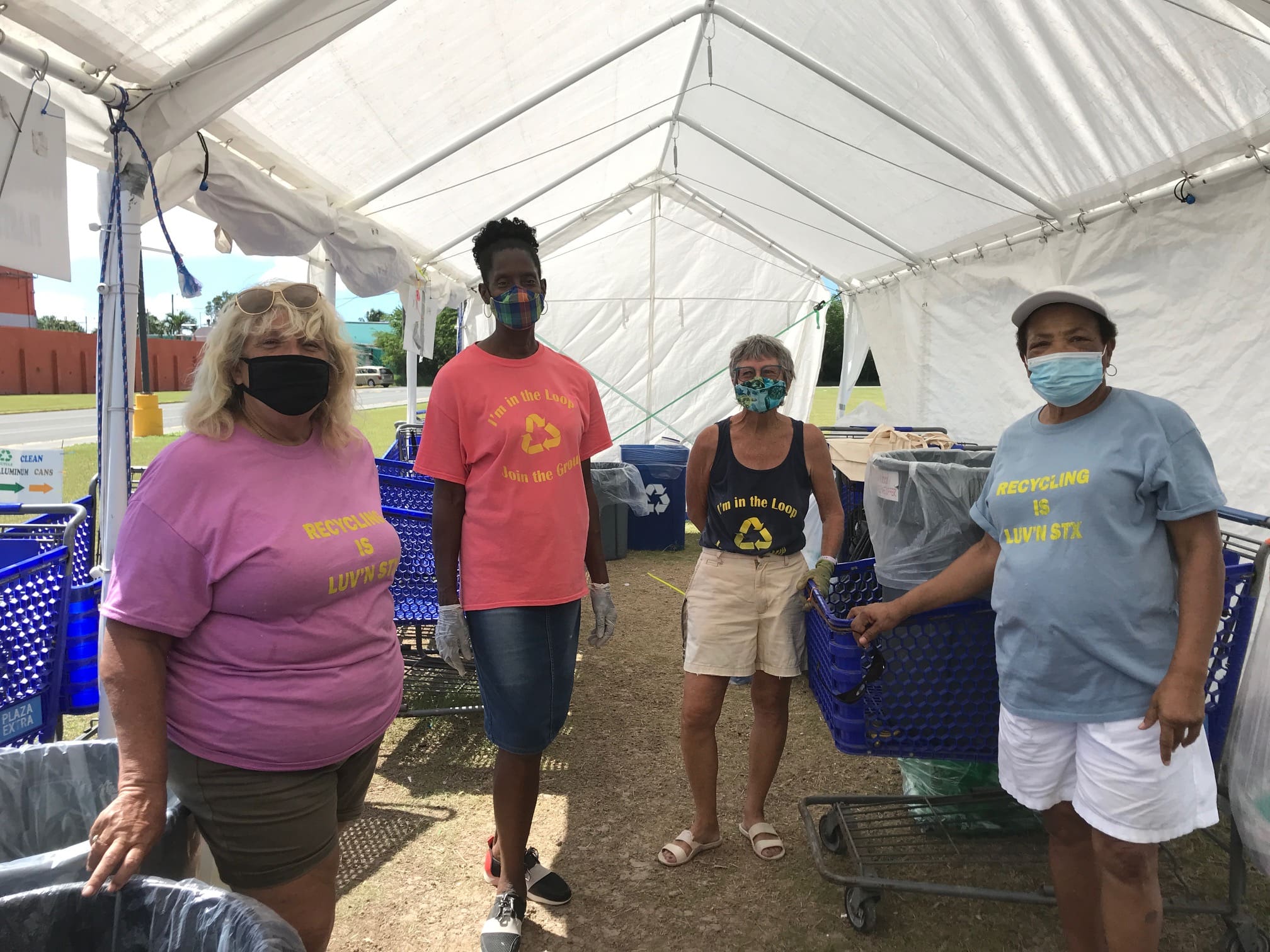 Crucians came back in full force in May of this year and began recycling plastics again every Saturday morning, 9 a.m. to 12:30 p.m. Santa made his appearance Saturday loaded with gifts for children and families as they took photos.
Diane Brooks and her late husband Gary organized the volunteer plastic-recycling project as a three-month trial in 2018. Mafi Hamed of The Market, formerly Plaza West, gave the go-ahead at the end of the trial, and its success has drawn residents island-wide in the pursuit of a plastics-free landfill.
The Brooks couple flew to Miami at the inception of the project to "learn the ropes" of recycling. Hamed has been recycling cardboard and plastic for six years and is experienced in the process. The plastic is baled on St. Croix, and the continuation of the recycling process happens in Miami, Brooks said.
The drawbacks of Gary's illness and ultimate passing and the Covid pandemic brought the project to a temporary halt. Diane and Hamed were determined to restart the project. With volunteers at Brooks' side, she is at it again early Saturday mornings until 12:30 p.m.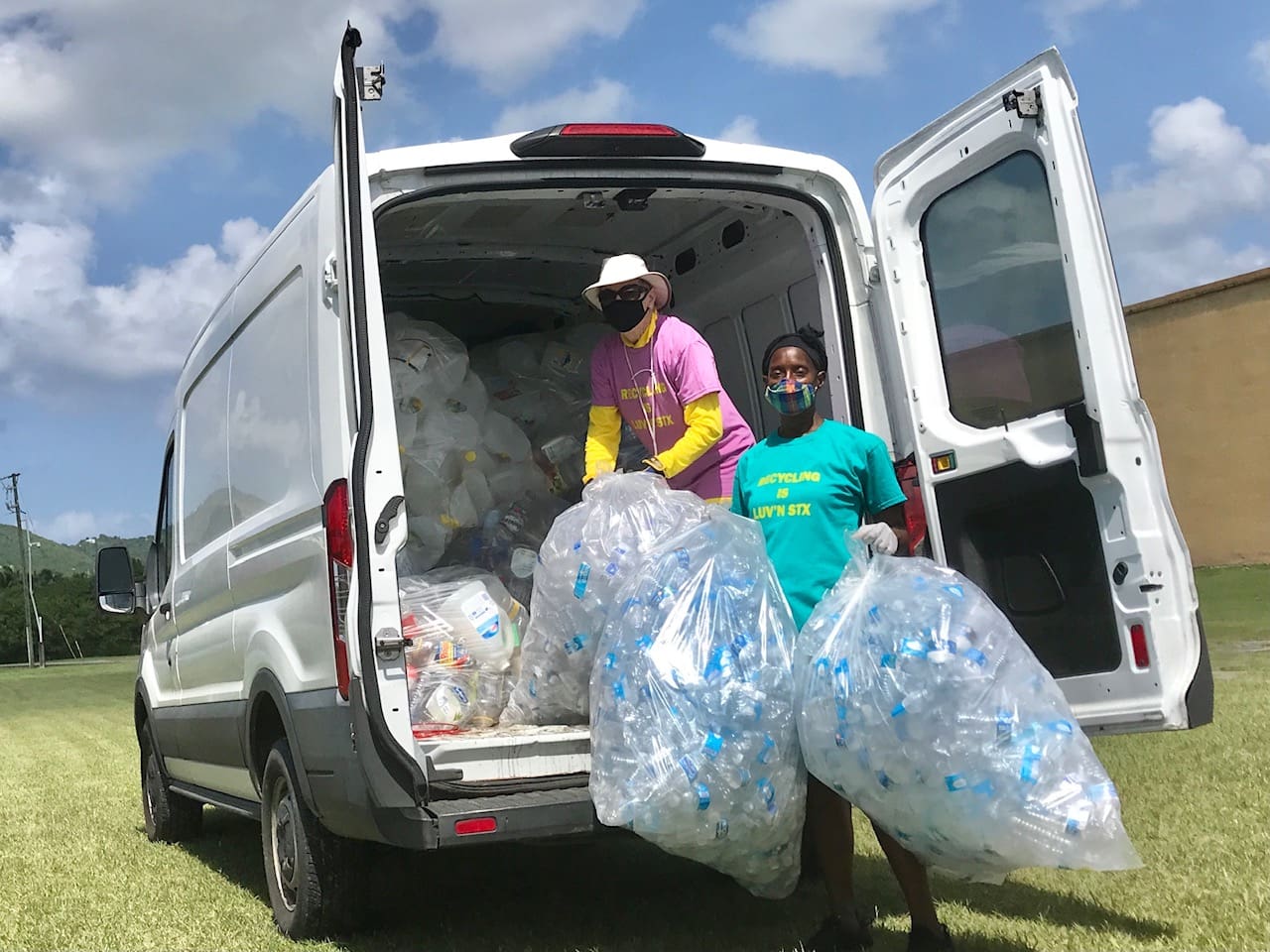 "It takes 48 bales of plastic to fill a trailer. Once a month to 45 days, the trailer leaves the island filled with 48 bales of the conscious efforts of our island people," Brooks said.
Aluminum cans are also being recycled. Like the bottles, they must be rinsed before dropping them off. It takes more aluminum to fill a bale because they are much smaller than the bottles, Brooks said.
The recycling team works well past 12:30 p.m. as cars drive up at the last minute with their contribution of plastic-filled bags. It's a good sign that the project has not skipped a beat, even with the Covid pandemic hiatus. Crucians are serious about keeping plastics out of the landfill.
Brooks and her volunteers have progressed from two carts to a row of 10-12 carts, where bottles are sorted according to the variety of juice, water, and other liquids. Now, residents do their own sorting. "They know the drill," Brooks said.
"Hamed gives canvas shopping bags printed with 'The Market' to the residents who come out and recycle."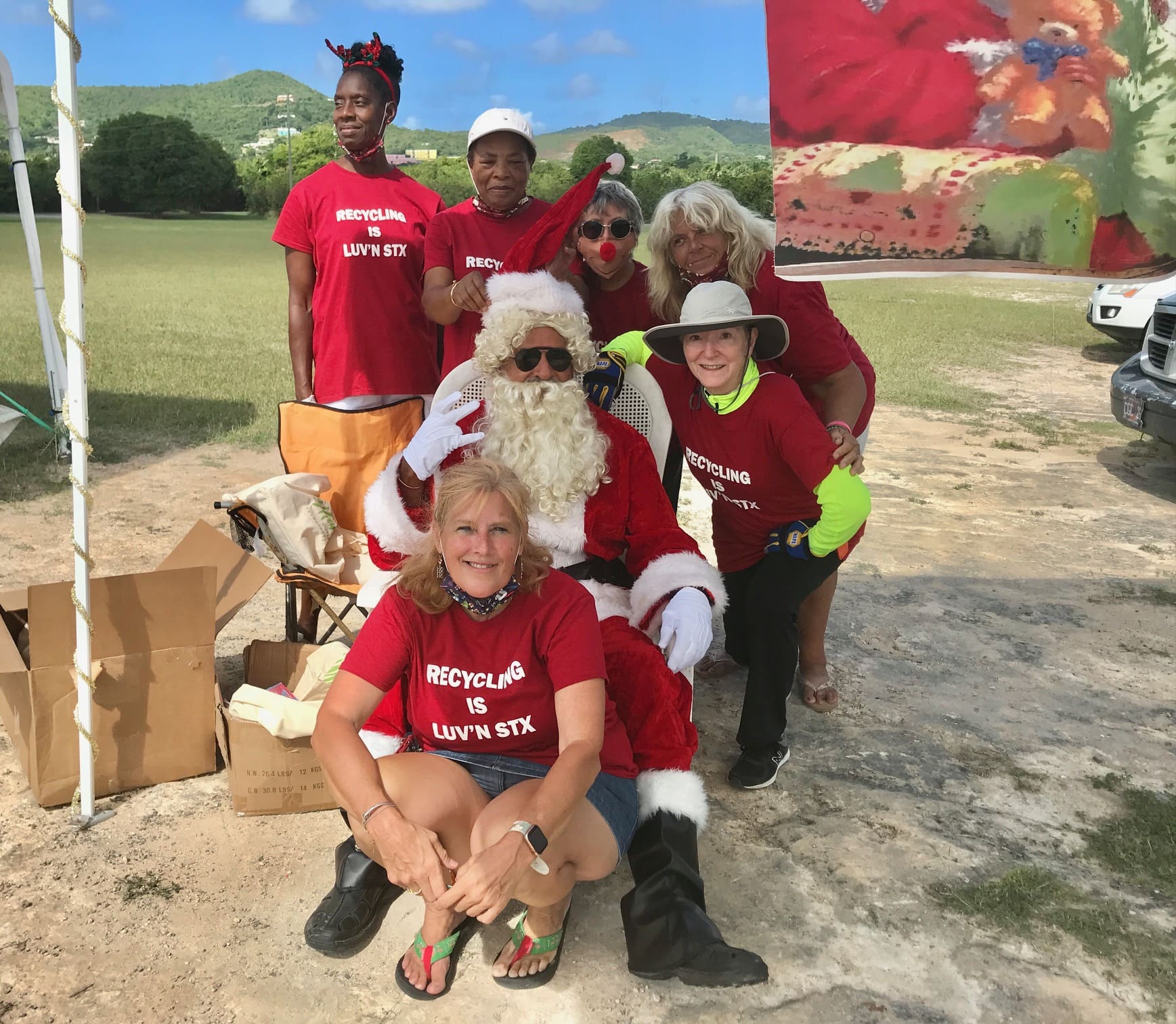 Brooks' idea for Santa's visit to the site was a success. Families came out for a photoshoot with Santa. The children were given a canvas shopping bag printed with "The Market" on one side and "LUV'N STX" on the other. Each bag was filled with a double stainless steel water bottle, a T-shirt printed with the map of St. Croix and a dolphin, a coloring book with detailed images of St. Croix and sea animals, and a candy cane. Each parent received an insulated bag from The Market.
The Market and LUV'N STX collaborated and were responsible for the gift items.