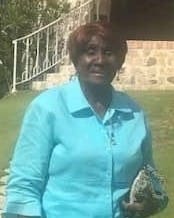 Shirley Alexander, also known as "Miss Shirley," of Estate Mount Pleasant died July 22. She was 85 years old.
She was preceded in death by her mother, Beatrice Primas; father, Dorville Primas; brothers: Leonard Primas and Roderick Primas; nephews: Max Constable and Grantley Constable; niece, Patsy Gibson; and special friend, Mary Gumbs.
She is survived by her stepdaughter, Cheryl Theodule; spiritual daughter, Francisca Williams; sons: Steve Alexander and Wayne Glasgow; grandchildren: Stefan Alexander, Dahlia Alexander, Necole Glasgow Sealey, Shendonah Lewis Glasgow, Dawyne Glasgow, Dwon Glasgow, Geomar Glasgow and Tyre Glasgow; step grandchildren: Chivonne, Amoy and Dalia; 21 great-grandchildren; and two great-great-grandchildren.
She is also survived by sister, Christine Constable; nieces: Susan Constable, Monica Thomas, Marlon Constable, Cheryle Constable and Richard Constable; nephews: Sherwyn Constable and Anthony Primas; daughters-in-law: Nadine Glasgow and Cheryl Lewis; and ex-husbands: Claudius Alexander and Kenneth Glasgow.
Other survivors include special friends: Veronica Charles, William Philgence, David Degazon, Lystra Copel, Miss Harris, the Cuffy Family, the Jackson Family, the McAlpin family, the Rivera family, the Moore family (Trinidad), Christine Smith, Mrs. Straun, Elodia Davis, the Taylor family, the Estate Mount Pleasant community and former coworkers at Woolworth Sunny Isle; as well as other relatives and friends too numerous to mention. A special thank you to bus drivers and staff at Vitran.
There will be a viewing held at 9 a.m. followed by a funeral service at 10 a.m., Tuesday, Aug. 9, at Sunny Isle Church of Christ. A private cremation will follow.