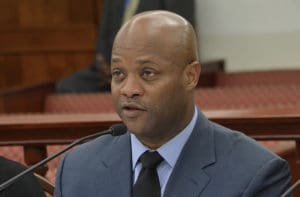 James Crites, CEO of Merchants Commercial Bank (MCB), announced Thursday, Sept. 1, the appointment of Valdamier ("Val") Collens as president of the bank.
Most recently, Collens served as senior vice president, U.S. Virgin Islands Region Director, of FirstBank providing leadership, strategic direction and management of commercial, mortgage and consumer lending and loan portfolios; retail branch operations; and electronic banking operations.
He offers more than 30 years of providing leadership and sustainable changes in processes, systems, fiscal management, auditing, compliance monitoring, and information technology in the private and public sectors. Collens earned his M.B.A. from the Harvard Business School in 1998 and has been a New York State Certified Public Accountant for more than 25 years.
"Val is a born leader, whose diverse and extensive prior experiences position him to ensure that we maintain the level of service that our clients have come to expect as we continue to grow. We are pleased to have him join an already strong executive team to oversee the enterprise as we advance into our next phase of development," said Crites.
Considering the challenging business, economic and regulatory landscape, "it is important that we continue to develop dynamically the range of services offered by building on MCB's strong points: exceptional customer service, highly committed staff and timely localized decisions to current and future customers," said Collens.
MCB is the only Virgin Islands chartered, FDIC-insured commercial bank serving the Virgin Islands community. Based on St. Thomas, U.S. Virgin Islands, but also serving St. John and St. Croix, MCB works with businesses and individuals to craft financial solutions that fit their unique circumstances. Visit Merchants Commercial Bank online at www.merchantscommercial.bank for more information and a summary of our products and services.