The Lady Rover Soccer Club ("Lady Rovers SC")  is hosting a free, family movie night on Saturday, Oct. 15, at the AYSO Facility (the field located near the Alfredo Andrews Elementary school) starting at 6:30 p.m. The free event will feature Hocus Pocus 2.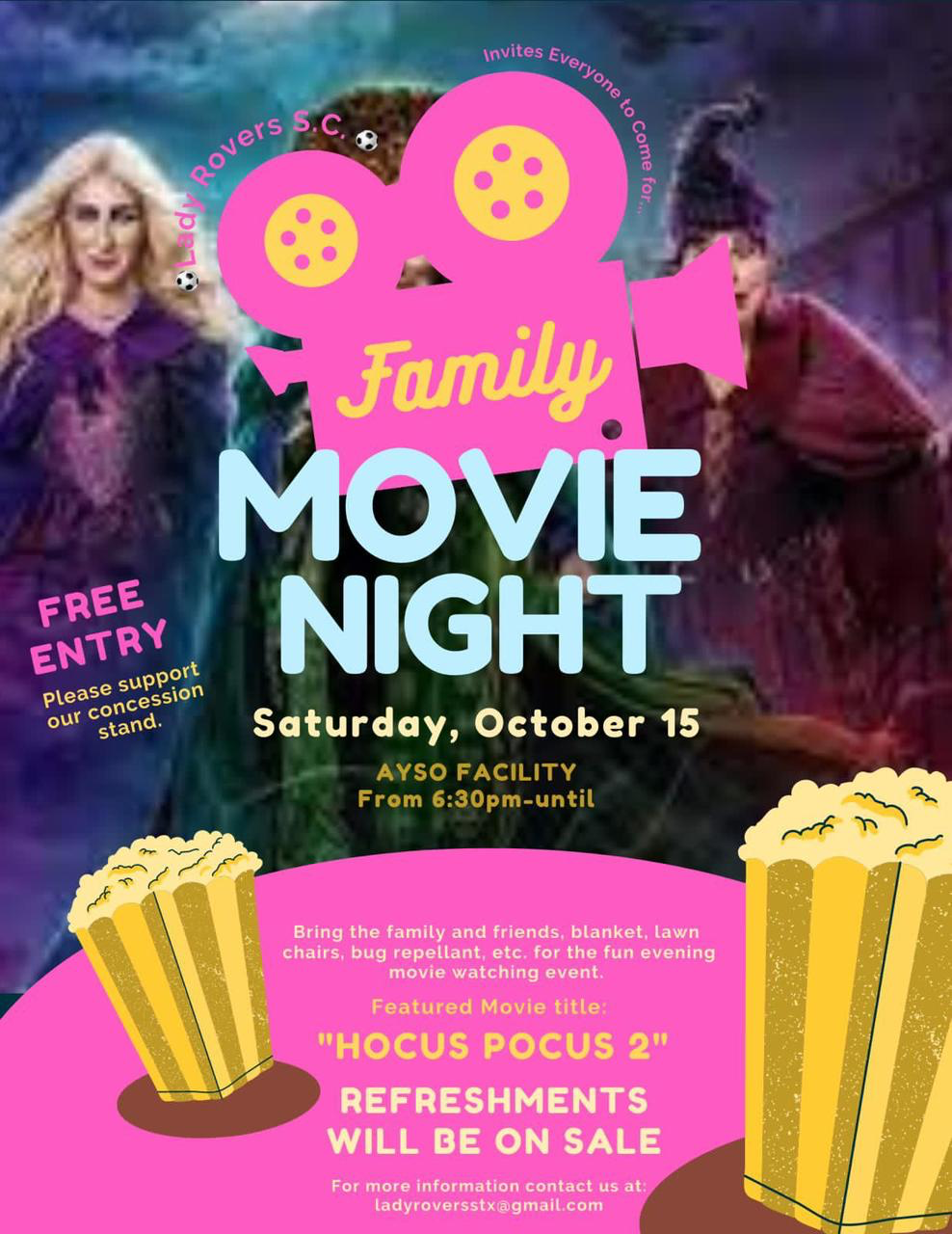 During the free "Family Movie Night," the concession stand will be open, and refreshments will be on sale, including popcorn, hot dogs, drinks, chips, and other snacks. As this event will be on the open lawn at the AYSO facility, Lady Rovers SC is recommending family and friends bring a blanket, lawn chairs, and bug repellent to be most comfortable.
As described on Disney +, Hocus Pocus 2 is a PG-rated, live-action comedy. It is a "haunting sequel to the 1993 Halloween cult classic, which brings back the delightfully wicked Sanderson sisters for more comedic mayhem. It's been 29 years since someone lit the Black Flame Candle and resurrected the 17th-century sisters, and they are looking for revenge. Now it is up to three high-school students to stop the ravenous witches from wreaking a new kind of havoc on Salem before dawn on All Hallow's Eve," stated on DisneyPlus.com.
Lady Rovers SC is a newly established branch of the Men's Rovers SC Club located in St. Croix, U.S. Virgin Islands. Their greatest focus is the development, growth, and advancement of women's and girls' soccer in the U.S. Virgin Islands. Currently, they have three running divisions:
Under 10 girls' team
Under 15 girls' team
Women's team
They also have plans to expand to an Under 17 girls team as the program grows. Lady Rovers SC, a nonprofit, is led by Coach Mackiesh Taylor-Jones and Coach Zauditu Kaza-Amlak, volunteer assistant coaches, and a team of dedicated parent volunteers. Their goals are to introduce foundational soccer and life skills, such as building healthy relationships, communicating effectively, and empathizing with others through their soccer program.
In order for the Lady Rovers SC to revive soccer for young girls and women, they are actively fundraising with events such as "Family Movie Night." For this upcoming season, contributions will exclusively allow members of the club to participate in training programs, league games, and local and domestic tournaments while covering equipment, uniforms, training fees, insurance, travel costs, tournament entry costs, nourishments and other expenses. All donations are tax-deductible.
For more information or to donate to the youth at Lady Rover Soccer Club, contact LadyRoversSTX@gmail.com.