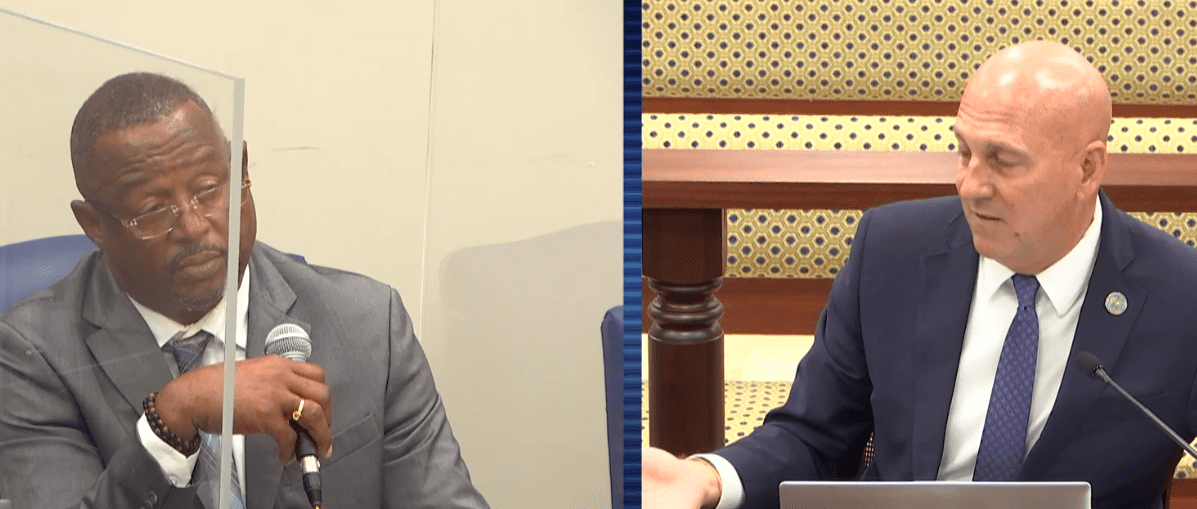 Daryl Jaschen, director of the Virgin Islands Territorial Emergency Management Agency, told members of the Committee on Homeland Security, Justice, and Public Safety Friday that government agencies learned bitter lessons from the hurricanes of 2017.
He said, "Many government agencies have used this time and lessons learned to build more resilient organizations, acquire technology enhancements, and train their staff." And he added, "As a territory, we are much stronger."
As for specifics, he mentioned that his agency had purchased and activated 30-satellite phones and over 40 handheld mobile radios, as well as provided a dedicated radio channel for the core Emergency Management Council.
He also mentioned the purchase of 10 emergency generators, about which senators had questions. Sen. Marvin Blyden wanted to know where they were. Four of the generators are located on St. Thomas, four on St. Croix, and two on St. John. Sen. Kenneth Gittens wanted to know if all police stations had emergency generators. He said the station in Frederiksted was recently in the dark. Jaschen responded there had been some problems with the automatic switches at some sites.
Jaschen said, based on experiences from hurricanes Irma and Maria, VITEMA has been focusing on emergency temporary power, port openings (sea and air) operational integration, commodity distribution, sheltering, emergency feeding, public warning, and communication plus debris management, and other areas.
According to Jaschen's testimony which came in at 19 close-typed pages, St. Croix shelters can take 792 people; St Thomas evacuation shelters can hold 869 individuals. The St. John shelter has a capacity of 15 individuals.
Sen. Blyden said it was "hard for him to swallow" that shelter capacity on St. John was only 15 on an island with a population of 5,000.
Sen. Angel L. Bolques, Jr., chaired the hearing, his first chairmanship since replacing Steven Payne. Its announced purpose was "to receive updates on the Strengths Weaknesses Opportunities and Threats (SWOT) of all projects and programs related to Hurricane Preparedness."
Jaschen said VITEMA's strengths were staff — a good team of skilled people, and coordination abilities — coordinating within the agency even though it is geographically challenged.
He listed weaknesses as finding and retaining qualified staff and lack of redundancy. Employees do not share what they learn or know. The biggest threat, according to Jaschen, is employee loss/shrinkage due to the inability to pay competitive wages.
Bolques said he was impressed with the testimony, but the one thing he did not hear was the concern for the mental well-being of those survivors of a disaster who might have lost everything.
Several senators expressed concern over the blue tarps used for homes that have been damaged or have no roofs. Jaschen said VITEMA did not have an inventory of the tarps that come from FEMA. He added that he did not know how long they lasted. He agreed with senators who said that the tarps were supposed to be temporary solutions, not permanent ones.
Also attending the meeting were Sens. Dwayne DeGraff, Novelle Francis, Javan James, Franklin Johnson, and Alma Francis Heyliger.