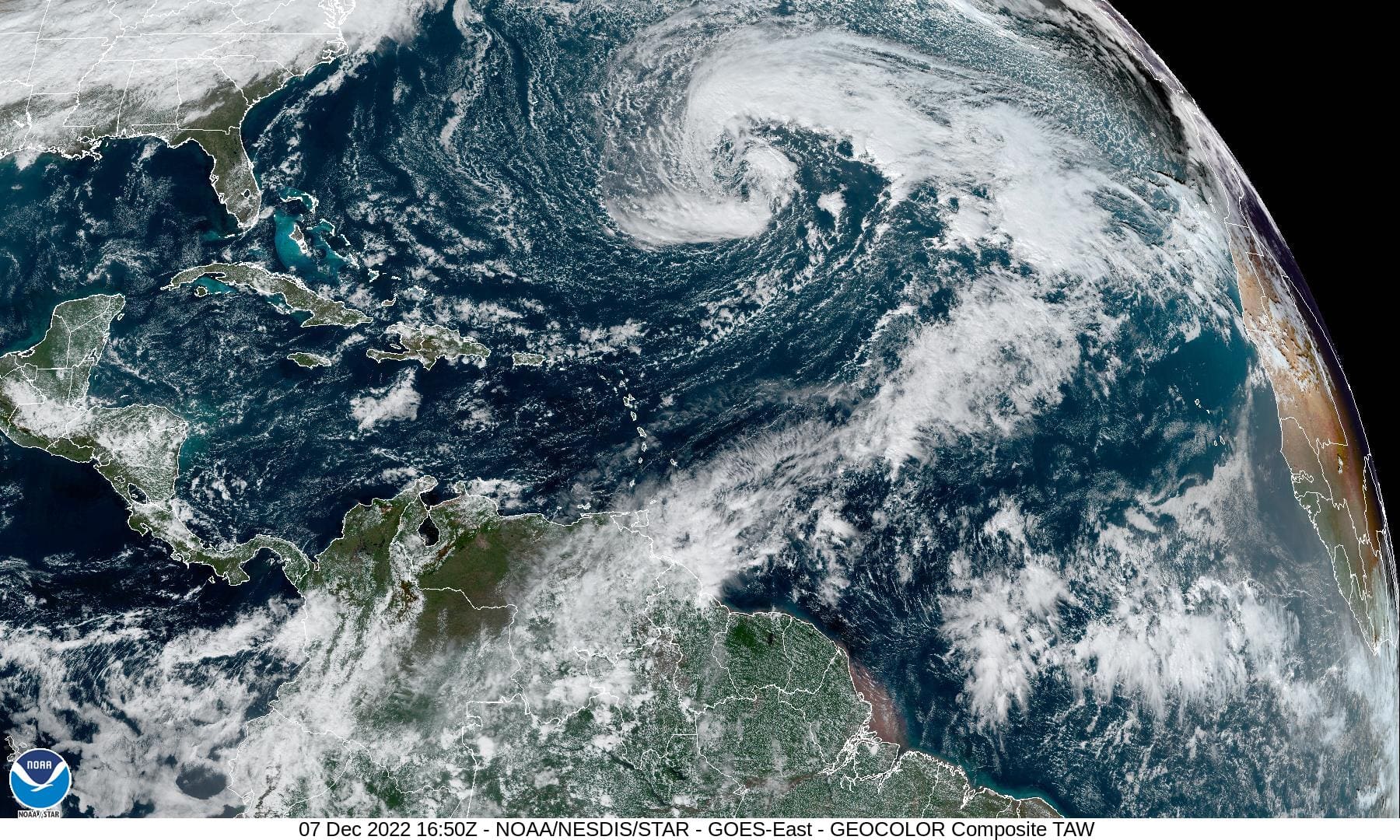 The National Hurricane Center is monitoring a strong weather system that has a chance of developing into a relatively rare December tropical or subtropical storm. The system has been designated as "Invest 99L" and is currently located in the central Atlantic. (An "invest" is a weather system under investigation for possible strengthening and development.)
Dr. Jake Carstens, a postdoctoral scholar at Pennsylvania State University in the Department of Meteorology and Atmospheric Sciences, spoke to the Source about this storm and what it may mean about the possibility of additional storms this year.
Carstens has had extensive experience studying cyclones in his career.
"I've mostly worked in a research role, studying topics like hurricane formation and structure, as well as how clouds and thunderstorms organize in the tropics," said Carstens. "I've used all kinds of simulations and observations to address these questions, including high-resolution simulations of imaginary tropical atmospheres, climate models, and instruments released from Hurricane Hunter planes."
Off-Season Cyclones
"It's been a while since we've had a storm in December, but it's not as uncommon as you may think. Despite the 'official' Atlantic Hurricane Season running from June 1 to November 30, we've had eight December storms this century," Carstens added.
"They're often relatively weak and short-lived, as they don't have the same type of favorable environment you would see in August or September. But given the right combination of ingredients, storms are technically possible year-round. Recently, most of the offseason activity has been focused on May, but in 2016, a Category 1 hurricane formed in January," Carstens continued.
Fortunately, Carstens notes that while it is relatively rare for a cyclone to form this time of year, it does not mean that there will be an increased chance for other hurricanes this year.
"If the system in the Atlantic does become a subtropical or tropical storm, there's no indication out there for any other off-season storms. Despite the water being warm enough to realistically support storms in some parts of the basin (like the Caribbean), strong winds aloft almost always prevent storms from organizing well enough to form a large circulation. This system happens to be a case where an existing non-tropical low-pressure system is in an environment that may briefly support the development of tropical characteristics," Carstens said.
Tropical vs. Subtropical Storms
Carstens explains that if the storm intensifies, it could be designated as either a subtropical storm or a tropical storm. "Purely tropical storms draw their fuel from oceanic heat, while purely extratropical cyclones draw theirs from large-scale contrasts in temperature, says Carstens. "Subtropical storms are essentially somewhere in the middle. In general, their strongest winds are a bit farther away from their centers of circulation compared to tropical storms, and their structure tends to be more asymmetric. If this system is designated as a subtropical storm, it would get the next name — Owen." (Owen would be the 15th named storm of the 2022 Atlantic Hurricane Season.)
Residents and visitors in the USVI are encouraged to stay updated on weather systems on the V.I. Source Weather page and sign up for alerts from the National Weather Service and the Virgin Islands Territorial Emergency Management Agency.
Update on Thursday at 1:45 p.m. AST:
This weather system is forecasted to pass near the west of the Azores Islands later this week. The situation continues to change throughout the day, and the chance for the storm to acquire tropical or subtropical characteristics decreases as it moves into cooler water temperatures. Further updates will be available on the Source Weather Page.