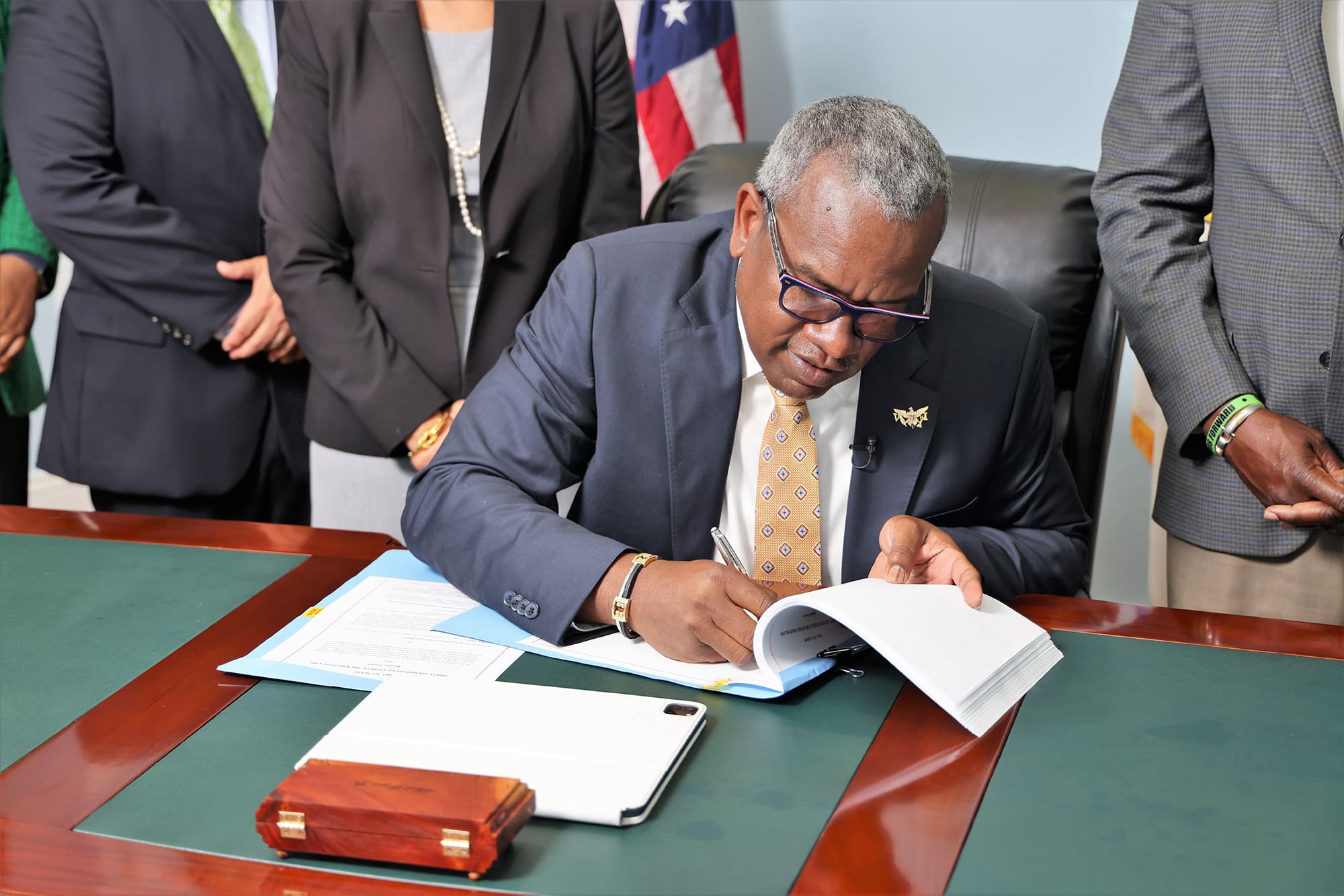 Gov. Albert Bryan Jr. signed the long-awaited Virgin Islands Cannabis Use Act into law on Wednesday. The move allows for adults to legally use cannabis for medicinal, sacramental and recreational purposes, regulating its production, distribution, and use.
The law automatically expunges convictions for simple possession of up to 2 ounces of marijuana from a person's criminal record. Bryan took forgiveness a step further, pardoning all simple marijuana convictions prosecuted under the Virgin Islands law.
"Today, I proclaim that all criminal convictions for the simple possession of marijuana under the Virgin Islands Code are fully and completely pardoned. My office estimates that approximately 300 individuals have been convicted of the simple possession of marijuana in the last 20 years," Bryan said in a written release.
Pardons are different from expungements. A pardon forgives the crime but does not clear that conviction from a person's record like an expungement. A task force funded by the law seeks to identify people eligible for the expungements as well as recommend expungements for people not immediately eligible. The Bryan administration urged those eligible to come forward proactively as such convictions can affect educational and economic opportunities.
"The best way to ensure the expungement of your records for marijuana-related convictions and any other eligible convictions is to file a petition with the court seeking that expungement. Don't wait for the opportunities to come to you; go out and grab them," Bryan said.
How the law translates into the legal growth and sale of cannabis is far from clear. Proposed legislation for both medical and recreational cannabis go back decades in the territory but just how to enact such changes has never been figured out.
The Office of Cannabis Regulation, created in 2019, released draft regulations in March 2022 but they were complex even in their draft form, stretching over 55 pages.
Calls to Department of Licensing and Consumer Affairs Commissioner Richard Evangelista were not immediately returned Wednesday.
Former Sen. Janelle Sarauw, who sponsored the cannabis bill in the 34th Legislature, said Wednesday that the U.S. Virgin Islands' status as a territory outside the mainland's Customs zone creates additional hurdles. She said not enough progress had been made and that Bryan had gone out of his way to criticize her efforts in getting the bill through the Legislature during last year's gubernatorial race, which former Sen. Kurt Vialet and Sarauw lost to Bryan and Lt. Gov. Tregenza Roach.
"I know during the election it was politics, but we were really attacked about this cannabis legislation," the former senator said.
If it took U.S. states two or more years to figure out their regulations for legal cannabis sales, taxation, and cultivation policies, it would take the Virgin Islands more than twice as long, she said.
"If it took a state two years it will probably take us more like five," Sarauw said. "I'm happy the governor signed it into law but I'm concerned about the lack of progress on the medicinal side."
She also called for a more robust expungement task force, saying it was a matter of social justice for people disproportionally targeted by the war on drugs dating back to the early 1980s.
"That's not enough. We still need a taskforce for that that's going to go through the public record to make sure automatic expungement," Sarauw said.
Although President Joe Biden pardoned federal simple possession convictions in October, the plant remains illegal at the federal level. This poses significant hurdles for the industry in banking and other normal business operations needs.
In October 2021, Bryan and then Senate President Donna Frett-Gregory met with cannabis industry experts in Denver. Bryan said the trip helped inform USVI regulators of pitfalls to avoid.
"By traveling to Denver and meeting and speaking with individuals involved in all aspects of the industry, from regulators, to law enforcement officers, to cultivators, manufacturers and dispensary owners, it is my hope that the individuals involved with the roll-out of this industry have learned best practices and what to avoid as we work to create this industry in the Virgin Islands," Bryan said.