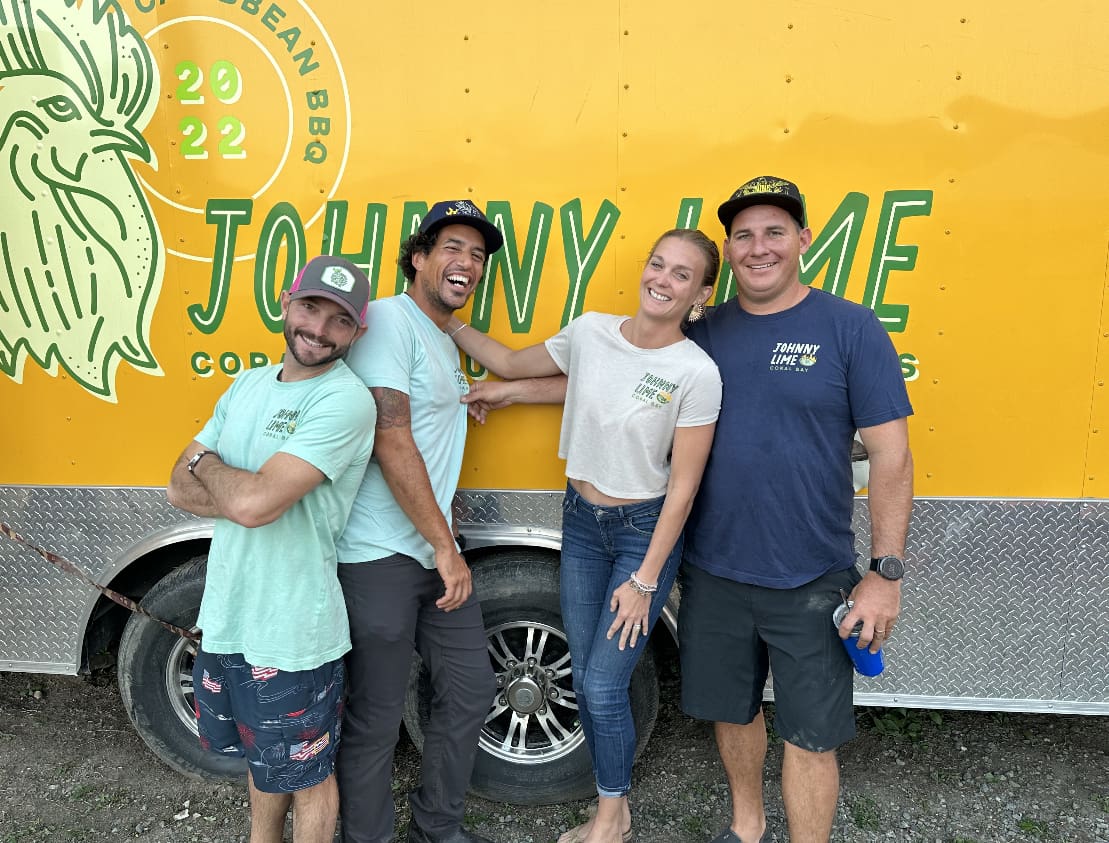 The old saying goes, "When one door closes, another opens," and that has proven true in the case of Johnny Lime, a new barbecue restaurant in Coral Bay.
In January 2022, two of the restaurant's partners, Richard and Chelsea Baranowski, presented their proposal to design and build a restaurant across from the Coral Bay fire station on property they owned.
In spite of its attractive business plan, the lack of available parking gave the St. John Coastal Zone Management Committee so much pause that the Baranowskis decided to withdraw their application.
Then, as luck would have it, there came an opportunity to open at a location directly across the harbor at the Coral Bay Caribbean Oasis. Karen Granitz, the Oasis' owner, had closed the restaurant the previous year but continued renting it out as an event space. It had lots of room for parking.
The Baranowskis, along with partners Dylan Buchalter and Miguel Hernandez, worked out an agreement with Granitz. Then they obtained a new lease from the Summer's End Group (which has a long-term lease to develop the property for a marina) and landowner David Marsh. (That marina project is still awaiting permits from the U.S. Army Corps of Engineers.)
Johnny Lime opened quietly as an open-air barbecue restaurant in late November. Several weeks later, they wowed the crowds at the Bizarre Bazaar, a popular crafts fair that had relocated to the former Oasis site. The line for food was long as the Johnny Lime staff served up smoked, locally-grown vegetables in addition to the more traditional pulled pork, ribs and chicken.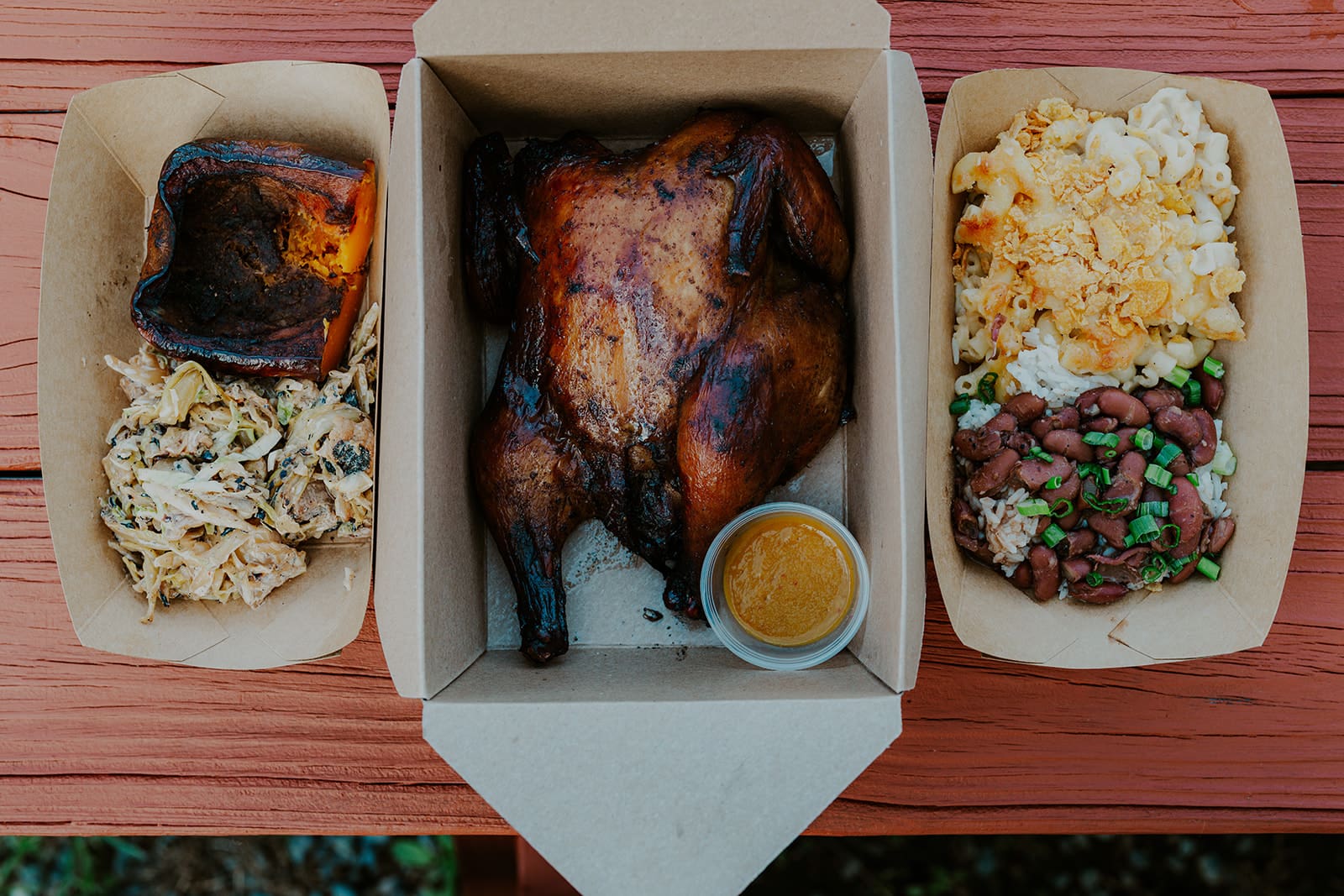 Johnny Lime Caribbean Barbecue is now open Monday through Friday from noon until 8 p.m., and diners are flocking there to enjoy the flavorful food, the casual setting amid Coral Bay breezes, and down-home entertainment on most nights.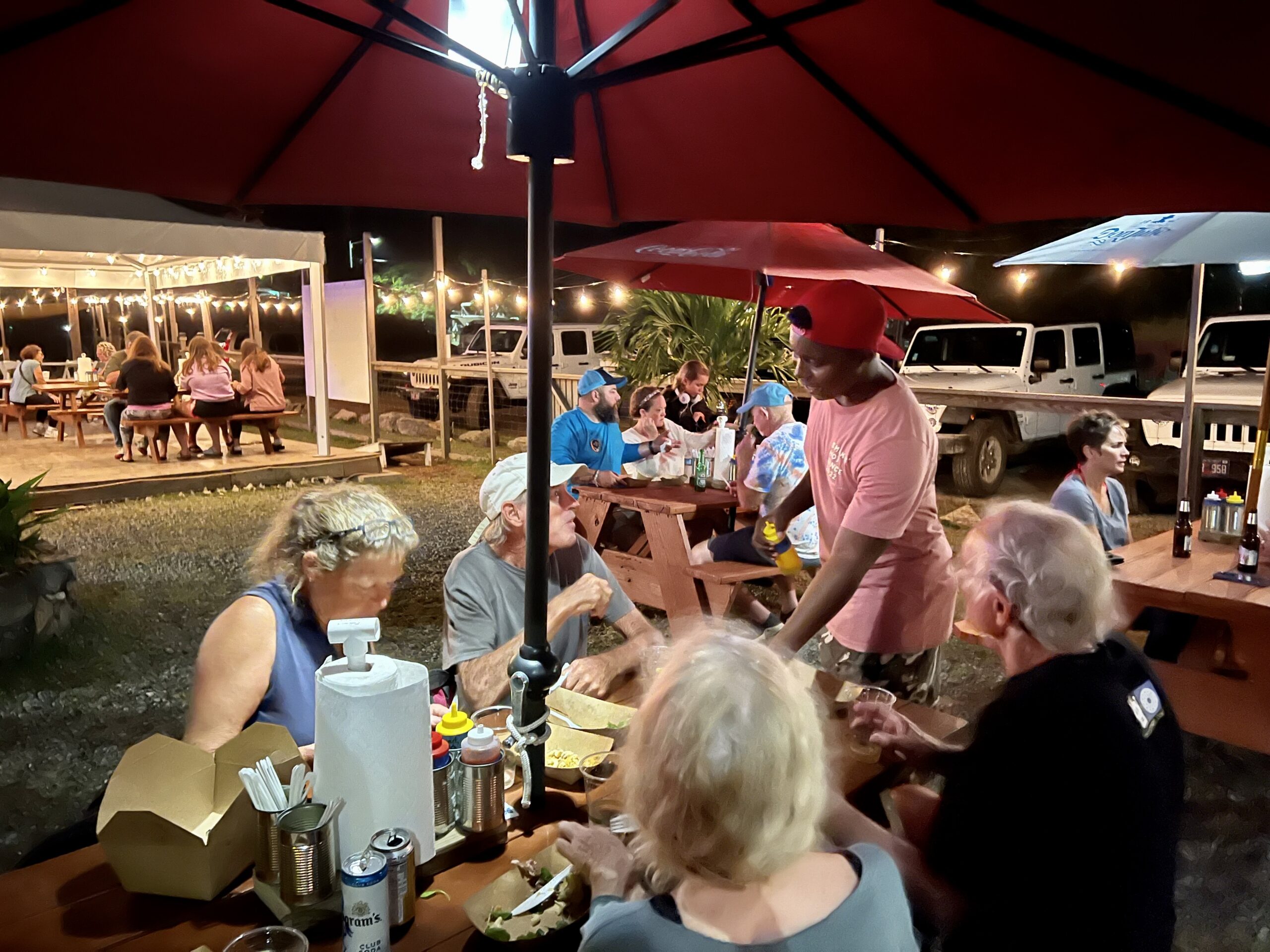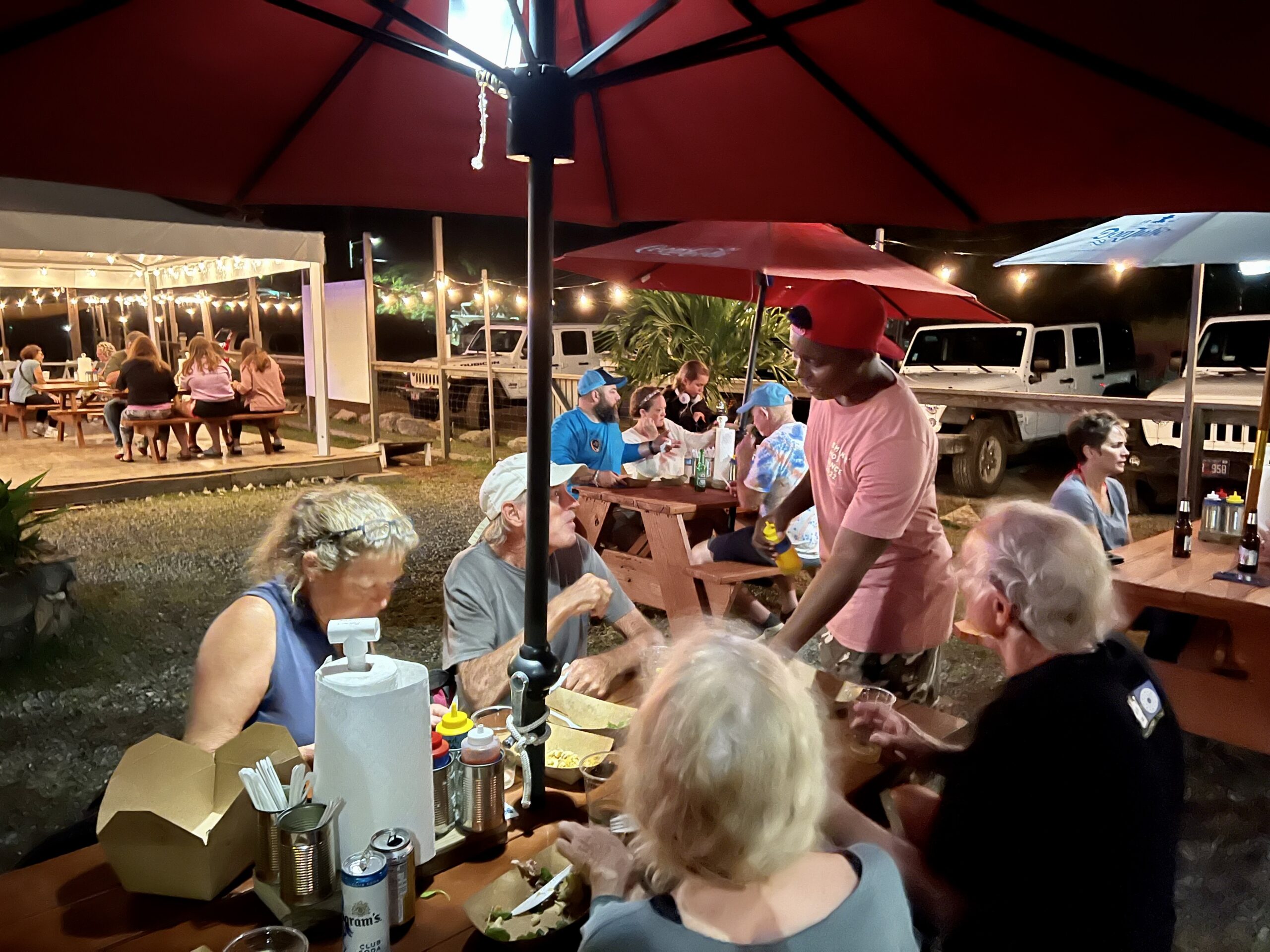 The creative force behind the food comes from managing partner Miguel Hernandez, a native of Venezuela who first arrived on St. John in 2012.
Hernandez grew up in Caracas, Miami and Washington, D.C. (where his father now serves as a diplomat). But back in 2012, he had visa issues that required him to stay within the boundaries of the United States. The Virgin Islands was as far away as he could go given his passport situation, he said.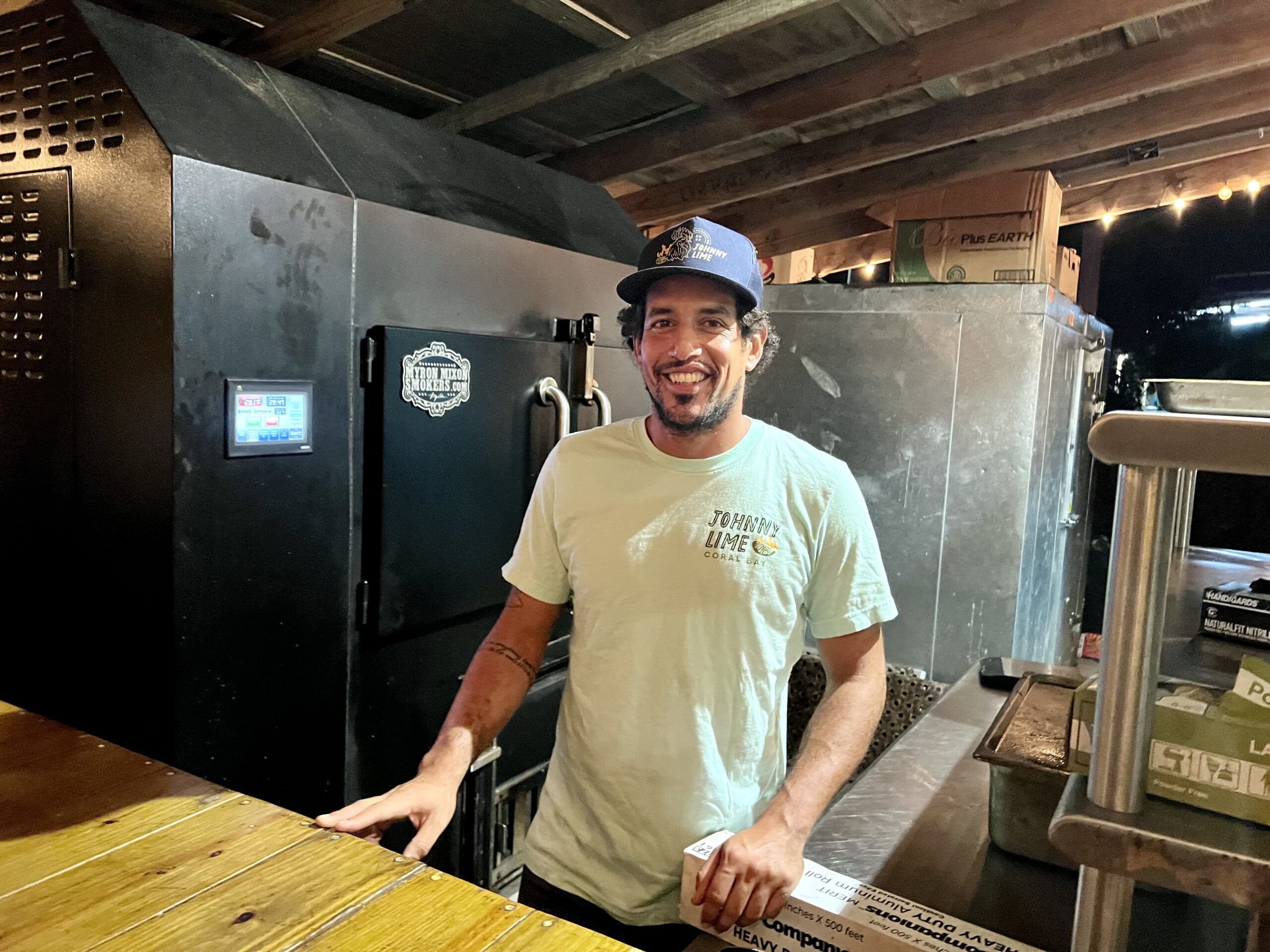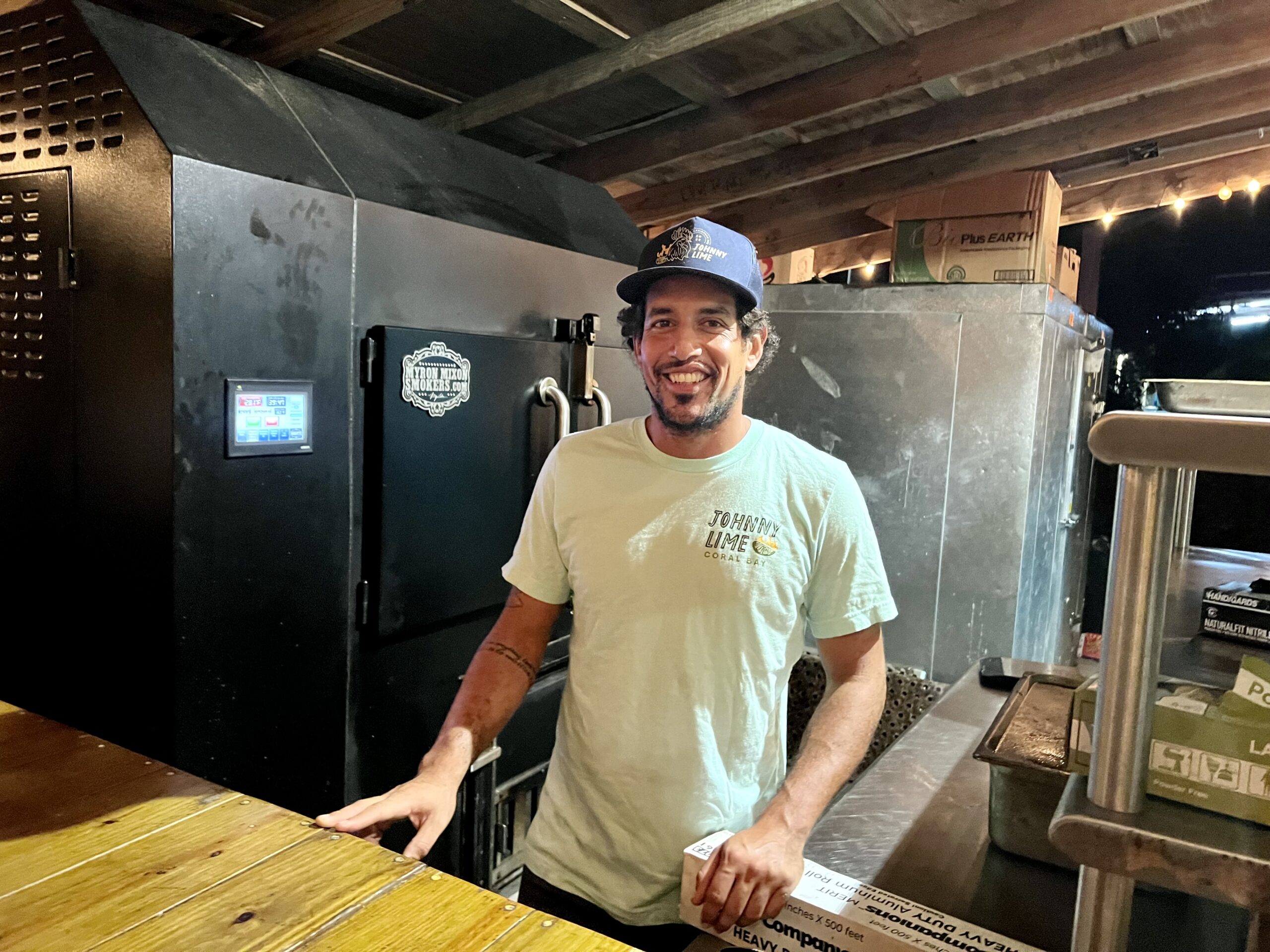 Hernandez had enrolled in the food service program at Johnson and Wales University after high school but only spent two years there as a student. "It opened a ton of windows," he said. Summer employment in a Nantucket restaurant later led to jobs all over the East Coast, Italy, Colombia, and New Zealand. He's now been cooking for 18 years.
When he arrived on St. John in 2012, Hernandez found a job at ZoZo's restaurant and soon met Chelsea and Richard Baranowski. In 2014, when the Baranowskis were getting ready to take over ownership of the Lime Inn from Chelsea's parents (Rich and Chris Meyer), Hernandez helped with the transition.
He was also on hand in 2019 when the Baranowskis, along with Val and Dane Tarr and Dylan Buchalter, first opened the Lime Out, the popular floating taco bar on the East End of St. John.
Hernandez has come and gone from St. John multiple times, and when he was not on island, he traveled the world. "I've worked in over 15 kitchens," he said, "including a little restaurant in Italy near the Slovenian coast, a one-star Michelin serving stunning food to 20 to 30 people a day."
At Johnny Lime, he said, "All the recipes are mine, but everyone here is taught the recipes; there are no secrets. Keeping food knowledge to yourself is one of my pet peeves."
The key to the operation at Johnny Lime Caribbean Barbecue is a massive smoker; the food inside is naturally flavored with smoke from burning apple and pecan wood. "My goal is to use genip and tamarind and soursop and mango, but we have to source it from the Dominican Republic and Puerto Rico," he said.
Hernandez purchases as much produce as he can from Josephine's, also known as Coral Bay Organic Farm and Garden. "Every day I tell her to give me all the okra and long beans she's got. We sold 30 pounds of okra in two days. I love the sides and the veggies and what we're doing with that," he said.
In the time between its closing as a restaurant in 2021 and Johnny Lime's opening in November, Oasis has served as a community meeting space. The Johnny Lime owners want to keep that tradition going, allowing groups like the Coral Bay Community Council to continue to hold meetings there.
The restaurant is now closed on weekends (except during events) because Hernandez is adamant about taking time to play volleyball and scuba dive.
But he's cooking up big plans for Saturdays in the near future, beginning with morning meditation, followed by yoga classes, arts classes for kids and adults, and ending with a movie at night.
"We'll have volleyball going during the day, And I'll do a cooking class for volunteers. Whoever wants to come and learn something can come. We'll sell it and use the funds to buy the following week's food," Hernandez said.
As of now, Monday is Bingo Night starting at 5:30 p.m.; Tuesday is Open Mic Night from 5 p.m. to 8 p.m.; Wednesday is Trivia Night (which starts at 6:30 p.m., but players are advised to come early to get a table); Friday is Lobster Night, with live music by Rich Greengold.
Located on Route 107, the restaurant is hard to miss with its new yellow food truck parked out front.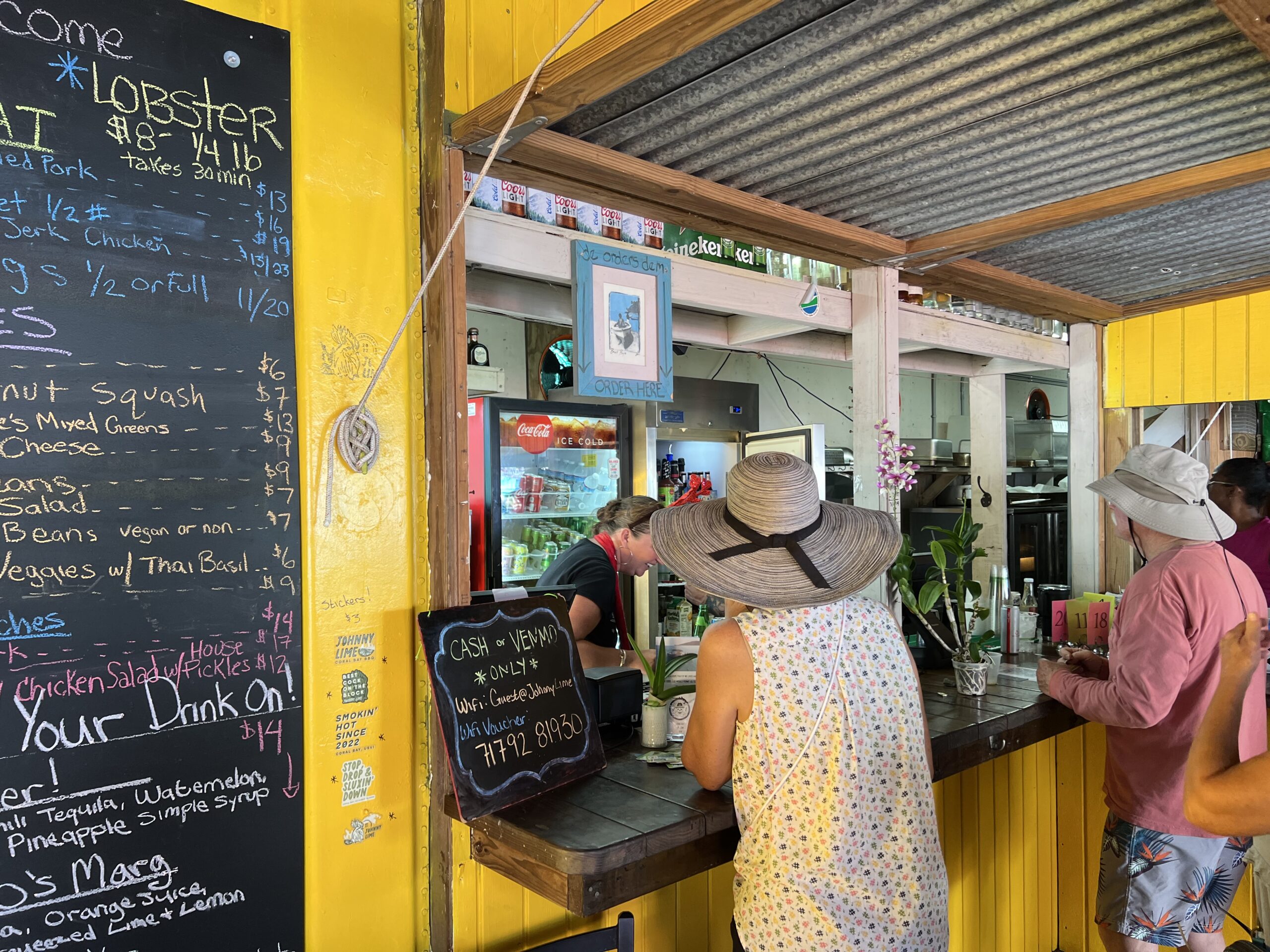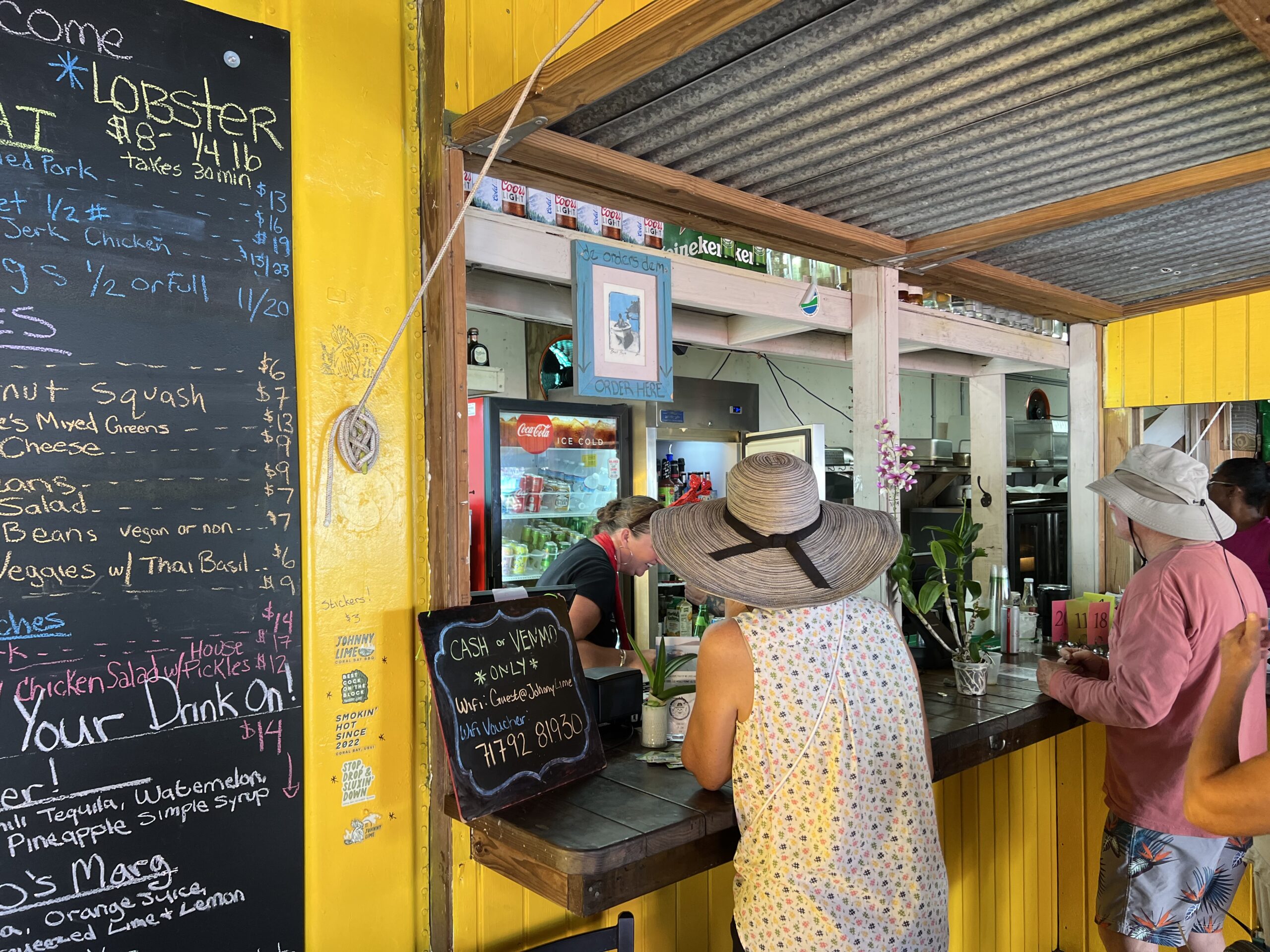 Things are still in flux at Johnny Lime, so check for updates with the restaurant on Facebook or call 340-513-0032.