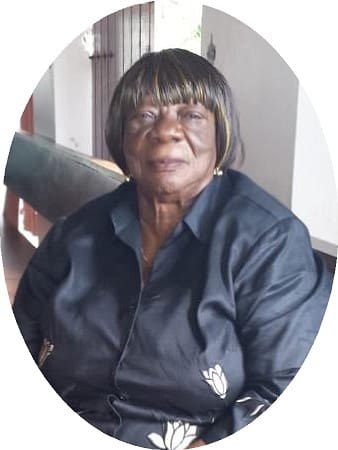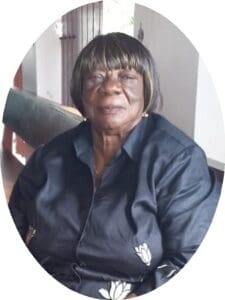 Catherine Anthony Braham of Estate Castle Coakley died on Monday, March 13.
She was preceded in death by her father, Simon Anthony; mother, Caroline Christopher; daughter, Christine Braham; and sons: Rupert Bachelor and Arthur Braham.
 She is survived by her daughter, Annetta Ferdinand; adopted daughters: Thelma Nelson, Dorette Maynard, Sonia Maynard Adams, Zena Martin-Thomas, Rena Thomas, Stephanie Wheeler and Olga (Lue) Santiago; adopted sons; Gary Thomas, Robert Wheeler and Denroy (Cyco) Adams; grandchildren: John Bachelor, Marvin Ferdinand, Cheryllyn Bachelor, Robert (Bob) Bachelor, Leroy Ferdinand, Winston Bachelor, Tashima Bachelor, Iyanie Braham, Jahiid Braham and Darrielle Thompson; and adopted grandchildren: Von Chambliss, Schenell Weekes-Augustin and O'Kohye Morris.
She is also survived by great-grandchildren: Jayden Ferdinand, Gideon Braham, Jah'nyla Malcolm, Jahlaiya Malcolm, Dyanie Watts, Kai-El Ferdinand and Demari Braham; sisters: Priscilla Anthony and Maryann Anthony; nieces: Sheryl Thomas (U.S.), Cecelia Anthony (Antigua), Albertha and family (Antigua) and other nieces and nephews too numerous to mention; godchildren: Kareem Beazer, Rebecca Ayala, Tashorna Thompson, Tricia Thomas and others; and caretakers: former, Taiesha Ballantine and current, Eva Morris.
Other survivors include familv friends and neighbors; the Anthony family (Antigua), the Creque family, the Fincher family, the Maynard family, the Johnson family, the Skeoch family, the Thomas family, the Wheeler family, Manetta Maynard Maynard (aka Ms.Maynard), Camella Nisbett, Irita Griffin, Lister Lawrence-Johnson, Patricia (Patsy) Lynch, Joanna Browne (STT), Cynthia Charles, Mary Simon, the entire Old Castle Coakley community (OCC), and St. Peter's Episcopal Church family, especially ECW (Episcopal Church Women); as well a host of family and friends too numerous to mention.
The viewing will take place at 9 a.m. followed by the funeral service at 10 a.m., Monday, April 3, at St. Peter's Episcopal Church. Interment will be at Kingshill Cemetery.