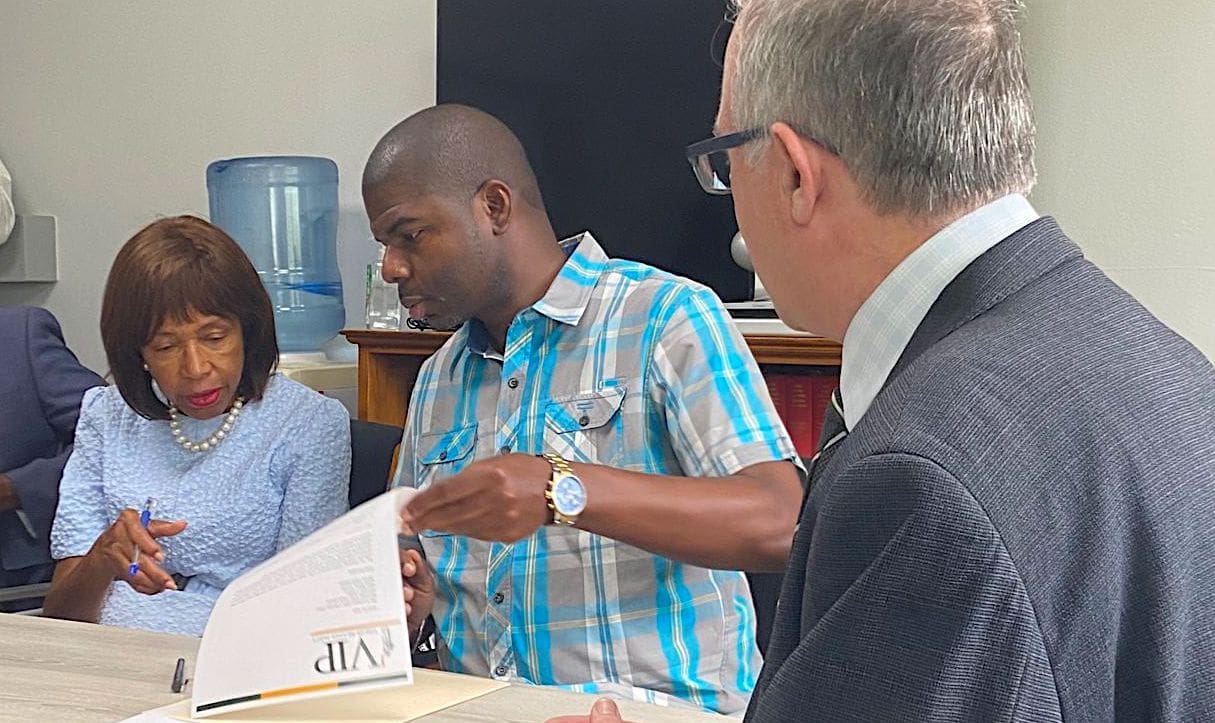 A year ago Friday, the British Virgin Islands' most powerful elected leader stepped off a private plane at a Miami area airport. U.S. police forces met Andrew Fahie on the tarmac. The premier was under arrest, accused of planning a brazen drug smuggling and money laundering scheme that would have turned Tortola into a major cocaine shipping port.
Fahie and alleged accomplices have pleaded not guilty.
While the former premier was recently granted greater freedom from his court-ordered house arrest so he can prepare for a potential June trial, BVI voters went to the polls to elect new legislative leaders almost exactly a year after Fahie's arrest.
Eight of the 13 legislative seats changed, with Fahie's position going to Karl Dawson — only the third person elected from the First District after Fahie and long-time BVI Chief Minister H. Lavity Stoutt. Premier Natalio Wheatley retained his seat and Gov. John Rankin swore in the new government Tuesday.
Longtime Forth District representative Mark H. Vanterpool did not run for re-election. With the departure of Fahie, opposition leader Julian Fraser became the longest serving member of the current Assembly.
While Fahie is out on bail, his alleged accomplices — former Port Authority Director Oleanvine Pickering Maynard and her son, Kadeem Maynard — have remained behind bars since the trio was arrested on April 28, 2022.
In early April, a Florida judge allowed Fahie greater leeway in visiting his dentist and his lawyer. The attorney's office is about 45 miles from Fahie's daughters' second-floor apartment where, according to court records, cramped conditions often don't allow for confidential attorney-client conferences. Both daughters, Fahie's attorney said, attend school online and have left the two-bedroom Miami apartment during brief meetings in the past. With the trial looming, the attorney said she and Fahie needed more time than the present accommodations could offer.
No one answered Fahie's apartment door in February when the Source knocked. His attorney insisted he was adhering to the house arrest rules, which have Fahie wearing a GPS ankle monitor.
Fahie's request to leave the apartment was the first publicly available document filed since late January. At least a dozen sealed documents have been filed in the case since then. The docket entries are labeled as "restricted/sealed until further notice" with no general description listed.
Prosecutors have said Fahie was eager to work with drug cartels and terrorist organizations and had allegedly bragged on 8,000-some minutes of secretly-recorded audio tape about years of criminal activity, including partnerships with notorious smugglers. At one point, Fahie allegedly offered to help illegally import firearms through the British overseas territory.
Fahie has repeatedly asked the court to reveal the identity of the confidential informant who made the recordings.
Fahie's arrest for allegedly offering to make Tortola a major through point for cocaine smuggling to the U.S. mainland came as he stepped off a private plane at a Miami-area airport after allegedly inspecting would-be drug money. He quickly claimed immunity from prosecution as the BVI's head of state, but received none.
A long-serving employee in the premier's office was arrested in October and charged with illegally sending a letter to U.S. officials seeking Fahie's release.
A day after Fahie's arrest, the United Kingdom government released a report recommending direct control of the BVI by London, dissolving local government, and launching a full investigation of probable corruption. Local protests broke out and the House of Assembly speaker, Julian Willock, resigned. Willock was later questioned on possible human trafficking charges. London has not as yet taken control of the territory and local leaders have pledged to help root out any potential lawlessness.