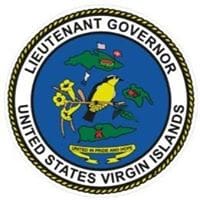 Lt. Gov. Tregenza has launched a new online e-recording feature for the Recorder of Deeds Division. This new online service provides an enhanced, convenient and centralized way for high-volume filers to record real property documents with the Office of the Lieutenant Governor.
The online feature is part of ongoing efforts to provide more efficient and streamlined services within the Recorder of Deeds Division. The e-recording feature can be accessed by visiting https://ltg.gov.vi/ and by selecting the Recorder of Deeds tab. From there, title agents, attorneys and other high-volume customers can electronically submit deeds for review and approval.
"I am pleased that beginning today, our customers can utilize the Office of the Lieutenant Governor's website to file deeds electronically for approval. This provides the division with an opportunity to reduce delays and to provide services in an expedited and timely fashion," said Roach.
"Through the online system, the recorders can review documents in real-time and approve or reject submissions. Additionally, the online system allows the recorders to provide timely responses to customers when changes may be required for filed documents. The capabilities of the new system will be instrumental in significantly reducing turnaround time," said Roach.
For additional information, the Office of the Lieutenant Governor's Recorder of Deeds Division can be reached on St. Thomas at 774-2991 and on St. Croix at 773-6449.