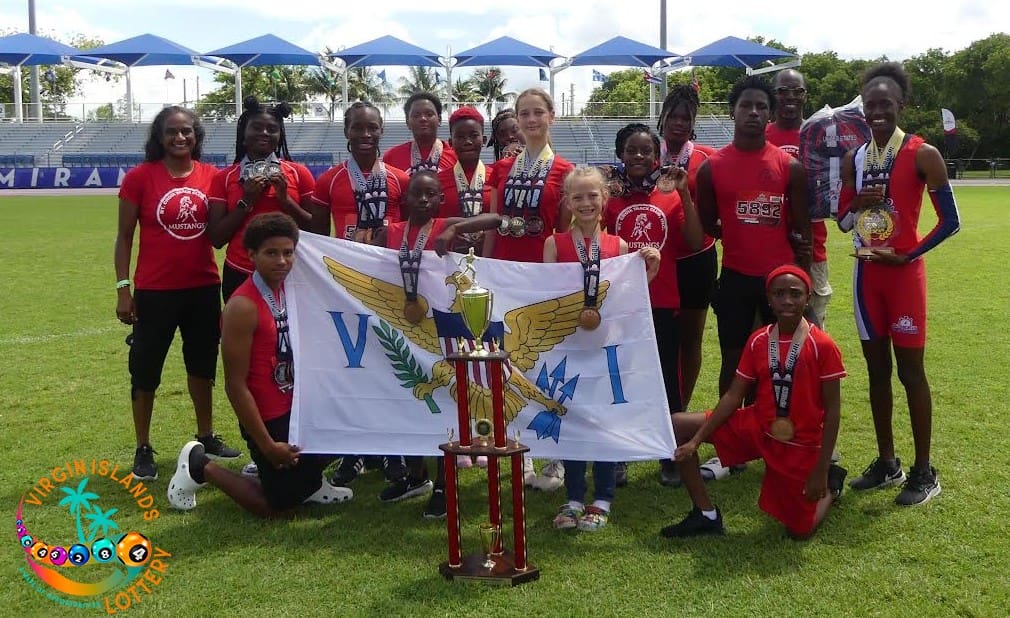 On May 27 and 28, the St. Croix Track Club Mustangs attended the Speed Capital Series Track & Field Championships in Miramar, Fla.  The Mustangs placed 1st in the Team Standing for Division C, scoring a total of 239 points and beating the 2nd place team by 12 points.
The Mustangs won a total of 23 Medals – 6 gold, 12 silver and 5 bronze.
Michelle Smith was awarded the female 17-18 age group MVP of the meet for winning four events. She won the 800m, 100m hurdles, 400m hurdles and the high jump.
The Mustangs took 15 athletes who competed in their age group in the "20 athletes and less" Team Category—Division C, among 35 teams. Four team scoring points are awarded to the top eight finishers in the final of each event. First place gets 10 points, second place gets 8 points, third place 6 points all the way to eighth place with 1 point. The Mustangs competed in all areas of Track & Field—sprints, distance, jumps, throws, hurdles and speed walking.
On Day 1 the St. Croix Track Club athletes won 4 gold, 7 silver and 3 bronze. Michelle Smith won gold in the 100m hurdles, 800m and high Jump, Jeniqua Weekes won gold in the high jump. Jah'Quan Creque and Akyra Joseph won silver in the high jump. Davina Browne won silver in the shot put and discuss. Wilfredo Concepcion won silver in the shot put. Katelyn Jones won silver in the 1500m. Javante Hurst won a silver in the 100m hurdles. Faith Eatmon won bronze in the high jump. A'Sharia Bernadine won bronze in the shot put and Sarah Raglin won bronze in the 800m.
On Day 2, the Mustangs won an additional nine medals – 2 gold, 5 silver and 2 bronze, which came from Michelle Smith's gold 400m hurdles, and gold for Katelyn Jones in the 3000m. The silver medals went to Jeniqua Weekes, Wilfredo Conception and Davina Browne in the javelin throw, Katelyn Jones in the 3000m in the race walk, and Akyra Joseph in the long jump. Bronze medal winners Kahlan Beaupierre javelin Throw, and Juvante Hurst 200m hurdles.
Please congratulate all the Mustangs on their impressive team performance!
The St. Croix Track Club thanks its supporters and the VI Lottery for partnering with them to assist V.I. youths in developing their talents. Full results are at:  Speed Capital Invitational Miramar 2023 – Meet Results (www.milesplit.com)
For questions or support, contact Keith A. Smith Sr. at 277-1123 or email at stcroixtrackclub@gmail.com