Billionaire investor Leon Black agreed in January to pay the U.S. Virgin Islands $62.5 million to be released from any claims related to the territory's investigation into the sex-trafficking of late disgraced financier Jeffrey Epstein, the New York Times has reported.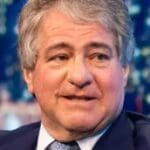 Black, 71, the former chief executive of private equity firm Apollo Global Management, had a decades-long relationship with Epstein, whom he paid some $158 million over the years for tax and estate planning services, according to the Times. He severed that relationship "amid a dispute" in 2018, according to the newspaper, and was cooperating with the V.I. government's investigation into Epstein.
In 2021, he stepped down as CEO and chairman of Apollo after an internal investigation revealed his payments to Epstein. He also did not seek re-election to the board of the Museum of Modern Art in New York City when his term as chairman ended that year, in the wake of protests over his financial ties to Epstein.
According to reports at the time, Black saved at least $1.3 billion using Epstein's tax-avoidance strategies, and in 2021 pledged to donated $200 million to women's initiatives.
V.I. Attorney General's Office spokesperson Venetia H. Velaquez said in a statement Friday evening that the settlement with Black reflects the department's determination to fight human trafficking.
"For the past several years, the Virgin Islands Department of Justice has made it a priority to support human trafficking victims and to enforce the law to prevent and deter human trafficking. Unlike any single individual, JPMorgan had detailed and comprehensive financial data on Epstein's activities and a legal obligation to share that information with law enforcement so that it could act to stop his ongoing abuse," said Velaquez. "The Virgin Islands DOJ has and will continue to allocate substantial resources from settlements and enforcement actions to enhancing and expanding its counseling and mental health services and preventing human trafficking."
According to the Times, some of the money from the settlement with Black will go to mental health programs and to combat sex trafficking in the territory.
The settlement does not cover claims that anyone else might bring against Black, but also cannot be used as "evidence of wrongdoing" by him, the paper reported.
Whit Clay, a spokesman for Black, told the Times that the mogul "engaged and made payments to Jeffrey Epstein for legitimate financial services, which, based on everything now known, he very much regrets. Consistent with settlements of other major U.S. banks, Mr. Black resolved the USVI's potential claims arising out of the unintended consequences of those payments," which allegedly involved Epstein's Southern Trust Company — the same one that received lucrative tax benefits through the territory's Economic Development Commission and was at the center of the USVI's suit against his estate.
"There is no suggestion in the USVI settlement that Mr. Black was aware of or participated in any misconduct," said Clay.
The Justice Department produced a copy of the previously unreported settlement agreement in response to a public records request by the Times, the paper said. The deal was reached during a private mediation session in January, according to another document reviewed by the Times.
Black, a married father of four, has faced accusations by a woman named Guzel Ganieva, who claimed she was sexually harassed and abused by him for years and ultimately forced to sign a non-disclosure agreement under duress, according to reports by Business Insider, Bloomberg and Reuters. He has said it was a consensual affair. She also alleged that he introduced her to Epstein and tried to force her have sex with them.
Another accuser, Cheri Pierson, said Black raped her in 2002 in Epstein's mansion in New York City, according to reports by CNN, the Wall Street Journal and the New York Post. Black has denied those claims.
The January deal with Black came after the territory settled a suit against Epstein's estate for $105 million in November. It subsequently sued JPMorgan Chase, the wealthy financier's bank, in December. The bank has denied wrongdoing and said the government's lawsuit is a "masterclass in deflection."
The V.I. government is seeking damages of $190 million in that case, alleging the bank violated the Trafficking Victims Protection Act in its dealings with Epstein, according to court documents. That suit is ongoing, with a trial date of Oct. 23.
The government has alleged in its filings that Epstein connected JPMorgan Chase's executives with some of the world's most high profile and wealthy individuals, such as Black. It claims that in return for bringing valuable new clients into the bank, JPMorgan, through its senior executives, ignored the evidence of Epstein's crimes and "traded victims' public safety for its own profits."
According to the government, beyond Black, Epstein offered JPMorgan access to such high-profile individuals as Prince Andrew of Great Britain, Microsoft founder Bill Gates, former U.S. presidential adviser David Gergen, Israeli general and politician Ehud Barak, Israeli Prime Minister Benjamin Netanyahu, the children of former Australian Prime Minister Paul Keating, Lord Peter Mandelson of the British government, the Agnelli family of Fiat Motor Company fame, and the ruling sheiks of Kuwait, Bahrain, Dubai, and the United Arab Emirates, among many others.
Epstein, 66 — a registered sex offender who pleaded guilty to procuring a minor for prostitution in Florida in 2008 — was found dead by apparent suicide in August 2019 while in detention in New York on federal human trafficking charges.
His primary residence was Little St. James, his private island off St. Thomas where for years he trafficked in girls and young women and ran a complex web of shell companies registered in the USVI that enabled his crimes, court documents have alleged.
Epstein, who held some 50 JPMorgan accounts, was valued at more than $577 million at the time of his death, according to court documents.