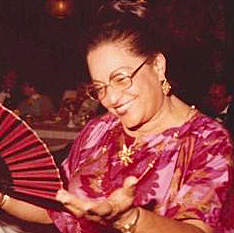 A strong woman with convictions — that is how St. Thomas attorney Edith L. Bornn was described by family and friends Saturday as they mourned her death at 87.
Bornn died Friday at Roy L. Schneider Hospital after suffering from Alzheimer's disease for several years.
"She was an iron lady that wouldn't back down for anybody," her youngest son, Michael Bornn, said, echoing comments made by his brothers, David and Steven Bornn.
Edith Bornn leaves a legacy of environmental concern. St. Thomas resident Helen Gjessing worked with Bornn for many years on environmental causes under the auspices of the League of Women Voters.
"She helped the territory understand development is fine, but do it without destroying the natural resources," Gjessing said.
Bornn was a League founder, one of her many endeavors. She was elected president in 1976 and served several terms as an officer.
St. Thomas resident Norma Levin was a fellow League of Women Voters member, but she was also at Barnard College in New York at the same time as Bornn.
"I always remember her shivering," Levin said, crediting Bornn with opening doors for her on St. Thomas after she moved to the island.
Born on St. Thomas, Bornn graduated from Charlotte Amalie High School before heading off to New York to attend Barnard. After graduation, she went on to Columbia Law School. She graduated in 1945, one of only five women in a class of 45 people, David Bornn said.
After law school, she took a job with the United Nation's Caribbean Commission. While working for the Commission, she met a distant cousin, Andrew Bornn, in Trinidad. The two subsequently married in 1951 on St. Thomas. He died in 2000.
The two made their home on St. Thomas, where Bornn served as a U.S. District Court law clerk from 1952 to 1955. In 1955, she partnered with William Cox to open a law firm.
"She became the matriarch of the bar," Steven Bornn said.
Over the years, she had various partners, and the firm's name changed numerous times until she retired in 2000. She also made her mark in family law, with some of her work setting the pace for national family law, David Bornn said.
And she was the first woman chancellor of the Episcopal Church in the Virgin Islands and in the country, he said.
Bornn was also the founder of the Women's League, a late 1950s social and charitable organization that dealt with women's issues and homeless children. She also served on many boards and commissions.
David Bornn recalled the time when she served as counsel to the Donkeycrats, a Democratic political party that vied for power with the Mortar and Pestle Democrats led by political scion Earle B. Ottley. The two parties went to the Democratic Convention in Atlantic City, N.J., only to fight it out to see which one would represent the Virgin Islands.
While Bornn's legacy in the community is well known, her children also talked about her impact on them.
"My mother was humble. She said you were not entitled to privileges. You earned them," Steven Bornn said.
Michael Bornn spoke about numerous family vacations taken in Bornn's quest to make sure her children saw the world.
"We came back home more tired than when we left," he said, laughing at the memory.
David Bornn remembered how his mother marshaled the family during 1989's Hurricane Hugo. She had everyone assembled at the family home on Norre Gade. He said everyone, including his mother, had a hardhat and a flashlight. And when a neighbor needed rescuing at the height of the storm, Bornn led the way.
In addition to her three sons, she is survived by Michael Bornn's wife, Brigitte, and their three children. They are Richard Lazarus, Marissa Bornn and Andy Bornn.
Funeral arrangements are pending.