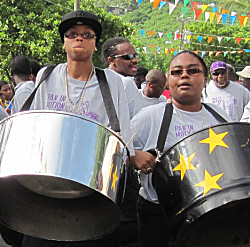 Cruz Bay waterfront was the scene Saturday for Pan-O-Rama, the annual kickoff to St. John's Festival celebration.
"Pan music is the brainchild of Caribbean culture," organizer Ira Wade said.
A dozen groups, about half of them with youthful members and the other half with adults playing pan, participated.
St. Thomas resident Shalliek Wright teaches pan to the St. Thomas All Stars and the E. Benjamin Oliver Owls. He said he enjoys the job because the kids like playing.
"And it's to give people a chance to see pan is alive," he said.
The Kirwan Terrace Wess Stars honored St. John resident Nekwan Sprauve, who died in May, by wearing T-shirts with his photo on the front. Additionally, the Pan-O-Rama program remembered Sprauve, who was also a member of the Pan Dragons.
"He was an ace pan man, and he was a young guy who was loving and caring with good manners," Samuel Lawrence, who arranges pan for both the Wess Stars and the Pan Dragons, said.
Sprauve died of sickle cell anemia and dengue fever, Samuel said.
In addition to music, the St. John Festival and Cultural Organization, which sponsors Pan-O-Rama and other Festival activities, had a table selling traditional Festival Food.
"Chicken wings and chicken legs, johnny cake, fried fish, chicken soup, souse, and potato salad," committee member Natalie Thomas said, ticking off items on the menu.
Pan-O-Rama began with St. John's Love City Pan Dragons rendition of the national anthem and the V.I. March. Pan-In-Motion followed and their lively music had St. John resident Debbie Hime tapping her feet.
"This is one of my favorite days. It's all the kids and all the music and everything the Virgin Islands stands for," she said.
In addition to Hime, Pan-O-Rama brought out several hundred residents and visitors to enjoy the music.
Marcia Murrell trekked over from St. Thomas to hear her son, Sulaimani Abraham, play with the Joseph Sibilly Sun Rays.
"It's part of Carnival and culture, and St. John is our sister island," she explained when asked what made her decide to cross Pillsbury Sound.
Carol Whittier of St. Louis was on St. Thomas for a wedding but decided to do a day tour of St. John. "I didn't know all this was going on," she said, taking in the sounds from a bench in Cruz Bay Park.
Bruce Green of Arlington, Va., also stumbled on Pan-O-Rama when he made a trip to Cruz Bay from a Coral Bay vacation villa.
"I've never heard this. It's fantastic, wonderful," he said, summing up the thoughts of many who attended.