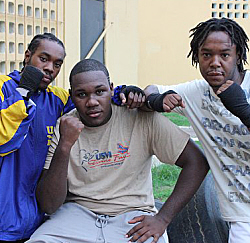 After laying low for a while, the territory's boxers are back in gear with nearly a dozen amateur fights Saturday night at the Gladys Abraham Elementary School on St. Thomas.
Not knowing much about the people they will be fighting does not faze this group of amateurs, who all said this week that they're going for the win. "Everyone should come down and get some good seats, because the fights won't last long," said 23-year-old Wilfredo Todman Jr., who said all he really knew about his opponent was that "he is going to lose."
Trainer Julian Jackson Sr. said the opposing fighters would be coming from Puerto Rico, a crop of what is called "open class fighters" with five or more bouts under their belts that will give the V.I. boxers a good warmup for the upcoming CAC games in Puerto Rico, along with the 2012 Olympics.
"You've seen us stay quiet for awhile, but that's our thing — we've been taking this time to train and work hard behind the scenes," he said Thursday afternoon. "So I think we're going into this really prepared, and we're excited about the whole thing."
This time around the federation has a female fighter in its camp who will be making her boxing debut Saturday night. Known more for her time on the basketball court playing for the University of the Virgin Islands Lady Bucs, Tiffany Reddick has switched her sport and now hopes to be the first woman from the territory to box in the Olympics.
The federation also has a super-heavyweight fighter, Clayton Laurent, who Jackson said might be the first in his class to represent the territory in the Olympics. Laurent said this week that he hopes to bring something new to the table by showing everyone that fighters in his weight class can still have fast hands.
Along with Laurent, Todman and boxers Henry Lawrence and Nixon Andrew will also be fighting in the upcoming CAC games, and are looking forward to Saturday's tune-up.
"This fight I just want to settle down, punch a lot harder and get a lot more into the fight," Todman said. "I think this tournament is really going to show us what we have to work on."
Lawrence said this week that he is ready stamina-wise, but has been working over the past few weeks on his speed and timing.
"I'm going to be coming strong this fight, my output is going to be high — everything's going to be very high energy, because that's what I've been training to do," he said.
Also making his debut Saturday is Andrew, who said he has been training for two years and is ready to get into the ring.
"I'm not afraid of going in there — I expect a win," he said. "And I think this performance is going to show everyone what I'm all about."
Rounding out the group of V.I. boxers are Carlos David Arce, Jose Piguero, Jeffrey Velasquez, Trai Mahoney, Jordan Swan and Khamarley Monbelly. The fights start at 7 p.m. Saturday and are being sponsored by the Virgin Islands Boxing Federation, with help from the Virgin Islands Olympic Committee and the Department of Housing, Parks and Recreation.
Admission is free but donations are accepted.