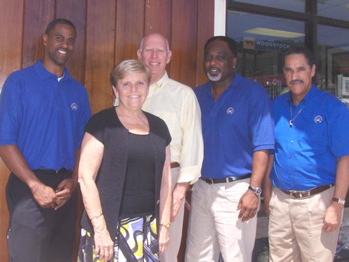 A draughting shaft is an old English drawing pencil. On St. Thomas, the Draughting Shaft is what comes to mind when you need a paper clip, a local gift card, a stapler, or maybe a smart new desk to accommodate that stapler.
The store has been a fixture on St. Thomas for most of the past four decades. It has evolved as the community's needs have evolved, carrying more sophisticated products, computer supplies, architectural prints or copies, or, as a nod to the tourist business, a line of local art work.
Owners Suzanne and Terry Robinson were newly married, fresh out of college in 1966 when they arrived on the island with a one-year commitment for Terry to work on what was then the Planning Board.
Being able to identify a draughting shaft is one of those esoteric bits of information Robinson picked up while working toward his 1966 master's degree at the Harvard School of Design The knowledge is indicative of his imagination and curiosity about how things work. Those qualities have been put to the test in the years of running a family-owned business on St. Thomas.
The enterprise started out in the Sub Base, moving to various locations over the years, and from Raphune Hill to today's handsome Havensight location, where they have been for more than 20 years.
At the end of the '90s came new challenges: the arrival of Cost-You-Less and the giant Office Max, followed by the business decline after the Sept. 11, 2001, terrorist attack on New York.
In an October 2001 panel discussion on how local businesses were handling the economic downfall, Robinson said challenges are nothing new to the Draughting Shaft.
"We've been faced with Cost-You-Less and Office Max, so we're used to it." he said at the time. When the larger stores came in, Robinson recalled, "We knew not to try and compete on price, so we concentrated on service."
A smart move
At the time, Robinson had just completed the custom design and office coordination for the new 45,000-square-foot Banco Popular building. He says today that lots of people weren't aware of the design service the store offers.
With a design team led by Terry Robinson, the store can look at individual offices and determine what's needed for a limited workspace, suggesting efficient installations of high quality products. They offer a complete line of high-quality office furniture.
"You can go out and buy a fax machine," Robinson says, "but when you get it back to the office you need something to put it on."
Though the store carries what Suzanne Robinson pleaded not to describe as "everything from soup to nuts," Terry Robinson stresses the business survives on its office furniture and supplies business.
"It's our local business that carries us," Suzanne Robinson says with pride.
Over the years, the store has earned a valued local reputation. It lives up to its motto: "The Friendly People." The store operates with a remarkably small and loyal full-time staff. Marlene Rogers, Fitzroy "Figgy" O'Garra, Cyril Battiste and Roy Hansen. All have been there for years.
Hansen is a familiar face to artists, architects, and anyone looking for art supplies, which he has been dispensing for more than 20 years. An artist himself, he knows his products well.
"I've learned so much on the job," Hansen says, "I enjoy helping people, and when I go home, I paint."
Some of Hansen's acrylics hang in the store, and there's others down the way at the Havensight Café.
Their clientele has remained loyal over the years, as have the Robinsons to the community.
Suzanne Robinson says, "This is our community. We have raised our children Amy and Scott here. It is our home."
Both are dedicated to giving back to the community. In fact, Suzanne was honored with the 2005 Rotary Club of St. Thomas II Person of the Year Award for her vast involvement in community affairs.
At the ceremony, she gave her husband and the store credit.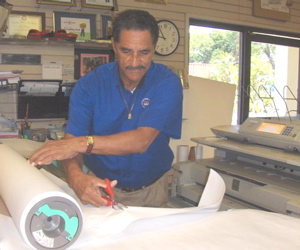 "We don't have a lot of money, but Terry has never balked at giving of time and other things," she said in accepting the award.
The store is central for tickets for most any charitable function, along with supplying gift certificates.
While not totally sidestepping mention of the "soup to nuts" category, the store does support local artists, carrying gift cards illustrated by artists Don Dahlke, Lucinda Schutt, Diane Artware and candles by Jason Budsan.
It is open Monday to Saturday, 9 a.m. to 5 p.m. The phone number is 776-1822