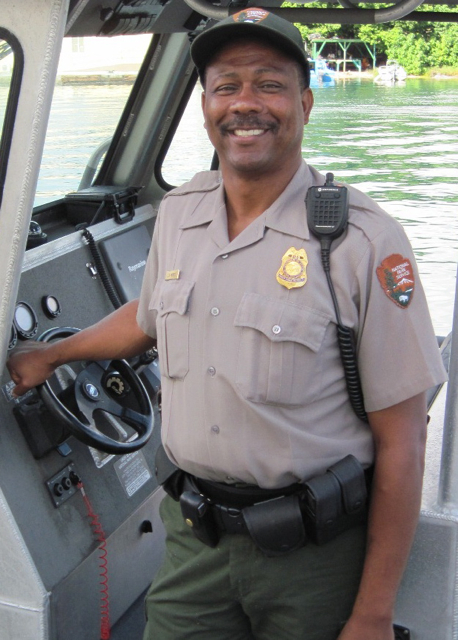 Lloyd Morris, the chief enforcement ranger at V.I. National Park on St. John, has on the job two months, but he's already discovered a lot.
"It's not the cost of groceries or the WAPA bill, but the amount of time it takes to get something shipped or delivered or to get services done," he said.
He calculated that it takes about three times as long as it did at his previous assignment at Kennesaw Mountain National Battlefield Park.
Morris also marveled at the technology gap between St. John and the mainland, and said he hopes he can tune in to his beloved Dallas Cowboys when football season starts.
Morris, 51, spent his career with the National Park Service, starting as an intern at Voyageurs National Park in Minnesota while still in college. After he graduated with a bachelor's degree in parks and recreation from Southern University in Baton Rouge, La., he went on to work at Jefferson National Expansion Memorial National Memorial.
"All that for the Gateway Arch," he said, laughing as he explained that most people know the St. Louis park for its landmark arch.
He moved on to Chattahoochee River National Recreation Area, Martin Luther King Jr. National Historic Site and finally Kennesaw Mountain, all in the Atlanta area, and a stint as acting superintendent at Horseshoe Bend National Military Park in Alabama before accepting the St. John job.
He was offered the St. John job last year but turned it down because he was reluctant to move his family. However, when the job was posted again this winter, Lloyd said he felt that God called him to it.
Morris and his family made the move in June, but his wife of 26 years, Reponzell, and son, Dominique Jamal, 11, have since returned to their home in the Atlanta suburb of Austell so his son can attend a familiar school and his wife can devote time to her real estate business. He also has a daughter, Erika Denise, 22, who is in college at the University of Missouri at St. Louis.
Park Superintendent Mark Hardgrove said that is an expert in developing relationships that include the community, the police and other law enforcement agencies.
With his family back in the states, the Cloutierville, La.-born Morris spends his little amount of free time attending Bible classes at Cruz Bay Baptist Church and riding his mountain bike around St. John and St. Thomas. Otherwise, he's on the job.
"This job is like every other job in the national park. There's never a dull day," he said.
The job was vacant for a couple of years, so Morris said he's spent considerable time bringing the Enforcement Division up to snuff. He oversees a staff of four enforcement rangers, five lifeguards and six people who work in the fee program.
The biggest issue for enforcement rangers is parking. Like Cruz Bay, the park's most popular beach, Trunk Bay, suffers from a shortage of parking. This encourages people to park along the road, but Morris said that creates a traffic hazard. He said before the enforcement rangers start issuing tickets, they make an announcement at the beach to give people 20 minutes to move their cars.
The park's enforcement rangers also deal with such issues as illegal immigration, particularly through the park's North Shore beaches. Morris said it seems like the flood has slowed down over the past few years, and he's now seeing mainly Haitians coming through Tortola.
As for his future, Morris said he's looking forward to retirement when he's about 60 and putting to good use the fishing pole colleagues gave him when he left Kennesaw.
"But working for the park service has been a fun job," he said.