Frederick Ndabaramiye lost both of his hands three years after the genocide of 1994 when he refused to kill 18 other people who were traveling on a bus with him near the Congo border. He was 15 years old.
The Interahamwe, the Hutu militiamen, who were still making forays into Rwanda from neighboring Democratic Republic of the Congo, killed everyone on the bus anyway. Since Frederick had refused their orders, they said, "'We are going to give you a message to give to the people.' That message was to cut off my hands."
Throughout the past two weeks, we have been reminded constantly of what atrocities occurred in 1994. But visiting Ubumwe Community Center, founded by Frederick and his former teacher, Zachary Dusingizimana, we all were reminded how far the people of Rwanda have come and what it takes to drive their overwhelming compassion and sense of forgiveness.
Even though Frederick's mother was living, she did not have the means to take care of her son after he lost his hands. He found his way to Imbabzi, a well known orphanage started by American Roseamond Carr, where he met Zachary. They were able to confide in one another, both being survivors and losing most of their family in the genocide.
"I couldnt smile. I felt angry," Frederick said.
Since God had spared both of their lives, they decided that they had to do something to give back to their people, just as many Rwandans feel they need to do.
On a long, dusty, dirt road that separates Rwanda and the Democratic Republic of the Congo, the five-room, modern center sits in the middle of well manicured lawns and neatly trimmed bushes. Getting out of the van I notice people coming out of different rooms to greet us, some of them rolling in their wheelchairs. Several had either no arms or legs. Nevertheless, they all smile brightly and welcome us.
Frederick takes us into the first room, a workshop where 15 people sew, weave, and make dolls. Sewing machines fill the left side of the room where I see a man missing both of his legs finishing up a bag. He looks up to greet me in the little English he knows, "Hello my friend, how are you?"
To the right, tables are pushed together as men and women work weaving picture frames. Behind them is a man sitting alone. I walk towards him but he keeps his head down as he continues to cut lengths of material for the weavers. Frederick tells us the man's name is John and he is completely blind and deaf. Fredericks says John will soon have a hearing aid to help him. Other people near the back of the room smile warmly as they stuff handmade dolls with shredded bits of plastic.
Besides providing skills programs, the center also doubles as a school where an inclusive education program ensures handicapped, mentally challenged, and deaf children are positioned to receive a free education in the mainstream primary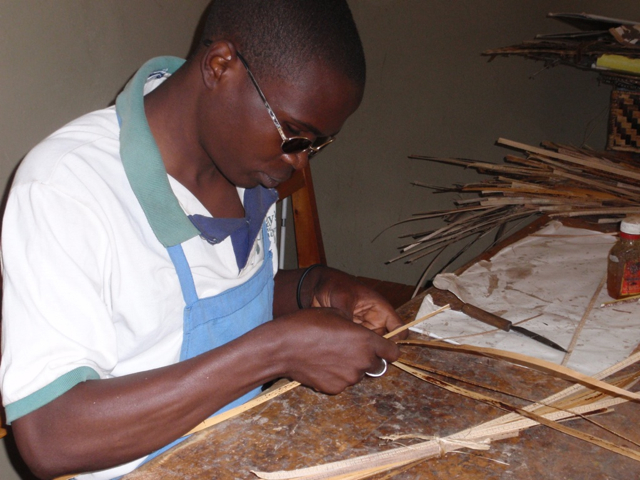 and secondary schools. Children are taught sign language, along with computer and social skills, and English.
Ubumwe is the only organization of its kind in the country that does all this for free.
Frederick says his main goal, however, is to teach how strong God's power is to the people who have come to Ubumwe for help.
He says he can smile today because he has forgiven his torturers.
" I am free."