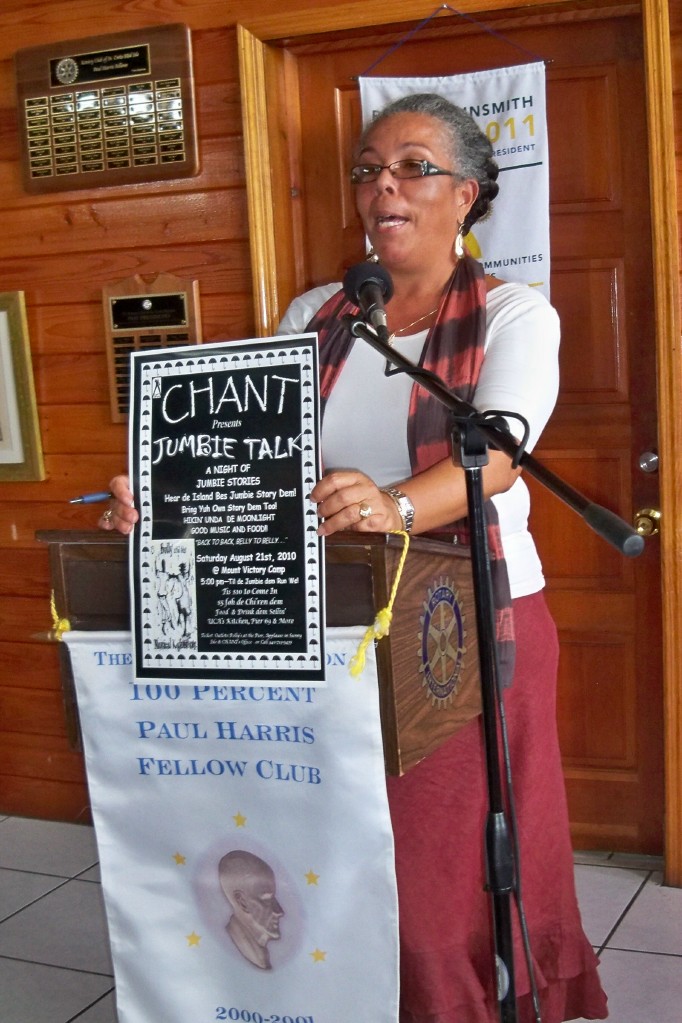 Rotary Club of St. Croix members and guests learned Thursday that CHANT is a lot more than just a clever acronym for Crucian Heritage and Nature Tourism.
Guest speaker Frandelle Gerard, executive director of CHANT, told the dozen Rotarians gathered at Gertrude's Restaurant that CHANT helps local artisans and hobbyists turn their expertise into valid tourism businesses.
They do so by helping develop local tours and marketing stateside with tour operators and cruise lines.
"We want to establish St. Croix as a leading heritage and nature tourism destination," Gerard said. "This is a unique opportunity to promote our natural resources in our cultural heritage and ecotourism."
Some of the CHANT tours and venues offered are walking tours of Frederiksted and Christiansted showcasing the forts, historic buildings and the waterfronts. Veronica Gordon, a traditional bush doctor (herbalist), offers a three-hour, hiking tour with information on local medicinal plants.
Ras Lamumba of AY-AY Eco Hike and Tour leads hikes teaching history, culture and folklore. There are also different tours and activities at the V.I. Sustainable Farm Institute located in the rain forest. The farm, also called Creque Dam Farm, is ranked as a top global tourism experience by "Islands Magazine," "Coastal Living" and "National Geographic's" Center for Sustainable Tourism.
CHANT also collaborated with the farm for a very successful Youth Empowerment Summer Day Camp mentorship program in July. "There were local youth and youth from the states who took part learning about nature, heritage and culture," Gerard said.
Gerard said there are fees for the tours that range from $10 to $60, and there are a minimum number of people required for the tours to be scheduled.
CHANT works with the public, private, and non-profit sectors of the local tourism industry to support expansion of resources and infrastructure to benefit members of the industry.
Gerard said the Department of Tourism has granted CHANT almost $50,000 for marketing, a website, and training of tour guides.
Gerard then passed around a DVD that will be formally released next month showcasing the heritage and architecture of St. Croix. The DVD, produced through the help of the St. Croix Humanities Council and Tourism, will go out to cultural heritage film festivals, travel channels and local hotels.
Gerard told the Rotarians the non-profit group started 10 years ago. They are under the St. Croix Foundation and governed by a board of directors.
On Saturday CHANT will have a jumbie talk and walk at Mt. Victory Camp beginning at 5 p.m.
For more information about CHANT call 719-5455 or go to www.chantvi.org.