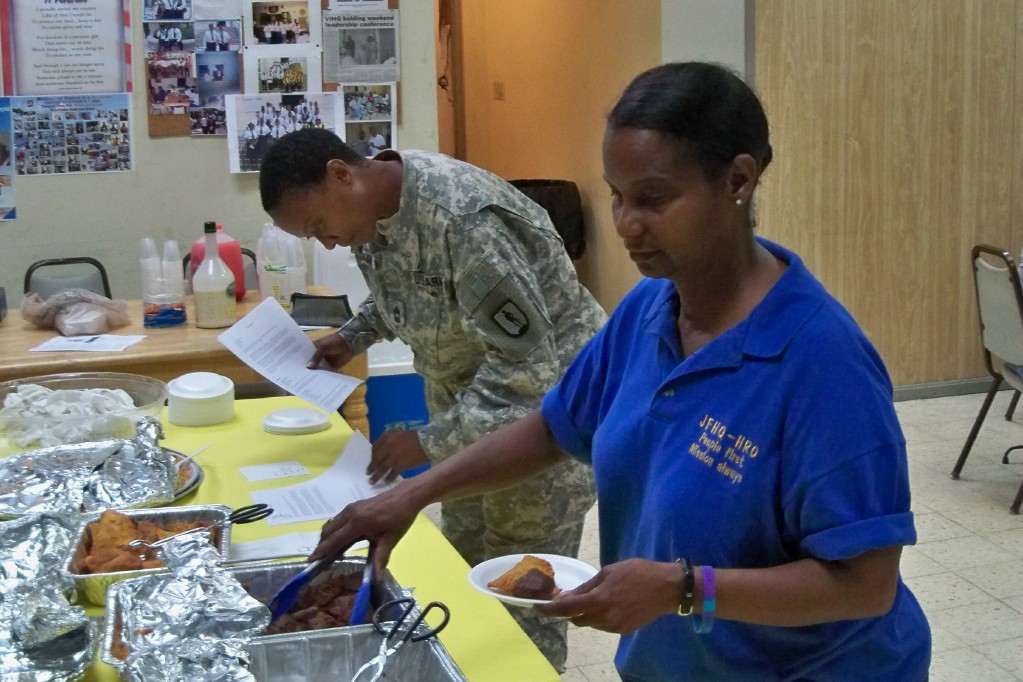 Hispanic American Heritage Month might not be one of the island's high-profile holidays, but the three-dozen people at the Myron G. Danielson American Legion Post No. 85 in Gallows Bay Wednesday night were definitely in the holiday spirit.
Early that evening they got into the mood by tasting a variety of Puerto Rican specialties, including flan, alcapurrias, pasteles, bacalaitos, pates and tostones, all prepared by esteemed Crucian cook Gladys Felix.
Most of these delights are generally reserved for Christmas and New Year's.
And to wash down the food was coquito, the creamy coconut eggnog-type drink, which was prepared by event organizer Sgt. Maj. Eugenie Santos.
The state equal employment manager for the V.I. National Guard, Santos said she often organizes events like this to mark occasions like Martin Luther King Day or Black History Month. However, Wednesday's evening was different because the National Guard Armory, where the events are usually held, could not be used because of renovations. So, when American Legion District 10 agreed to host the event, she decided to open it to the public.
The centerpiece of the evening was the showing of "The Borinqueneers," a documentary about the 65th Infantry Regiment, an all-volunteer Puerto Rican regiment of the U.S. Army that served in World Wars I and II and the Korean War. A trailer of the film can be seen on YouTube.
Although there was music and dancing later in the evening, comments before the film were more somber.
"In the military there is no discrimination," Lt. Gov. Gregory Francis said. "We are all fighting for the same thing: freedom."
VING Adj. Gen. Renaldo Rivera said the evening was a very special occasion for him because he is a Hispanic-American.