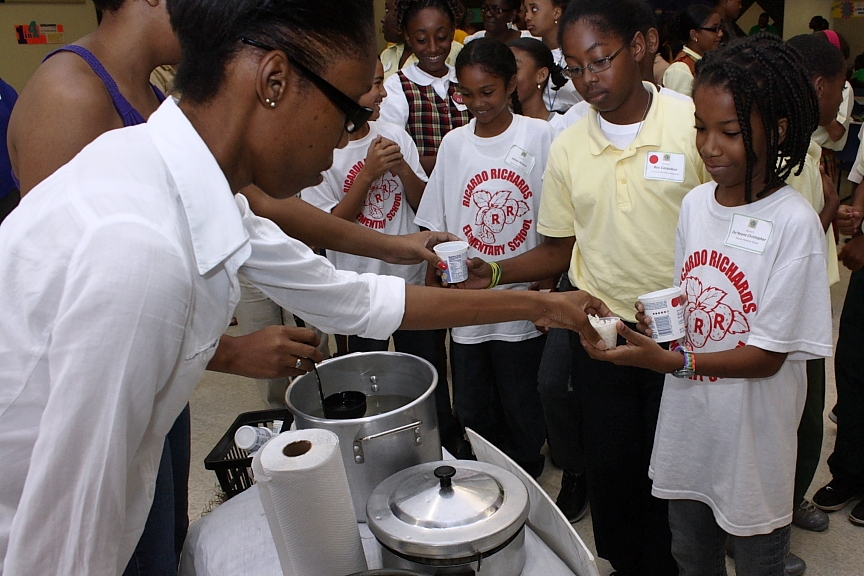 About 100 children received a hands-on lesson Wednesday about famine and malnutrition at a "hunger banquet" held at the University of the Virgin Island's Great Hall.
The banquet was hosted by UVI's Cooperative Extension Service and is one of a series of events being held to honor World Food Day on Oct. 16.
The students, ranging from grades fourth-12th, believed they were attending a regular lunch, but the Extension Service had a surprise for them.
As the students entered, they were randomly assigned to one of three groups representing different income ranges – and then served accordingly.
A small, fortunate group represented the 15 percent of humankind that earns over $12,000 a year. They were served a nice lunch of lasagna and had waitresses refilling their juice cups.
The second group represented the 35 percent of the world's population that makes between $1,000 and $12,000. They were treated to a buffet of rice, beans and corn.
The final group represented the 50 percent of humankind that makes less than $1,000 a year. They were only given a meager portion of rice and a cup of water.
"Do you think that's fair?" asked Sen. Terrence Nelson, who served as the master of ceremonies.
The kids in the low-income group replied no, while about half of the kids in the high-income group said yes.
Nelson told the children that no one can choose the economic situation into which they are born, and often poverty and hunger have little to do with how hard someone works.
"You may think hunger is about too many people and not enough food. That is not the case. Our rich, bountiful planet produces enough food to feed every women, man and child on earth," he said. "Hunger is about power. It's roots lie in inequality in access to resources."
Sommer Sibilly-Brown, a teacher at Ricardo Richards Elementary who is also active in the Local School Lunch Farm to School Initiative, told the students they were lucky, because even though one in four children in the Virgin Islands lives in poverty, the territory as a whole was in the top 15 percent group worldwide. She said that even those who are unemployed usually get two square meals a day through charity or government assistance.
Sibilly-Brown then asked the children how many received free school lunches, to which many of the students raised their hands.
"And how many of you throw most of it away?" she continued, and many sheepishly raised their hand again.
"Every six seconds a child dies of hunger," she told them. "It takes you six seconds to throw away that extra food from your tray."
Sibilly-Brown said the point of the exercise was to get the students to think more about the value of food and not to take it for granted.
She led the group through a series of hypothetical situations, like a category five hurricane striking the island, in which food could become scarce. She told them that 99 percent of the territory's food is imported so we would be vulnerable if there were ever a disruption in shipments.
She urged the students to become more interested in gardening and farming, and said she hoped some might consider agriculture as a career.
Kofi Boateng, associate director of UVI's Extension Service, told the students that he wanted them to feel empowered by the lesson.
"We can help the world feed itself," he told them. "And we can contribute in terms of learning about hunger, learning about how food is distributed. And we can do a lot of things to stop the effects of hunger."
Schools participating in the hunger banquet were Pearl B. Larsen Elementary, St. Croix Educational Complex, Ricardo Richards Elementary, St. Patrick's School, Arthur Richards Junior High School and the School of the Good Shepherd. The 4-H Club and the Boys and Girls Club also sent students.
UVI will host a World Food Day celebration from noon-6 p.m. on Sunday, featuring food vendors and events like the "Youth Super Chef" competition. There is no entrance fee, but attendees are asked to bring nonperishable food for a food drive.