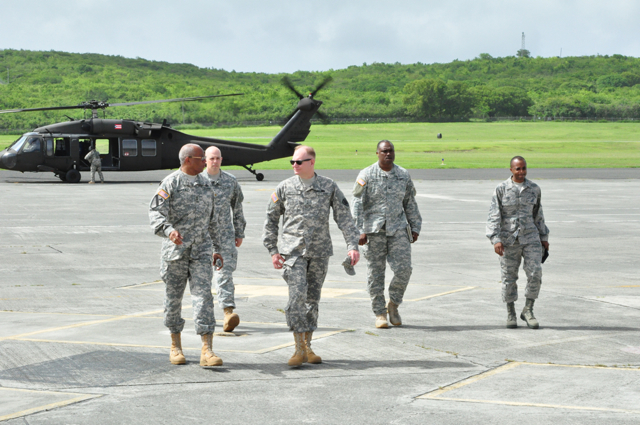 Representatives from federal agencies and state National Guards visited the U.S. Virgin Islands Tuesday and Wednesday to get a firsthand look at the V.I. National Guard's needs in a Defense Support to Civil Authorities all-hazards event.
The visitors also got a look at the VING's brand new 210th Regional Training Institute on St. Croix, according to a news release.
Maj. Gen. Gerald Ketchum, director of domestic operations and force development, National Guard Bureau, in his first visit to the Virgin Islands, said he was pleased with the productivity of the workshop.
"I have a much greater appreciation for the complexities of providing response to the territory," Ketchum said, in the VING statement.
Ketchum was joined by representatives from U.S. Northern Command and from Mississippi, New Jersey, Puerto Rico, Delaware, Washington, Kansas, Louisiana, West Virginia and Florida National Guards.
Attendees met and presented their state or agency's capabilities to support the VING and the territory. They were taken on an aerial tour of St. Croix, St. Thomas and St. John to get a personal feel for the challenges of the islands' infrastructure. The attendees then reconvened to present their responses to the challenges witnessed on the tour, according to the VING.
"The two major challenges are mobility, especially with the loss of the C-23. Second challenge is inter- and intra-island communication," Ketchum said, summarizing the results of the exercise.
The workshop also gave local agencies a chance to network with their military counterparts and give input as to their needs in all-hazards events.
Francine Lang, director of public health awareness for the V.I. Department of Health, described the workshop as, "very critical."
"In the states people can drive in within hours," Lang said, adding, "We don't have that luxury."
Lang was able to work with other medical planners on a program where, "military would provide support to our hospital in the event our resources are exceeded or there is catastrophic damage to our facilities."
The All-Hazards Coordination Workshop comes as the 2013 hurricane season begins and the VING as well as the states and agencies are all better prepared to overcome the challenges facing the island territory 1,100 miles away.
"The Virgin Islands as well as those that will aid the Virgin Islands will be better prepared to mount that response," Ketchum said.