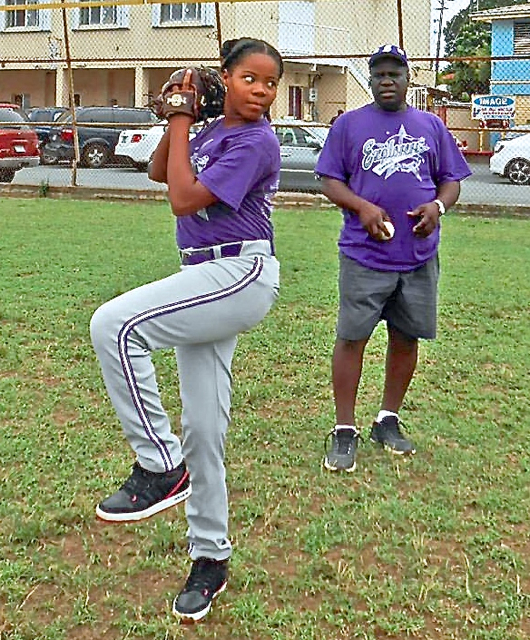 To call Michael Bute a modest man might be an understatement. He simply has his priorities. During an interview early last week, Bute made no mention of the fact that he was the first Little League Baseball World Series umpire from St. Thomas to call the balls and strikes at 2010 Little League Baseball World Series in South Williamsport, Pa.
Though a spot on the 16-member LLWS crew is considered the highest honor Little League Baseball and Softball can bestow on an umpire, that's not what Bute is about.
He said later that he tries not to mix umpiring with coaching.
"I'm a coach," he stated. It's a remark that is characteristic of the genial, but reserved big guy behind the St. Thomas Baseball Explorers, which he and Alvin Richards founded in 1996. It's his life; it's where his heart is.
When they started the club, Bute was teaching physical education at E. Benjamin Oliver Elementary School, and Richards at the Peace Corps school. Bute said the local teams had no chance to travel.
"They had no opportunity to see what the competition was like beyond the island," he said. "No exposure. In fact, they had played St. Croix once in four years."
He and Richards started the Explorers, taking the best athletes from the Alvin McBean and Elrod Hendricks West Little Leagues. It has since become the premier club on St. Thomas.
He laughed, recalling their very first experiences.
"I didn't realize how perfect the name Explorers was at the time. We had no clue where we were going. There were no GPS's then."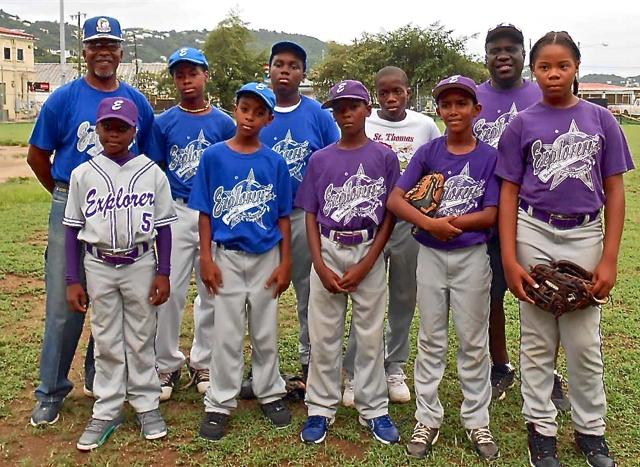 They financed the fledgling club by selling water by the roadside, holding cake sales, doing whatever they could do to raise money.
"The parents were always involved in fundraising," Bute said. "When we took our first trip to Santo Domingo, we weren't even a nonprofit yet."
Though the club is a registered not-for-profit these days, the roadside sales are still an important part of the fundraising, which is augmented by grants through the Community Foundation of the Virgin Islands and the Law Enforcement Planning Commission, corporate and individual sponsors.
"Our goal is to get more kids interested in baseball," Bute said.
The team has a winning record, a legacy of victory. Bute handed over a very neatly written record of the teams' history from 1996 through 2013, which includes 15 championships. He runs the team with four coaches – Hainsley Hewitt, Leroy Thomas, Delroy Gerard and Dwayne "Juice" Maduro.
Earlier this year, the 12-and-Under-team clinched the championship in the Hang Ten Tournament, part of the Cal Ripken Tournament. The 14-and-Under team took third place. In the past year, the Explorers sent two teams to Disney's Turn Back the Clock Youth Baseball Tournament at ESPN's Wide World of Sports Complex in Florida and participated in the Little League World Series, the world's largest organized youth sports program.
From the get go, Bute, who has a keen sense of how young boys develop, has laid down the rules. He said, "If a student is in school eight hours a day, practices ball for three hours and had two hours of homework, they don't have time to get in trouble. We show respect for them and they learn respect from us."
The team has one female, and she's quite something, according to Bute, who said there is no problem with the team having a girl as its closing pitcher. Janiya Victor, as it turns out is a shy 11-year old right-hander with little use for conversation, but a lot of concentration on her pitches, just like a pitcher should be.
The parents are an integral part of the program. In fact, it's really a family affair, as witnessed Sunday when, during a break in the weather and after being rained out Saturday, the team suited up at the Joseph Aubain Ballpark in Frenchtown, ready to show their stuff for a reporter.
While the kids tossed a ball around in the wet grass and hit a very few under the careful pitching of Victor, parents Julice Thomas, LeTrisse Abbott, Christina Fredericksen and Waukebo Warner kept an eye on the proceedings.
They are all old hands at this.
"We're like a family," said Thomas. "We're all here for each other. If somebody can't make it, we fill in for them, watching the children, letting them know we are here. It's like a village, we all take care of one another. We never miss a game or a practice."
Then, what about the youngsters whose parents don't come to the games?
"That's something we take care of," Thomas said. "We never want them to feel alone, we're here for them. It's a lot more than playing ball, you know."
And how do they celebrate victories? Big laugh. "Oh, you don't want to see us," Thomas said, while the others laughed. They all agree: "We do carry on!"