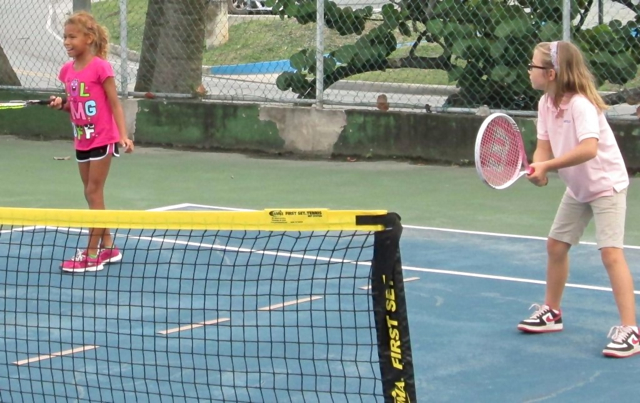 Tennis anyone? On St. John, the answer is "yes" when youths from across the island gather Mondays, Tuesdays and Fridays at the Cruz Bay public tennis courts for free instruction at the St. John After-School Tennis Program.
"I like everything," Benjamin Thill, 6, said.
About 50 youths, age five to 11, just show up on one or more of the days to get lessons from Alfredo del Omo or Patrice Harley. Harley said she plans to start Sunday lessons and teach students as old as 17.
Harley, a retired teacher, came naturally to tennis. Her father is acclaimed tennis player Vic Ebbesen who, at age 88, is still involved in the game. Del Omo, who owns Alfredo's Landscaping, got involved because his two sons, tennis players Luca and Tomas, began giving lessons as a way to make some extra money. The two are now part of the teaching team.
"It's a fun thing to do," Luca del Olmo, 16, said as he waited for the youths to gather at the court for their Monday lesson.
Both Alfredo del Olmo and Harley said they love tennis, but del Olmo added that he gets energy from the youths.
His daughter, Malena del Olmo, 8, said she learned forehand and backhand strokes, serves, footwork, and "stuff."
Some of the youths are excellent tennis players already. Ciena Clendinen, 8, said she plays in tournaments, and wants to be a "famous" tennis player.
Others had similar goals.
"I'm good. It's a sport and makes you stronger, and it's nice to play," Victoria Hotze, 6, said.
Her father, Caneel Bay Resort manager Nikolay Hotze, arrived to pick her up after the session ended. He said it was important for his daughter to be part of the community and enjoy the camaraderie the tennis lessons provide.
Other parents were also on hand to watch their children learn skills and play games to enhance their enjoyment.
"It's a great program, and a great opportunity for kids to release a lot of energy," Adam Thill said as he watched son Benjamin out on the court.
Prince Adams, there to pick up son Jacob, 9, noted that St. John doesn't have a lot of afterschool programs so he was happy to have his son participate.
Some of the students, particularly in del Olmo's Monday and Tuesday sessions, come with their own rackets. A few in Harley's Friday class have their own, but they share. Harley also depends on donations to help fund supplies like the special tennis balls that are manufactured to fit the skills of different age groups.
And if students come to eight classes, Harley gives them their own tennis racket.
"They don't let me forget," she said, laughing.
To play tennis afterschool, just show up at the Cruz Bay tennis courts. The Monday and Tuesday programs run 4:30 to 5:30 p.m. The Friday program is 3 to 5:30 p.m.