St. Croix-based Seaborne Airlines continues to aggresively expand its Caribbean reach with the addition of St. Kitts and Nevis to the airports it serves starting Jan. 15, 2014, the airline announced this week.
"This is part of a broader plan," Seaborne President and Chief Executive Officer Gary Foss said. The company has been hiring pilots, flight attendants and support personnel over the past year, and Foss said Seaborne just purchased an additional four 34-seat Saab 340 turboprops.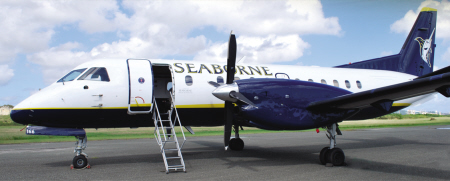 "These planes will increase our Caribbean fleet to 13 aircraft, providing travelers throughout the Caribbean with even more travel options and the service they deserve," Foss said. The Saab aircraft has a range of about 1,000 miles and a top speed of about 300 mph, depending on the model and other factors.
He said more countries will be added shortly but declined to indicate what they were because negotiations are ongoing.
Seaborne aims to "backfill" the market left vacant when American Eagle stopped flying to many Caribbean destinations in April.
"Our intention is to take the Caribbean by storm," he said.
With the addition of the flight to St. Kitts, which continues on to Nevis, Seaborne flies to 14 Caribbean airports. They include St. Thomas and St. Croix airports and seaplane bases, Vieques, Tortola, Virgin Gorda, Dominica, Martinique, Guadeloupe, the Dominican Republic, and San Juan.
The San Juan hub is the key to Seaborne's operation. Foss said the airport receives 22 non-stop flights a day from mainland destinations. Those flights have 12,048 seats available. Passengers connect in San Juan to various Caribbean destinations.
The St. Kitts flight departs San Juan for Robert L. Bradshaw International Airport and continues on to Nevis' Vance W. Amory International Airport. The flights will operate daily. It leaves San Juan at 3:25 p.m., arriving in St. Kitts at 4:50 p.m. The flight leaves St. Kitts at 5:10 p.m. for arrival in Nevis at 5:30 p.m. Travelers headed for Nevis stay on the plane in St. Kitts.
After an overnight in Nevis, the plane leaves Nevis at 7 a.m., arriving in St. Kitts at 7:20 a.m. It leaves St. Kitts at 7:50 a.m., arriving in San Juan at 9 a.m.
While the St. Kitts/Nevis flight is a boon for tourism in those destinations, Foss said it will also help Virgin Islands residents who hail from that part of the Caribbean by making trips easy.
"Seaborne is building out an exciting new flight network between Puerto Rico and the neighboring islands," Sen. Ricky Skerritt, minister of International Transport for St. Kitts and Nevis, said in a press release. "This San Juan service will also add valuable capacity to the system of air bridges we have been developing between St. Kitts and Nevis and various international source markets."
To commemorate the launch of Seaborne's 14th airport in the Caribbean, Seaborne is offering fares as low as $129 one-way with taxes included. Bookings must be made by Dec. 15 for travel by March 31.
Flights can be reserved via seaborneairlines.com, Expedia, Orbitz, Travelocity or through a travel agency.