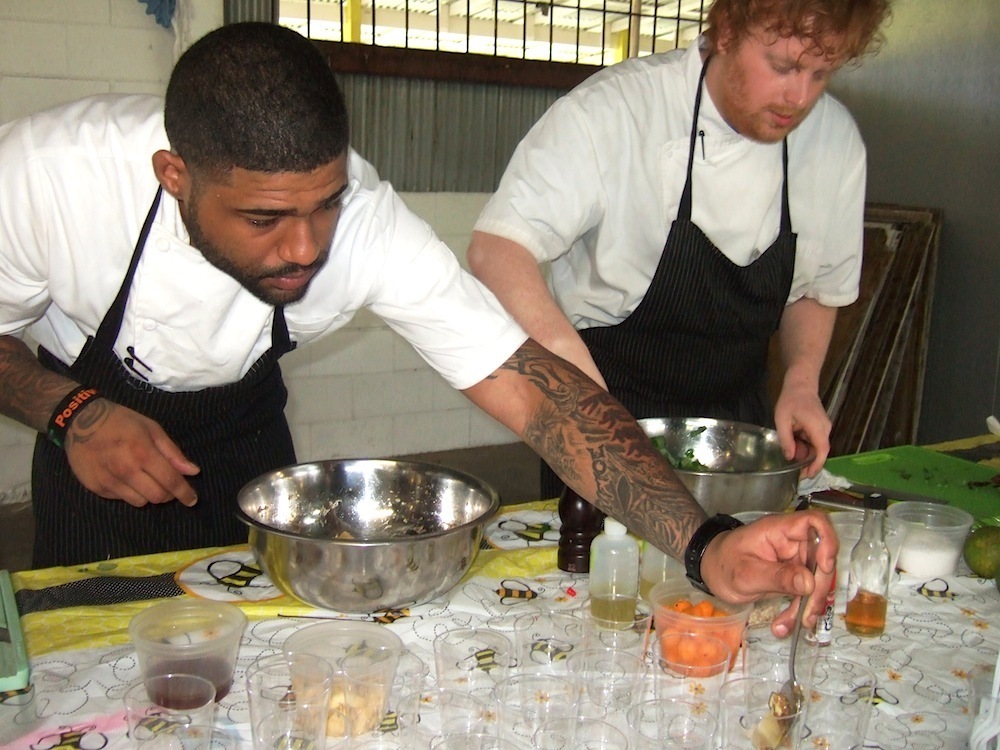 Farmers presented their best produce to the chefs and the chefs sampled each item before concocting a "Crucian Fusion" in a noncompetitive Iron Chef -like demonstration at the Rudolph Schulterbrandt Agriculture Complex on Wednesday between the morning deluge and the afternoon torrents of rain.
The farmers market and chefs' exhibition were mid-week events for "Crucian Fusion – Traditional Gone Gourmet," a week-long benefit for Crucian Heritage and Nature Tourism Inc., a St. Croix nonprofit organization.
Last Sunday guest chef Digby Stridiron created a nine course "Slow Down" dinner with organic foods at the Ridge to Reef Farm.
At Wednesday's farmers' market, Stridiron and his sous chef Alex Richmond tasted, chopped and ground papaya, carambola, eggplant, red okra, watercress, spinach, scotch bonnet peppers, sour orange and other ingredients. The resulting dish, sampled by the audience, included carambola ceviche and truffle bananas, topped with greens and tossed with a Japanese Togarashi spiced vinaigrette.
Later in the day, the chefs created another instant dish with fresh produce from local farmers.
On Saturday night, the grand finale local food competition will be held at Fort Frederik, and Stridiron will work with other local chefs and create a dish of his own but won't participate in the competition, he said. Stridiron said he looks forward to using local produce and said he likes to prepare curries and custards of all flavors.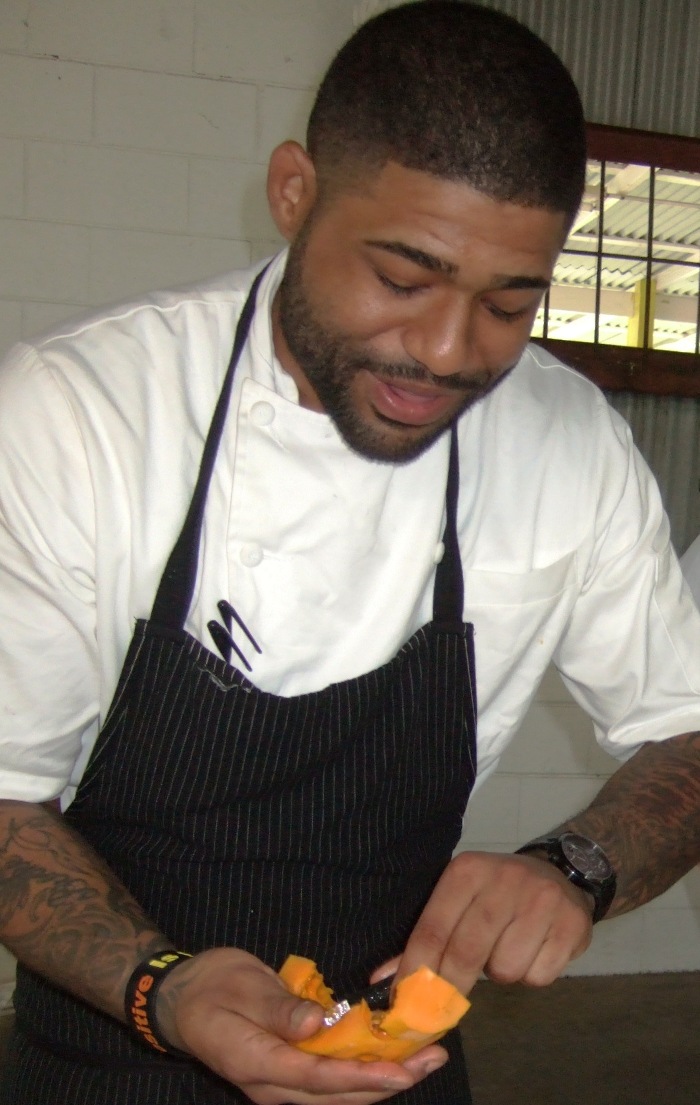 "We will use stuff we have here and shine – touch people with food," he said. "Food brings people together."
The goal of the grand finale Crucian Fusion event is to elevate local food to another level with farm to table dishes and the freshest local produce available, according to Frandelle Gerard, CHANT executive director. Gerard said roast pork will be highlighted with a station of its own.
Tickets are $50 and include food samples, wine and live music with Kul-E band. There will be a cash bar.
So far, 15 chefs and/or restaurants have entered Saturday night's contest to be judged by a panel of 12 "foodies." Stridiron will mingle with competitors and guests and students from St. Croix Central High School will help plate and serve food.
Asta Williams, Crucian standard bearer and CHANT tour guide, and her grandson Akil Thomas will make rice pudding and a variety of local drinks for the competition.
Chef Frank Robinson will enter for the first time. His creations will include a sorrel drink with rum and passionfruit rind jam, "like a marmalade," he said.
Also Saturday evening, awards will be presented to long-time Crucian food restaurateurs Allan and Mabel Brady of Brady's Restaurant and Margarita Heywood of a Taste of Margarita's Restaurant for their commitments to the art form of traditional Crucian cuisine, Gerard said.
Stridiron, executive chef, business owner and chef de partie at Luma on the Park Restaurant in Orlando, was born on St. Croix. He attended Alfredo Andrews Elementary School, John Woodsen Junior High and graduated from the St. Croix Educational Complex in 2000. He worked at several local restaurants before leaving the island including the Buccaneer Hotel while he was still in high school. He attended Johnson and Wales University and after graduation worked in North Carolina before starting the Stridiron Group.
Stridiron said he comes from a "family of chefs." Orlando Santos, a competitor on Bravo TV's Top Chef Just Desserts, owner of Orlando's Chocolate Treasures in Pittsburgh and the guest chef for Crucian Fusion in 2011, is a cousin.
When he was young and gaining interest in cooking, Stridiron remembered his grandmother's essential ingredient and he adopted her quote as his mantra.
"It mek with love, lotsa, lotsa love," she told him. She also advised him to cook with a "pure heart," good ingredients and not to take shortcuts.
The Crucian chef knows how to shine, using the finest and freshest ingredients and focusing on detail. He said he tastes everything before he adds it to a dish, to make sure it is not the one bad apple in the lot. He also believes in promoting local chefs to help the economy and "keep money in the community." During his St. Croix visit, Stridiron is visiting restaurants to exchange ideas with owners and chefs.
The event at Fort Frederik will begin at 6:30. Tickets are available at Applause, Undercover Books, Trends, Polly's at the Pier and the CHANT office in Frederiksted. For more information, call 719-5455 or visit chantvi.org.
CHANT's mission is to establish and help develop nature and heritage tourism products for sustainable community development. Since 2008, the organization has focused on training tour guides who lead walking tours in Frederiksted and bus tours around the island. The program is now CHANT's signature product and so far, more than 11,000 visitors have taken paid tours.
The V.I. Department of Agriculture hosts several farmers markets each year including Wednesday's CHANT event. Agriculture gave "Virgin Fresh dollars" coupons for competitors to purchase fresh food from local farmers.
According to Assistant Agriculture Commissioner Luther Renee, the department also has worked draw customers and to fill the Shan Hendricks Market in Christiansted with vendors. The market, with fresh produce and locally made sweets is open Saturdays at 7 a.m.
"We're trying to get Christiansted going," Renee said.
Crucian Fusion sponsors include V.I. Tourism, V.I. Water and Power Authority, V.I. Waste Management Authority, the Buccaneer Hotel, Sand Castles on the Beach, L&C Tent Rentals and Dionysus Wine Distributors. This year the V.I. Lottery is helping fund two $1,000 scholarships for culinary graduates from both high schools to attend culinary school.