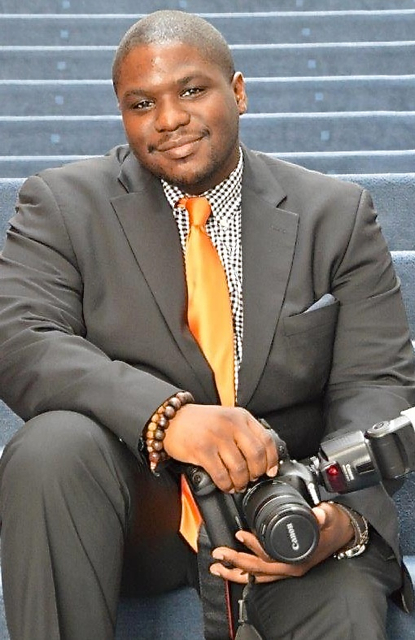 Jewels of the Virgin Isles is a feature series profiling Virgin Islanders in the diaspora who are excelling in their respective fields and/or positively representing the USVI abroad.
Giving back is something that comes naturally for Okori Christopher. In his work as a project technology associate for the American Institutes for Research, he is able to use technology and research to improve the lives of people in disadvantaged communities.
A self-proclaimed "nerd," Christopher puts his studious qualities as well as his background in psychology and criminal justice, to good use.
"I chose research because it is the guiding principle for all the work we do. Without research, we could not determine what works," he said.
As an associate for one of the largest behavioral and social science organizations, one which focuses on "making research relevant," Christopher considers his study of psychology to be the "gateway" to his current employer, and a way to give back to the community. He also made good use of his master's degree in criminal justice from the University of Baltimore, and has set his sights on even larger plans to use technology as a vehicle to prevent juvenile delinquency.
Having spent most of his childhood on St. Croix, Okori Christopher attended Free Will Baptist School, St. Mary's School, and completed his freshman year at the St. Croix Central High School before relocating with his mother Shelley Thomas to the Washington, D.C., metropolitan area. He credits his ability to succeed on the examples set by his mother and his grandmother, Gloria Gibbs Bell, both of St. Croix.
"My mother is the sole reason I am where I am today and my grandmother was my confidant. I always say to myself, if I had a quarter of their strength and wisdom, there is no obstacle I [couldn't] overcome," Christopher said.
His mother provided unwavering support for his dreams and encouraged him to pursue photography during his teen years. While reflecting on his path to advancement and how he avoided the pitfalls that can plague teen boys, Christopher recalled the strong role models in his circle of friends and family. He also counts his love of photography and the discipline he received as a Boy Scouts among the things that prevented him from succumbing to peer pressure.
"Sometimes it's easier to follow the herd than it is to find your own path to graze. That's an Okori-ism," Christopher chimed in with a smile. "My philosophy is that you have to be willing to be an outlier, positively of course, and that was me. I was not wearing the latest styles, and being part of a group that did the wrong things never inspired me."
Christopher attributed this to his sense of self and because he never wanted to give anything that much power over him.
Despite leaving the Virgin Islands as a teen for life in the states, Christopher still considers the Virgin Islands to be home and said he believes that growing up on St. Croix in a caring community really set his foundation for life.
"When my mother was at work and I got out of school, people would ask how my day was and when was I going to start my homework. Knowing that I had people looking out for me made me feel strong," Christopher said.
His love for the islands is palpable, and his excitement is clear when he talks about what he enjoys most. He even believes that the salt water of the ocean has restorative powers.
"When I come home and hit the water everything stops for me, including time. Nothing matters any longer," he said.
Christopher admitted he needs to return more often, but is comforted by the familiar and welcoming feelings that an island greeting of "good morning" or "good afternoon" can bring.
Christopher sees himself using photography and public speaking to inspire Virgin Islands children to be the best they can be.
"If we cannot help our people and restore our communities, we are welcoming a world of limited education, high crime, and extreme poverty, so I want to show our youth that there is more than one way to succeed," Christopher said.
A Nugget for VI Youth: Sometimes, it is easier to follow the herd than it is to find your own path to graze. My words of advice, is to find something that you believe in and work towards it! Nothing ventured, nothing gained!
Little Known Facts: Christopher has met two presidents – Clinton and Obama – and has photographed President Obama as part of U.S. Select 2014 on behalf of someone from the Virgin Islands.
Loán Sewer is a marketing and tourism consultant and proud Virgin Islander who resides in Washington, D.C. She is also a founding member of the USVI Alliance Inc., an organization focused on reconnecting the Virgin Islands diaspora with the local community and host of the USVI Economic Development Summit on the U.S. mainland. Follow her on Twitter @LoTalksTourism or e-mail her at info@Lotalkstourism.com.