They do not hate anyone based on sexual orientation, members of the newly formed One Voice Virgin Islands said Thursday, and they advocate for 'universal' or 'brotherly' love. But at a morning press conference at Emancipation Garden, members of the group said they oppose Sen. Judi Buckley's marriage-equality bill because of Biblical principles that have been "set in stone" from the beginning of creation.
"Some may view this as a human rights or a civil rights issue, but it doesn't matter what label is put on it – it is still the same," apostle Alger B. Warren, a member of One Voice, said at the press conference. "It is a moral issue, and wile some may manipulate the scientific or political arguments, it doesn't change the fact that marriage is ordained by God between a man and a woman and that position does not change regardless of the decisions of the V.I. Legislature or the Supreme Court."
In June 2013, the U.S. Supreme Court ruled in U.S. v. Windsor that the federal government must recognize same-sex marriages that have been legalized by the states. The decision struck down a key provision of the Defense of Marriage Act , which had been law since 1996.
Since then the marriage-equality movement has gathered steam. Legislatures in eight states have passed laws allowing same sex marriage or overturning laws forbidding it. In a ninth, Maine, voters approved the law change. And in state after state, district court judges have overturned state laws banning recognition of same-sex marriage, citing the high court's Windsor decision.
Marriage equality is now recognized in 30 states – although in nine of those the court decisions have been appealed.
But the 10 One Voice speakers at the podium told the audience of about a dozen supporters Thursday that Buckley's same-sex marriage bill, which would define marriage as a "civil contract that can be entered into between two people in accordance with law," affects the moral fabric of society. A traditional marriage, between a man and a woman, is the foundation of any society and when that foundation crumbles, everything from violence to incest comes as a result, they said.
While One Voice was formed in response to Buckley's bill, members said they also see it as an opportunity to advocate against the other societal issues plaguing the V.I. community.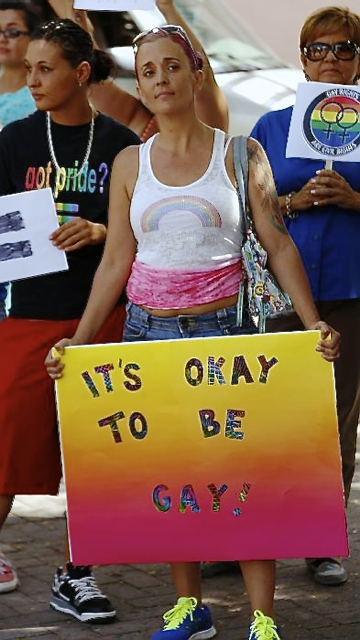 A dozen or so proponents of marriage-equality attended One Voice's press conference and said they agree with the effort to address the community problems. They just don't see how gay marriage is one of them.
"The first part of the speech touched on the same concerns that everyone has in the Virgin Islands," St. Thomas resident Brigette Berry said. "We are concerned about the crime and the economy, where our young men are going, and what opportunities we're giving our young people. So why can't we go back and focus on that, because that's what is really important."
Berry added that supporters of the bill are fighting for a simple cause: equal rights.
St. Thomas resident Sarah Mackie talked about the difficulties she and her wife have faced over the past few years because they are a same-sex couple. If her wife goes to the hospital, Mackie said she is not able to visit because she is not considered family, nor is she able to cover her spouse under her insurance.
"Everyone has a different moral issue, but that is not to say that their moral issues are the same as mine," Mackie said. "I love my wife and I wish we could get married legally. We've been together eight years, we have a beautiful family that we raise together and I don't see how that's wrong. We just want the opportunity to be afforded the same rights as everyone else and I am glad that we're finally beginning to have this dialogue, I think it is a milestone for us in the Virgin Islands."
Several of the bill's supporters said passage of Buckley's bill would bring economic benefits to the territory, from increased cruise ship calls to more hotel bookings and an increase in wedding tourism. It's a win-win situation, some said.
Speaking after the press conference, pastor Lennox Zamore said he disagrees. Legalizing same-sex marriage based on the economic benefit would shift the territory's focus from tourism-based to sex-based.
"We don't want to balance our books by bringing the sex industry – whether it is same sex or not – to the Virgin Islands," he said.
Related Link —