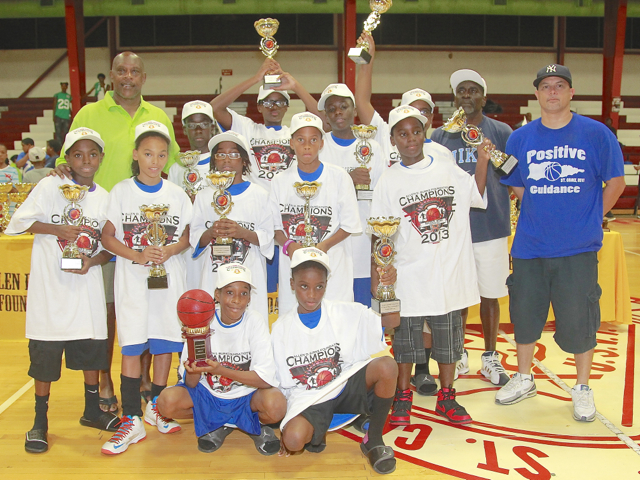 Allen D. Burke, a 2007 graduate St. Croix Central High School, had hopes, dreams and plans for his future. He was just days shy of leaving for college with a scholarship to Florida Memorial University to study to be a physical education teacher and coach.
But, it wasn't meant to be for the young man who lived to play basketball. The 18-year-old Burke lost his life in a Christmas morning shooting spree in 2007.
The community and Burke's classmates at St. Croix Central High School were devastated by his death. They showed and shared their love by donating money to a memorial fund, which became the seed for scholarships to help youth pursue their dreams.
In 2008 Olani Vanterpool, a graduate of St. Croix Central High School, received the first $1,500 scholarship from the Allen D. Burke Foundation.
Burke's mother, Jackie Thomas-Eastman, said she and his siblings, J'Ada and Alvin Burke, wanted to continue to provide a memorial to Allen and give youth an opportunity to further their education and pursue their dreams.
"We want to keep youth busy and off the streets and active in basketball in order to prevent crime before it starts," Thomas-Eastman said. "We don't want anyone else to go through what happened to us."
She speaks of her son as being taken from them.
Burke's family is working passionately keeping his legacy and the foundation alive in his honor.
"When I'm doing the work of the foundation I feel good and I feel like my son is still with me," Thomas-Eastman said with a crack in her voice. "The foundation is a passion that keeps me going."
In order to provide scholarships and educational items for deserving basketball players – Burke played on Central High School's B Team – they started the Allen D. Burke Basketball Tournament fund-raising event. The first tournament was held in 2012.
Thomas-Eastman said she was overjoyed to see the number of spectators that attended the first tournament.
"It was very emotional for me," she said. "There were over 2,000 kids off the streets, having fun with friends and families and supporting the foundation."
The first tournament had 80 local children playing on four teams. Now they are up to 240 players with teams coming to St. Croix in September from Puerto Rico, Tortola and St. Thomas.
The family holds the tournament around Burke's birthday, Sept. 15. This year the tournament will be Sept. 12 to 14 at the Central High gymnasium. Thomas-Eastman said the foundation even provides a huge birthday cake to celebrate. The participating youngsters ages 10 through 16 get trophies, T-shirts, and all sorts of other gifts.
Scholarships, gift certificates and laptop computers go to children chosen from Burke's alma maters, Pearl B. Larsen Elementary School, Elena Christian Junior High School and Central.
Central graduates Kelvin Thomas, Moquannie Springer and Jerome Nathaniel, won scholarships. Past winners of gift certificates and computers were Kerbassi Augutin and Amani Liburd from Pearl B. Larsen Elementary School. Luis Encarnacion and Kervin Mathurin were winners from Elena Christian.
To support the foundation, the friends and family of Burke volunteer at the foundation's food tent set up at most events on St. Croix. Thomas-Eastman said "fabulous" cooks and volunteers make it possible, and she is thankful for their support. She said they could use more men to help with heavy lifting and mentoring youth.
Other supporters of the tournament are Budget Car Rental, Plaza Extra, Seaborne Airlines, and the V.I. National Guard.
J'Ada Burke, president of the foundation, said in a recent email, "In the Virgin Islands, as small as we are as a community we deal with so many deaths each year because of gun violence. Losing a loved one in such a manner is absolutely devastating and there aren't many ways for the victim's families and friends to cope. We hope to provide positive alternatives to a life of crime and violence by offering scholarships to attend college, community service and recreational opportunities, and mentor programs. This is why we started the foundation, so my family can cope and keep my brother's memory alive and so that young men just like him can have the opportunities that he had as a young boy growing up in the USVI."