St. Croix and St. Thomas each have a new, state-of-the-art, mobile health clinic, the Department of Health announced Monday. The 40-foot customized RV-type vehicles are equipped with exam rooms, a small lab, an intake and assessment area and a restroom. The mobile clinics are also capable of electronic medical recording and are protected by a security camera system.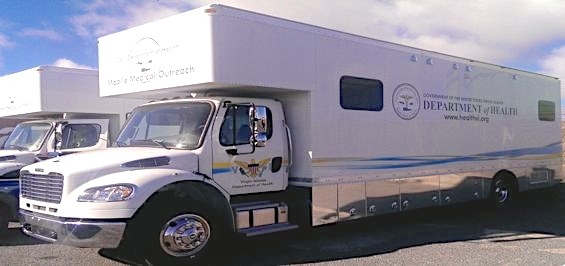 "Challenges with accessing health care services can keep residents from seeking primary health care," Health Commissioner Darice Plaskett said in a statement Monday. "When patients don't receive regular medical care and health screenings, illnesses that might have been caught and treated can escalate into chronic or acute health conditions." She said that offering mobile medical access for primary care services "means better care management and improved the health conditions for residents, especially those with chronic illness."
A division of the U.S. Department of Health and Human Services awarded the V.I. Health Department $693,000 in 2010 to buy the two units, according to Health. Health contracted Life Line Mobile, Inc., a company the department says has a long track record in the mobile medical van business, for the work.
Dr. Marc Jerome, the territorial medical director, said mobile medical outreach has been a goal of the department for several years.
"I know that those we serve are very excited about it. Services will include primary care, health screening, maternal health/child health services, family planning, immunizations and more. All of our primary care services will utilize the mobile medical clinic to conduct outreach actives," Jerome said.
To mark this momentous achievement, a ribbon cutting ceremony and health fair is scheduled for Thursday from 9:30 a.m. – 3:30 p.m. at Sunny Isles Shopping Center, St. Croix, and at Tutu Mall, St. Thomas.
The public is to tour the new mobile medical clinics. For more information, visit the Department of Health website at www.healthvi.org.