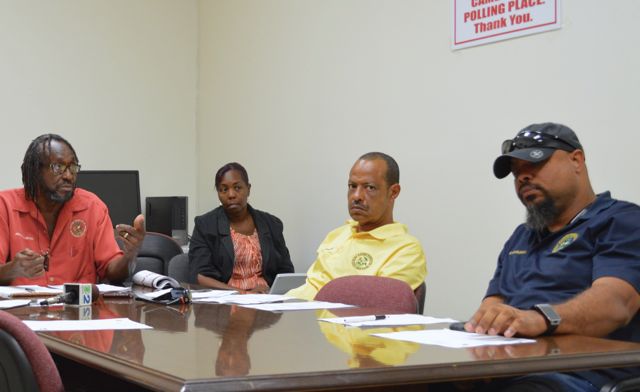 The St. Croix Board of Elections held a second emergency meeting to address how to handle removing Sen. Alicia "Chucky" Hansen from the ballot Tuesday but adjourned without a quorum.
The V.I. Supreme Court once again knocked Hansen off the ballot for the St. Croix Senate race, in an opinion issued Friday evening, even though early voting began on Tuesday.
The court ordered Supervisor of Elections Caroline Fawkes to "immediately recall all ballots with Hansen's name and replace them with ballots omitting her as a candidate, or to otherwise remove Hansen's name from the ballot, such as by covering her name with an adhesive sticker."
St. Croix Board of Elections Chairman Adelbert Bryan filed a law suit earlier this year to force Hansen off the ballot, arguing Hansen's three convictions for willful failure to file income tax were crimes of "moral turpitude," rendering her ineligible to serve. The V.I. Supreme Court ruled her ineligible in late August, but Gov. John deJongh Jr. then pardoned Hansen, saying her candidacy should be judged by the voters. The case ended up before the V.I. Supreme Court again, and Friday that court again ordered Hansen off the ballot.
Justice Maria Cabret wrote a separate opinion, partially concurring and partially dissenting. Cabret said she agreed with the legal reasoning of the majority up to the point of ordering the change to the ballot so late in the process, after voting has begun.
"So even though a month ago I would have joined the majority in again ordering that Hansen be removed from the ballot, I cannot do so now at the risk of disenfranchising those voters who have already cast a ballot for Hansen," Cabret said.
The St. Croix board called a meeting Oct. 25, but several members said they would not be there. The Joint Elections Boards met Oct. 27 and established some procedures to address a voting machine glitch affecting party line votes, but little else.
Fawkes suspended early voting on St. Croix on Sunday night, six days after it began and only nine days before the Nov. 4 general election.
This is the territory's first general election using ES&S paper ballot tabulators, which Bryan campaigned on, personally researched and pushed for. At Tuesday's meeting Fawkes said she contacted ES&S about options to address removing Hansen from the St. Croix ballot. She read options suggested by ES&S by Customer Service Manager Alexia Morrison. Changing the ballots is an option, but is risky, because time is tight and a delay would be disastrous, she suggested.
Morrison's first option was to leave the ballots alone, then in the computer change the candidate's name to "disqualified" and move any votes cast for Hansen to undervotes. Second, one could recode the machine to not show the candidate name so it will not appear on machine reports or in ERM. This would involve putting a disqualified text so that the ballots do not change and can still be read. Third, one could redo both the ballots and the coding for the tabulators.
"At this late date this is a risky option because ballots may not arrive in time plus then some voters would have received ballots with the Hansen name and others would not. The ballots with the name still on them would not be able to be read in a DS200 so would have to be recreated," Morrison said.
Morrison recommended the first option of changing the candidate's name to "disqualified."
Bryan, Glenn Webster and Roland Moolenaar, the three members present, discussed the various options. Bryan said he did not support any solution that would "disenfranchise anyone who has already voted." By law, ballots may not be counted until election day, and the first two options would appear to discount or list as "disqualified" any ballot already filled out for Hansen.
Moolenaar said using a sticker over the name on the ballot, as suggested in the Supreme Court opinion, might work a few times, but would quickly interfere with the tabulator.
After the meeting, Fawkes said she was frustrated at the lack of a decision. "They just need to vote on … whether we get new ballots or not," Fawkes said. Asked what she would do if the board failed to act, Fawkes said one option might be to use the existing ballots and proceed, and work out procedures to count all of the ballots appropriately. But she emphasized she would "wait for legal advice on what to do," and would not commit to any course of action before doing so.
Asked about the ballots already cast, Fawkes said she is not sure if there is a practical way to use the tabulators to count those one way, but subsequent ballots another way.
"I think they are going to have to do it manually. That is an option," Fawkes said after the meeting.
There were 648 early ballots cast on St. Croix before early voting was halted that could be affected by the Supreme Court order.
There were 586 cast on St. Thomas as of Sunday, then another 183 just on Monday, Fawkes said. As of Sunday there had been 31 votes on St. John. Hansen is only running on St. Croix so early voting is only affected on St. Croix.