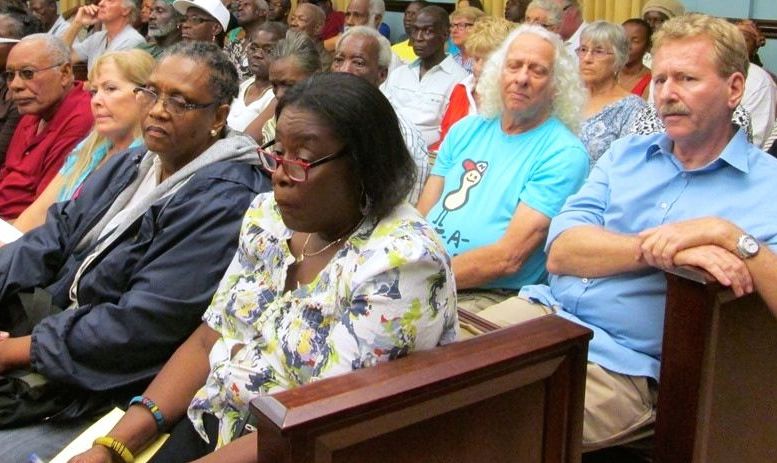 Tale after tale of stiff property tax increases, valuations out of whack with what the property would sell for, and outright errors in property taxes finally seem to have gotten the attention of the seven senators who attended Tuesday's joint meeting of the Legislature's Committees on Finance and Culture, Historic Preservation, Youth and Recreation.
"Tax payers from St. John are seeking help and that help can come legislatively," Sen. Donald Cole told the overflow crowd at the St. John Legislature building.
Others senators agreed that the Legislature would take action to provide relief for St. John residents. Sen. Kenneth Gittens said that while he saw black people and white people at the meeting, he didn't see the millionaires that own a lot of St. John properties.
"These are the people who are hurting. These are the people who need help," he said of the people at the meeting.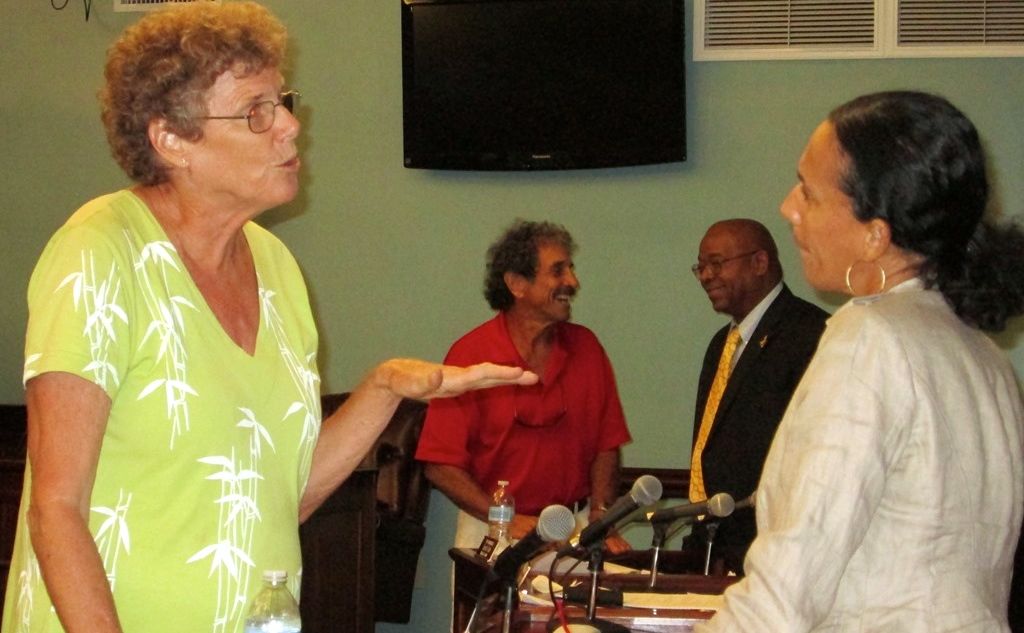 Sen. Craig Barshinger was quick with a bill that would cut the mil rate in half for St. John taxpayers. It didn't come up for a vote at this meeting but Barshinger said it would provide a quick fix for St. John's property tax problems. A more preferred alternative would be to assess properties only when they are sold but Barshinger said it's a complex issue that will take more work in assessing its pros and cons.
"We need to do something right now," Barshinger said.
At Sen. Myron Jackson's suggestion, the Legislature will form a task force to work on St. John's property tax issue.
When the government revalued properties in 2006, it used a system called mass appraisal. However, on St. John there were so few home and land sales that resident Pam Gaffin said there is no way the data obtained from that mass appraisal can ever be valid. And most of those sales were pricy vacation villas, not homes owned by full-time St. John residents.
Gaffin and several other residents joined forces as the Unity Day Group, which is devoting time and energy to gathering information on the property tax issue in case a court case is necessary to bring tax relief to St. John residents.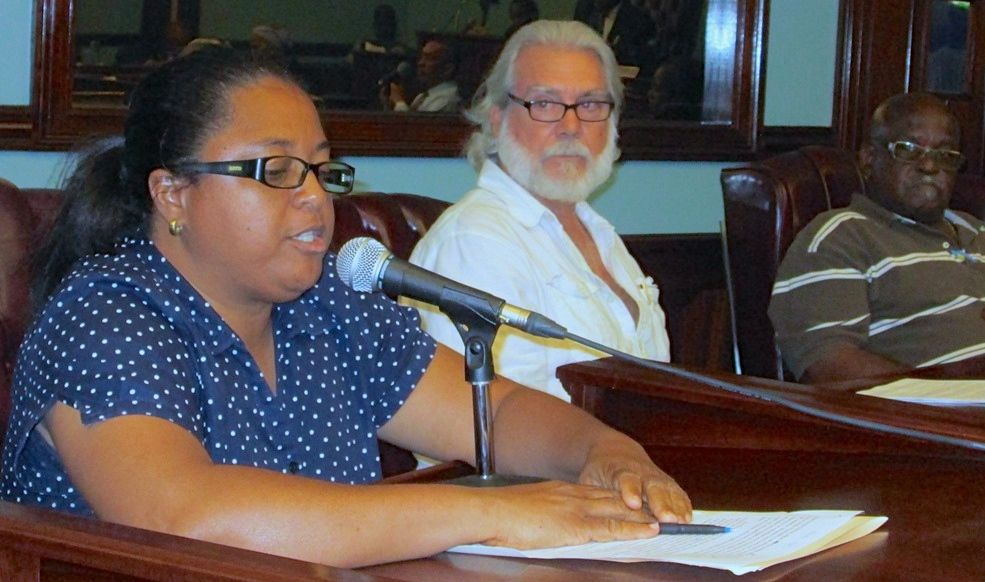 "This is not Monopoly. This is real life," said Unity Day President Lorelei Monsanto.
Later Barshinger said the government paid Bearing Point about $8 million to do the mass appraisal. Bearing Point went bankrupt and was bought by Deloitte and Touche, the company that the government hired to do the latest massaging of the property valuations.
"They blew it again," Barshinger said of the government.
The mass appraisal divides the islands into neighborhoods, but Gaffin said many neighborhoods had no sales. She said that, in 2006, sales ranged in price from $150,000 to $14 million, which she said made the average price on St. John $7 million.
Realtor B.J. Harris said that St. John had an average of 30 homes and 25 pieces of land sell in the last four years.
"It's hardly enough volume to determine the value of the other 3,000 houses," Harris said.
She said most of those sales were investment or second homes.
When the 2006 property tax bills went out in 2008 with huge increases that reflected the 2006 valuations, the government quickly rescinded them and continued to tax property owners at the 1998 rate.
When the 2013 bills came out using that same valuation, many property tax payers saw the property values and taxes come down a bit. How the Tax Assessors Office arrived at the most recent figures remains a mystery. Residents asked for the methodology at an Oct. 11 meeting called by Tax Assessor Ira Mills, but haven't yet seen it. He promised at this meeting to have it on the lieutenant governor's website in a week.
Although most tax bills dropped some, they are still out of reach of many tax payers.
"We have been issued an eviction notice on St. John. Someone will pay whatever it takes to own the land. It's just a matter of time before each of us has to leave," Delia Thomas said, adding that property taxes on land owned by several members of her family increased by 1,237 percent.
She said because it's owned by several family members, their joint income is too high to qualify for the circuit breaker provision and, because the land didn't go through probate or a trust, they're not eligible for the Class 1 inheritance tax credit.
Several testifiers spoke about the tie to the land held by St. John residents and their distress at the threat of losing it.
"My heart bleeds for St. Johnians," Elroy Sprauve said.
Janet Burton said the government views St. John as a cash cow, and she suggested the government cut expenses like holidays so it could reduce taxes on St. John property owners.
"We pay you enough to make hard decisions," she told the senators.
She told them and the handful of senatorial candidates who attended the meeting to drop out of the race if they don't intend to make their lives better.
John Costanzo said his property taxes went from $852 to $8,851.
Violet Sewer Mahabir said her wooden house that's 17 feet by 32 feet in size is valued at $428,500.
Albert Willis owns the Boulon Center, the shopping building that is home to Dolphin Market and a few other businesses. He said it sits on less than half an acre of land. He said the property was assessed at $4.5 million, far more than what he thought it was worth. After a lot of research, he finally realized that the Tax Assessor's Office listed the property size at 19.4 acres.
"I guess I own half of Cruz Bay," he said, joking.
Willis said he did pay the $35,000 tax bill and was hoping to get a refund once the matter gets sorted out.
In addition to Barshinger, Cole, Gittens, and Jackson, Sens. Clifford Graham, Nereida "Nellie" Rivera-O'Reilly and Tregenza Roach attended the meeting. Barshinger is not a member of either committee.