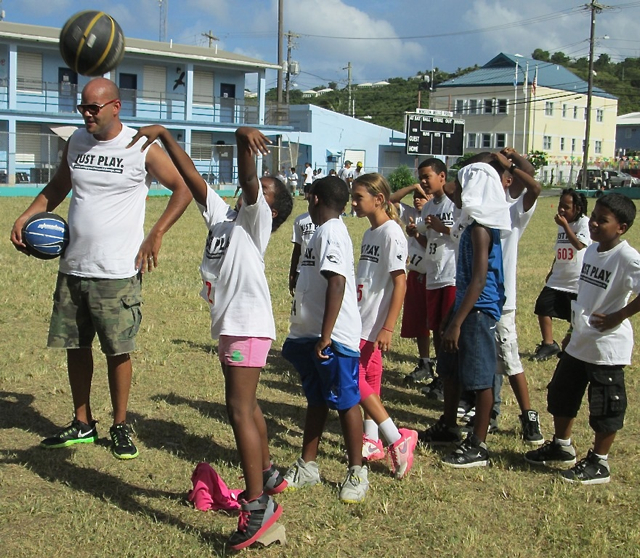 With the holiday season fast approaching, the St. John Community Foundation hopes generous residents and visitors will become angels for the island's non-profit agencies that have specific needs.
Community Foundation Director Celia Kalousek said there are so many people who need help and so many people willing to help.
"We're here to be the connection," she said.
St. John Dial-A-Ride needs $975 to pay for building materials for its Safety of Seniors program. The program wants to set up accounts at St. John Hardware and The Home Depot to buy materials so it can address some of the safety issues at several elderly residents' homes. The list of items ranges from light switches and ceiling fans to handrails and tile.
While money is nice, leftover construction materials would help, Kalousek said.
"And labor is awesome," she said.
Dial-A-Ride also needs funding to pay for putting its logo and phone number on the big white ADA Accessible bus the agency uses to provide low-to-no cost transportation to the elderly, disabled and disadvantaged on St. John. That project should run about $1,475.
This will enable Dial-A-Ride to get the word out that this vital service is available. The Dial-A-Ride bus will go where the public VITRAN bus can't, serving more who really need rides to doctor appointments, to shopping, or to attend the senior center for daily meals and social interaction.
Dial-A-Ride needs $3,650 to pay for a secured parking area so the bus stays safe. The agency has the property but needs help with the supplies and installation. The materials needed include cement, sand and chain link fence.
The St. John Community Foundation has a pressing need for a shredder/chipper for its Community Gardens Park on Gifft Hill Road. It will cost about $1,500.
Kalousek said that as the agency clears the property, the materials can be turned into compost. The areas to be cleared will be the site of native crop species that are becoming harder to find and cultivate. The planting and cultivation of those crops will be used as part of an education program.
"Sugar apple, mamey apple, guavaberry and soursop … locals and tourists can see how they are grown and harvested," Kalousek said.
The other areas to be cleared will be reforested with local native plants and trees for the enjoyment of all in this public park.
The Love City Pan Dragons Youth Steel Orchestra needs $2,000 to pay for instructors for its youth program. It is the only steel band on St John and can serve as many as 30 participants from elementary through high school.
With the exception of the professional instructors and pan tuner, the band crew are all volunteers. The instructors, Shomari Dyer and Ikema Dyer, come over twice a week from St Thomas to teach their craft.
Our Lady of Mount Carmel Catholic Church needs $1,000 to fund a washer, dryer and installation so the island's homeless population can wash their clothes.
St. John Rescue is trying to raise $18,000 for a Jaws of Life for its vehicle stationed in Coral Bay. It will provide quick response by St. John Rescue responders in Coral Bay, East End and North Shore areas to people trapped in vehicles. After trying repeatedly to fix and patch weld the Jaws of Life in the Coral Bay vehicle, St. John Rescue learned it cannot be repaired. This leaves the only available vehicle extricating equipment in Cruz Bay. Response time can be 30 minutes to the Coral Bay area.
The Animal Care Center of St. John is also trying to raise $18,000. It needs a vehicle to pick up stray animals, transport animals to and from the veterinarian, pick up supplies on St. Thomas, and more. A four-door vehicle or sport-utility vehicle would do the job.
"The shelter manager's island Suzuki is just not up to the job," Kalousek said.
Using Sport for Social Change, which holds the annual October Just Play Day for the island's youths, needs a $575 wireless microphone system. It will be available to other non-profit agencies for their sporting events as needed.
St. John's Project Homeless Connect, which aims to connect the island's homeless residents with service providers, needs clothing and toiletries to distribute at the October event. At the last event, organizers noted that it's not hard to come by women's clothing but the more-needed men's clothing isn't usually available in the quantities needed. Most of the island's homeless people are men.
Donations can be made by check or PayPal. Kalousek said donations made through the Community Foundation can be tracked. However, if donating directly to the organization or agency suits donors better, no one will complain, she said.
Donations can be made online at www.stjangel.net or http://thestjohnfoundation.org.