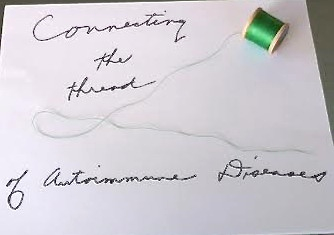 One evening shortly before her 21st birthday, St. Thomas native Jenique Smith had a frightening experience. She suddenly realized she was having trouble speaking. When she did talk, her speech was slurred. She went to bed worried, and she woke the next morning to even worse symptoms.
"The mobility in my left side was gone, and I couldn't write with my right hand," she said.
Coincidentally, that same year, 2010, EllaJean Forbes was doing yard work with her husband and two sons at their St. Croix home. When she accidentally ran over an ant nest, she suffered a multitude of bites in an incident that seems to mark the beginning of her own nightmare situation.
"I thought, those ants really did a number on me," she said. Instead of the effects gradually going away, they got worse. "My legs felt heavy as tree trunks." By the end of the week, her left side was going numb. "I thought I was having a stroke."
Both women went to doctors, some of whom were as puzzled as their patients. But in both cases, an MRI told the story: They had multiple sclerosis, an autoimmune disorder.
Like other autoimmune diseases, MS involves a little understood misdirection of the body's immune system, so that instead of attacking antigen "invaders" such as virus and toxic bacteria, it attacks healthy tissue within the body.
MS affects the central nervous system, interrupting normal messaging in the brain and between the brain and the rest of the body. It manifests itself especially in partial paralysis, vision problems and cognitive issues.
Researchers believe some people have a genetic predisposition for it; but they have yet to isolate a gene and are still trying to find the environmental trigger that activates it. Suspects have included certain metals, severe physical or emotional stress, some version of a virus that has not yet been identified, hormones, even geographic location.
According to the National Multiple Sclerosis Society, 2.3 million people worldwide have been diagnosed with MS. But given the nature of the disease, that number may be far smaller than the reality. Because symptoms can mimic other diseases and because, as in many other autoimmune disorders, the symptoms come and go unexpectedly, the disorder frequently goes undiagnosed.
Forbes was nearing 50 when she learned she has MS; most patients manifest it between the ages of 20 to 50.
"The doctor told me, 'Ms. Forbes, you had this a long time," she said. Looking back, she believes she recognizes mild flare-ups, but at the time none were bad enough to send her for medical attention.
One of her first reactions to the news of her condition was anger, Forbes said. Then she decided to do something about it. She took on the task of raising awareness. She made the rounds of local radio and television shows. She wrote letters to the editor.
With others, she founded an MS support group on St. Croix. Soon, they realized they should expand the group beyond MS, and recently they filed paperwork to establish the Virgin Islands Autoimmune Disorder Organization. The group is guided by a four-person team, Forbes, David Knowles, Elizabeth Farchette and Ada Figueroa. It maintains a website and Facebook page.
According to the Medline Plus website, at last count there were more than 80 types of autoimmune disorders. The V.I. group puts the number at closer to 100. Some of the better known ones are rheumatoid arthritis, Grave's Disease, Lupus, Addison's Disease, Crohns Disease, Type I diabetes, and psoriasis.
Presumably, there are millions upon millions of people throughout the world affected by one or another autoimmune disorder – and in fact, some people have more than one type. The V.I. group uses the number 50 million nationwide. But there is no international or national registry of cases to provide hard numbers.
One of the local group's goals is to get the V.I. government to establish a registry for Virgin Islands patients. Until that happens, they are trying to keep their own numbers, based on the people who self-report and who come to association meetings.
When the association started, it met twice a month but now meetings are monthly. So far, about 30 people have filled out the form the group devised to try to track types and the prevalence of disorders found on St. Croix, Forbes said. Not all of them have a disorder; some are care-givers and/or family members.
The meetings are occasions for people to share their stories and to help one another cope with what can be highly debilitating and often misunderstood conditions.
"Life goes on and we're going to show you how to keep going," Forbes said. "How can we make this a 'Why not me?' rather than a 'Why me?' "
Often there are guest speakers, too. Those have included a Health Department representative speaking on mental well being, a private physician, an acupuncturist, a yoga instructor, an attorney speaking about financial well being and an insurance representative talking about changes in the health insurance law.
With the support group firmly established on St. Croix, Forbes said, "We would really like to see something started on St. Thomas."
So would Smith.
She said there was a St. Thomas group briefly about two or three years ago. Eight people came to the first meeting, but the group soon disbanded. Now she and others would like to revive it, and the first step is reaching out to those affected by an autoimmune disorder and to their loved ones and caregivers.
"We're trying to find out how many people are interested," Smith said.
Those interested can learn more by calling 1-340-277-4046 on St. Croix or 1-340-775-6768 on St. Thomas.