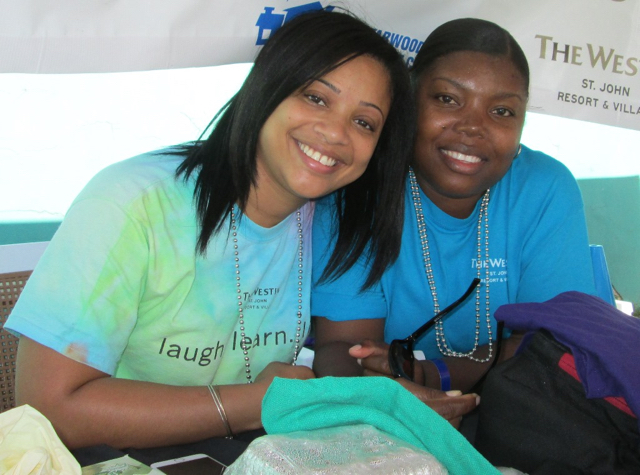 As the Light up the Night fundraiser for the St. John Cancer Fund began Saturday, several people said they joined the activities at the Winston Wells Ballfield because the money raised went to help St. John residents, not those who live on other islands or in other places.
"We want to help the local community," said Michael Rose of Mystic Adventure Sails.
More than a dozen groups set up tents around the field's perimeter to serve as home base for a night of walking the field and enjoying the entertainment.
The continuous walking around the field by team members is a hallmark of cancer fundraisers.
Selling luminaria bags to raise money for the cause is another tradition.
Myia Powell lost her sister, Lillie Ford, to cancer last year at age 67. In 2011, her brother, Willie Fred Powell, who was 78, died of cancer. She said it was so hard to buy luminaria bags to remember them.
"I couldn't see, I was crying like crazy," she said.
Almost everyone who talked with the Source said they lost family and friends to cancer. Susan Silverman ticked off a long list that included her mother and other family members.
"It is absolutely an important cause," she said, sitting at the Team Coral Bay tent.
Andy Peter of the Beach Bar said several of its employees just lost a good friend to cancer. Peter was busy tending to the bar's menu of chicken, pancakes and meat balls.
"Everything goes to the fund," he said of the proceeds.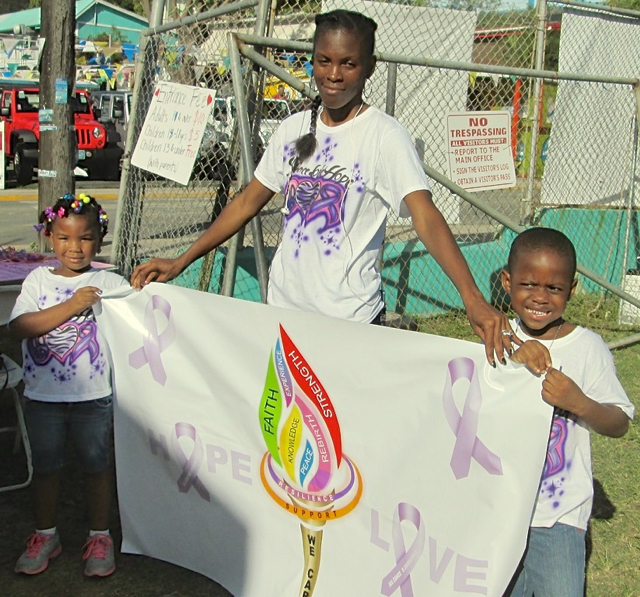 Stephanie Hammett of Joe's Rum Hut sold T-shirts and foam beer coolers as well as raffle tickets, with all the proceed going to the cause.
The island's two largest hotels both had teams. Sabrina Leonce, human resources director at the Westin Resort and Villas, said the hotel opted to participate because it cares about St. John. Paula Tilas, an executive assistant at Caneel Bay Resort, said the hotel got involved because it wants to get rid of cancer.
Light Up the Night started with a parade from Mongoose Junction to Winston Wells Ballfield by about 40 Julius E. Sprauve students. Onnika Gumbs, who organized the march, said she has several family members who died from cancer or survived it, and she said she knows that many of the students had the same connection.
As the walkers made their way around the field, organizer Mary Bartolucci of the St. John Cancer Fund said the event's purpose was to bring the community together as well as raise money.
As Saturday evening progresses, the luminaria bags will be lit and those who survived cancer will take their lap around the field.
"We're going to try to stay up all night," said Simonia Athanase-Dagou, who was busy setting up for the Our Lady of Mount Carmel Catholic Church team.
Light up the Night wraps up around 8 a.m. Sunday, but the St. John Cancer Fund continues its fundraising activities with a Pasta in the Park Party at 5 p.m. Friday at at Cruz Bay Landing restaurant in Cruz Bay Park. That event will come on the heels of Saturday's 8 Tuff Miles race.
Next weekend's activities wrap up with a Recovery Party fundraiser for the St. John Cancer Fund. It runs from 11 a.m. to 5 p.m. Sunday at Oppenheimer Beach with music and a barbecue.