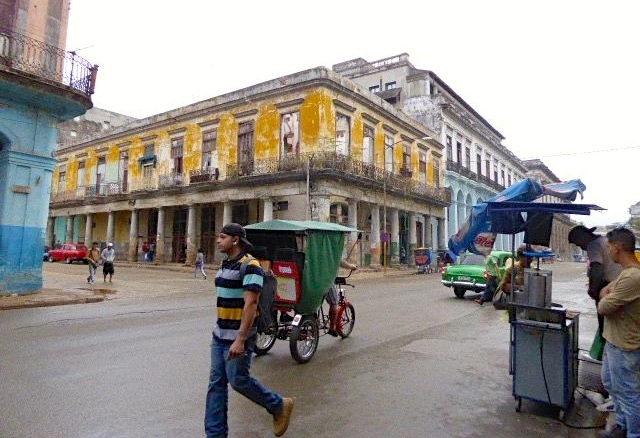 Source publisher Shaun A. Pennington recently traveled to Cuba on a license obtained by The Nation magazine as part of a people-to-people delegation. This is the fourth in a series of articles that offer her first-hand cultural and educational experiences in the nearby Caribbean country.
It is impossible to provide a fully developed picture of life in Cuba after spending only a week on an organized tour with a specific itinerary. But at least two areas of accomplishment are indisputable: health and education. The general welfare or happiness of the average Cuban is harder to define.
Education
Before the revolution, Cuba had a literacy rate of less than 75 percent, even as low 60 percent in some rural areas. Between Jan. 1 and Dec. 22, 1961, that rate grew to 96 percent thanks to an all-out effort started by Fidel Castro at the request of Che Guevara. Literacy brigades were sent into rural areas to teach adults to read – and they did.
That literacy rate has grown to 99.8 today, slightly ahead of the United States and more than slightly ahead of the U.S. Virgin Islands, according to a variety of sources on the Internet.
Cuba's literacy campaign is widely thought of as the most successful literacy campaign in the history of the world.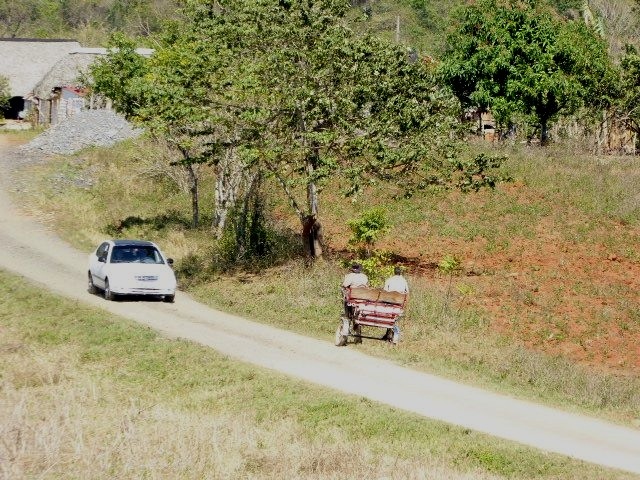 It is based upon many factors.
All children must attend school until they are 16 years old. Schools are all government run and education along with meals and afterschool care are free.
I was told by a Cuban friend that Fidel Castro's philosophy in nationalizing the schools after the revolution was, "Why spend money on private education? Better to put that money into making the public schools better."
Cuba, according to UNESCO (The United Nations Educational, Scientific and Cultural Organization), spends 10 percent of its budget on education, as compared to 2 percent spent on education by the United States.
At a certain point, students vie for slots in higher education programs. One of those is teaching. Teachers in Cuba have at least five years of university. In primary and secondary schools, classrooms max out at 25 students per teacher, with many having fewer than 20.
The focus and pride around education by Cubans is obvious when talking with the average person in Cuba. They are smart and well informed despite having little or no access to the World Wide Web or other such modern communications and information tools. I was constantly impressed with our guide, Zoe Gonzales, who although young, has a strong grasp on complicated issues and was able to communicate in a way that was both refreshing and enlightening. Oh yes, and in English, though it is her second language.
She shone particularly bright was she was asked at the last minute to interpret for Fernando Gonzales – one of the current heroes of Cuba.
Health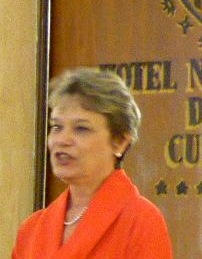 The other thing the new government did under Fidel Castro was to make health care a human right.
Cuba educates and trains tens of thousands of doctors and sends them out into the world to assist other nations, but few, if any, ever practice in the United States – thanks to 50 years of animosity between the two countries. However, American students do go to Cuba to study, as do thousands of students from across the globe.
But in Cuba itself, health care has been brought closer to the people it is intended to serve. Gail Reed, founder of MEDICC (Medical Education Cooperation with Cuba), spent a couple of hours with us talking candidly about the health care system in Cuba and also about the philosophy of the professionals in the country.
Reed said between 1959 and 1989 the number of physicians grew from 6,000 to 35,000. By 1999 there was one doctor for every 175 Cubans.
Today, thanks to the increase in medical schools in the country over the last 50 years, there are 83,000 doctors in Cuba. The majority serve in specific neighborhoods. "They know everything about the community they serve," Reed said, adding that according to the World Health Organization, 80 percent of all health problems can be solved at the primary care level.
And here's how it works. Each community (measured in blocks and the ability for residents to reach their clinic on foot) has its own clinic staffed by a doctor, nurse, social worker and Communist Party member (I cannot explain the purpose of that, so don't ask). Each of the family doctors, who reside in neighborhoods they serve, are responsibile for on average about 1200 patients and 300 families.
Not only can the community members go for free to the clinic, but also the doctors and nurses and social workers visit each home in their community twice a year to assess the living conditions of their fellow community members. They look for family dysfunction and environmental issues that could be affecting the health of the individuals in the community.
This system was developed after the revolution. By constitution, health care became the responsibility of the government.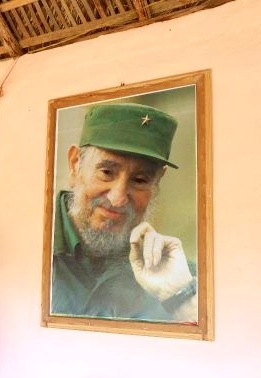 Consequently, according to Reed, "The right to health care became a part of the psyche."
Even during the depth of the economic crisis of the 1980s and 90s, "when no one knew where the bottom was … when there was no bus services, no food, the health care held the bottom line," Reed said.
"Health remained a priority – a right." She said physicians and health care providers concentrated on "the most vulnerable." She said, "Programs were set up for pregnant women," where diet, nutrition and exercise were reinforced.
The chance of death due to low birth weights was decreased even during the worst economic crisis ever faced by Cuba. Today infant mortality, often the result of low birth weight, is 4.70 per 1,000 live births. It is 6.17 per 1,000 for the United States, according to the Central Intelligence Agency's World Fact Book.
During the recent Ebola crisis in East Africa, Cuban health care workers rose to help, sending nearly 1,200 health care professionals to Sierra Leone and Guinea, far more than the United States or Great Britain, Sierra Leone's former colonizer.
Throughout the world, there an estimated 30,000 – 50,000 Cuban doctors working in 66 countries. The estimates vary, but it is safe to say 30,000. Cynics say it is Cuba's way of deflecting criticism of its human rights record and flailing economy, but that does not change the fact that Cuba has made significant inroads in not only primary care at home and humanitarian efforts around the globe, but has done so with both hands tied behind its back by the more than 50-year-old American embargo. The country has had to develop its own biotech industry, which it has done. It is also, according to Reed, a forerunner in development of green medicine and nutritional therapy.
According to a 2005 article published in The Journal of American Board of Family Medicine after a group of family physicians traveled to Cuba to explore how the U.S. might incorporate some of Cuba's successes into family physician practices in the States, Cuba spends just 7.4 percent of its gross national product (GNP) on health care, compared with the 13.6 percent spent in the United States. Health expenditure per person is $193 in Cuba compared with $4,540 spent in the United States.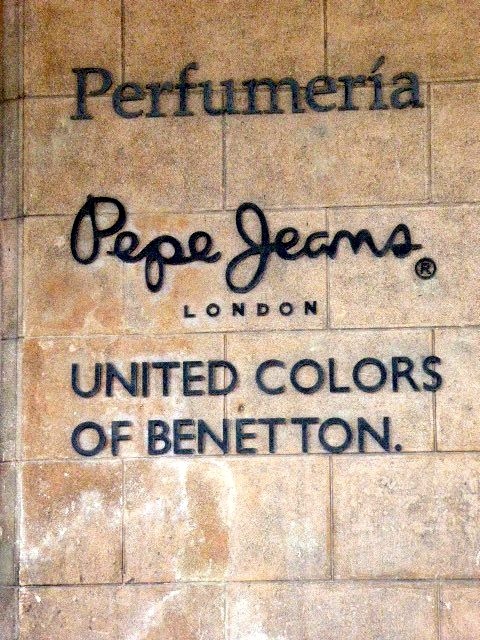 "Cuba's GNP (gross national product) per capita is one of the lowest in the Western hemisphere," said the article written by the physicians who traveled to Cuba. "Nonetheless, Cuba, unlike most Latin American countries, has achieved health outcomes comparable with those of the United States."
Happiness
Zoe Gonzales, our guide during my week in Cuba, comments to me in a side conversation, "It's ironic, in America, people have to worry about homelessness, good education, health care and even food. We don't have those worries in Cuba. But we can't buy a refrigerator."
On the Planetary Happiness scale, Cuba ranks 12, way ahead of the U.S. at 105. In part, that is because of Cuba's very low ecological footprint – at a 1.9 factor as compared to U.S. at 7.9.
But the study, conducted first in 2006 and updated in 2012, uses three factors gathered from reliable resources to compile the results for 151 countries: Experienced well-being, life expectancy and ecological footprint. Ecological footprint is calculated by amount of land required to sustain a country's consumption patterns.
Cuba falls in the middle as far as experienced well-being. But it is worth noting that life expectancy in Cuba is 79.1 compared to 78.5 in the United States.
Another measure of happiness in worldwide studies on the subject is levels corruption. Corruption was a huge motivating factor in what has become known as "the Arab Spring." It also was a motivating factor in the Occupy Wall Street movement in the United States, along with income disparity.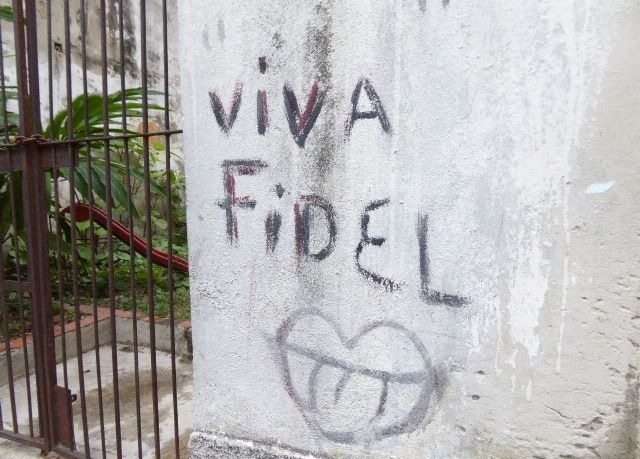 In Cuba, corruption at high levels of government is rare, we are told by Peter Kornbluh, author of "Back Channel to Cuba," and widely recognized Cuban and Latin American expert. "Low level corruption is rampant." The low level corruption is no doubt used to supplement the $20 a month salary of the workers.
And though income is crushingly low for most Cubans, the kind of income disparity that exists in the U.S. is not any kind of an issue.
Human rights violations were not a topic of discussion during the weeklong trip. But the suppression of dissent and freedom of speech are well known. The only odd thing that came up for me in conversation – something that as an American had never occurred to me – was a form of control about where people can live or travel.
We were told that Cubans carry identity cards that not only display their name, but also their place of domicile. It was ominously suggested that if you turn up in say, Havana, with a card that shows you are a resident of some other part of the country, you had "better have a good explanation" for being in Havana.
At the very least, I assumed, you would be sent back where you belong. But it was suggested a Cuban could get into a lot of trouble for such a violation and for other things such as tax evasion – with taxes being related to shared state-private ownership of businesses as opposed to income tax.
The notion of government restrictions on intra-country travel is completely foreign and somewhat shocking on face value. And certainly there are many more such rules within any totalitarian regime that would seem frightening to freedom believing Americans, who probably wouldn't consider economic issues that restrict travel or relocation opportunities for the poorest in America.
But as stated in previous installments of Cuba Diary, Cuban policy and economic ideologies and attendant comparisons to U.S. government policy and ideology is complicated.
Another notable human rights consideration: The death sentence is still legal in Cuba, but the last executions took place in 2003. This is hardly true of the United States, which executed 220 people between 2007-2012.
From an economic standpoint, as communism appears to be giving way to a more socialistic approach, the Cuban state wants to see the private sector grow, according to Kornbluh. He likened President Obama's December 2014 announcement of improved relations and relaxed travel and commerce restrictions to the opening of Pandora's Box. "There's no turning back."
This is in line with mutual U.S.-Cuba interests include getting people off the state payroll while allowing entrepreneurship and U.S. business interests to find more of a welcome in Cuba.
But for now, the state still has a firm grip on businesses in the country. Officially, everything is co-owned.
As for the embargo, Kornbluh told us in an informal conversation one afternoon, "Cubans blame a lot of things on the embargo, but there are a lot of things the [Cuban] government is not doing. We won't know how much of it is our problem [meaning the U.S.] until it is lifted," something that Obama has asked Congress to consider – and sooner rather than later.