While avoiding discussion of pressing agenda items such as election reform, the St. Croix Board of Elections approved Wednesday, in a round about way, measures to make the office compliant with the American Disabilities Act.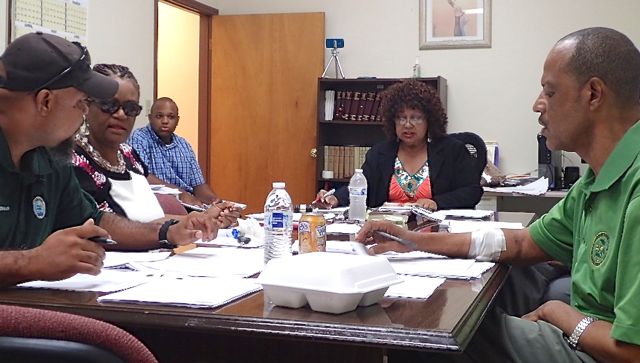 According to the board, they have been advocating for reform to the V.I Code for years and the V.I. Legislature finally has scheduled hearings to find solutions.
Sen. Kenneth Gittens has been holding regular meetings with the Elections Systems staff, board members and the public to gather information to present to the election reform committee he chairs.
One cure for many of the ills, combining the St. Croix and St. Thomas/St. John board, has been recently proposed, but the St. Croix board postponed discussion Wednesday until more members are present.
Gittens' meetings and Senate hearings have been scheduled this month to address the issues.
Although the election reform discussion was postponed, the board voted on several motions and finally passed a measure dealing with a long time federal compliance problem – access to the facility for people with special needs.
For months, the board has discussed the facility's ADA compliance and Caroline Fawkes, supervisor of elections, was charged with locating alternative sites able to host a Joint Board meeting.
As directed by the board, Fawkes researched locations in Peter's Rest, Sunny Isle Annex and Sion Farm. After visiting the sites, she and Board Chairwoman Lilliana Belardo de O'Neal recommended an 1,800 square foot site in Sunny Isle renting for $2,000 to $3,000 a month.
Fawkes said she didn't have information about the cost to retrofit the storefront to Elections Board specifications to hold an18-seat conference table and sitting space for community observers, including those with special needs.
After one motion to approve Fawkes's recommendations was defeated and another to charge her with more investigation was also denied, the board finally settled on two inexpensive methods to render the current location ADA compliant.
Board member Glenn Webster made a motion that was approved to purchase a television for the lobby of the current facility.
Barbara Jackson McIntosh made a motion to remove the cabinets underneath the sinks in the bathroom to make that area wheelchair accessible.
"We have to work with the boardroom we have now – to become ADA compliant," Webster said.
Fawkes briefly discussed the 2016 budget approved by the 31st Legislature. The board will have between $75,000 and $5,000 less than last year to work with and the Elections System will have the same allotment as 2014, $1.4 million.
During her report, Fawkes reiterated that the Joint Board of Elections voted last week to purchase around 50 Express Vote machines especially for voters with special needs to supplement the DS-200 machines.
Unexpected problems arose during the 2014 primary election when the DS-200, purchased in 2012, failed to record party-emblem votes and the board decided to hand feed ballots into the machines. Some voters were skeptical about the accuracy, and Express Vote will allow voters to record their choice on a computer screen, verify it on paper and change or record their ballot before casting their vote – technology with a paper backup.
The supplemental equipment will cost $3,500 each, paid with Help America Vote Act funds, Fawkes said. Polling sites will have one Express Vote machine available and sites with more than 2,000 voters will have two. Fawkes said public demonstrations are planned on all three islands between Oct. 26 and Oct. 29.
The agenda also listed individuals requesting information or evidentiary hearings. Board members seemed unsure what are the responsibilities and expectations of the board. Roland Moolenaar asked for confirmation that Wilma Marsh Monsanto, Diane Magras and Roy Howard were given the information they requested.
Also discussed briefly were possible locations for early voting, including Sunshine Mall and the former Christiansted Post Office. Fawkes said preliminary approval through discussions with the National Park Service for the Post Office and Sunshine Mall were reached, but the conversation had stalled and no decisions were made.
Fawkes also reported that videoconferencing is available between St. Croix and St. Thomas. She said when the board approves voting via videoconference, joint board meetings can be held without the expense of travel and hotel rooms.