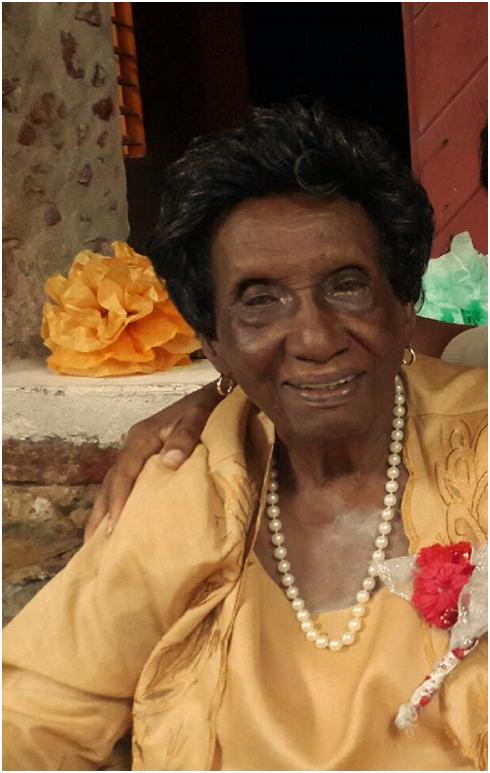 On Oct. 3, surrounded by family and friends, Pauline Louise Thomas celebrated her 100th birthday at the Bethany Moravian Church on St. John, U.S. Virgin Islands. Her home circle consists of her adopted son, Rev. Ralph Prince, retired, his wife Rosalind and their children, who she has lived with for the past 15 years.
Pauline Louise Thomas is the second child of John and Helen "Ellen" Prince and was born in Palestina, St. John, on Oct. 3, 1915. Her deceased siblings are Herman Prince, Laura Prince Sewer, Ophelia Prince Blackwood and Naomi Prince-Jacobs. She was married to the late John Thomas and the late Fermin Sewer.
"Auntie Pauline" as she is affectionately referred to by family and friends, worked for over 40 years at the Caneel Bay Resort on St. John. After her retirement, she became a foster grandparent to the children at the Cruz Bab Day Care Center for 11 years.
For her entire life, Auntie Pauline has attended various Moravian Churches and was very active at the Emmaus Moravian Church during her youth. She faithfully attended Bethany, Memorial and New Herrnhut where her adopted son, Rev. Ralph Prince, was pastor. To this day, she reads her Bible daily and participates in morning devotions. She has an excellent memory of past events, which she is always willing to share and remembers things she heard before her birth and practically everything that has happened since she was born.
Auntie Pauline loves to sing and will take advantage of any occasion to sing at church, social functions or at home to entertain friends with one of her all-time favorite songs. Her present favorite song is "God is Love," and a favorite that some listeners have learned by heart, "The Future Belongs to the Children."
One of her passions is drama. She acted in many religious and secular plays directed by Gerda Marsh and for many years was involved in the community with Hans Eilser performing in Cruz Bay, Coral Bay and on St. Thomas.
Auntie Pauline has always taken pride in her personal deportment. She selects attractive outfits and loves to accessorize with scarves, hats and bands to complement her outfits and give her a sophisticated look.
She is a great family person, always calling her relatives to wish them a happy birthday or to find out if they arrived safely when traveling overseas or to give them the latest news. The family was delighted that she was able to reunite them with one of her New York cousins, whom they did not know, and he was equally delighted to meet them. Her family and friends love her very much and pray that God will bless her with many more years of good health, prosperity and happiness!