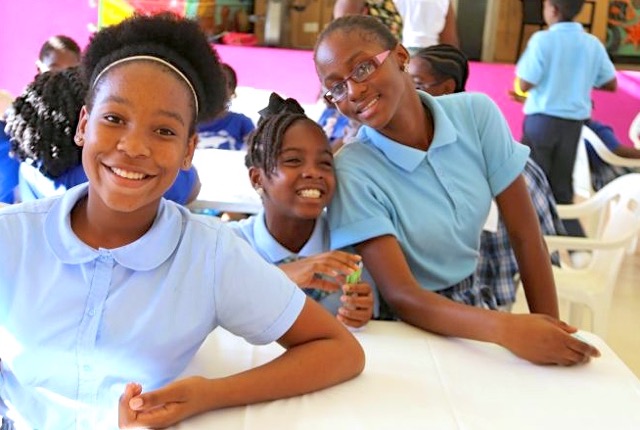 A feast provided Tuesday by local hoteliers gave Boys and Girls Club students the chance to celebrate Thanksgiving a few days early and gave their hosts the opportunity to give back to the community.
The event has been hosted for the last seven years by the V.I. Hotel and Tourism Association, whose members – including Marriott Frenchman's Reef, Emerald Beach Resort, Caneel Bay and the Westin – provide food ranging from turkey with all the trimmings to tofu dishes for students who don't eat meat.
Held this year at the Oswald Harris Court community center, the event also gives the Boys and Girls Club's members a chance to interact with the organizations that sponsor them throughout the year.
"The Hotel and Tourism association adopted the Boys and Girls Club years ago and each year we do this Thanksgiving celebration, along with a similar program for the holidays," HTA manager Nicole Friday said. "These events are important to us because we want to make sure that every kid has a chance to enjoy a Thanksgiving or holiday meal and to enjoy the fellowship and love of the season."
"The kids also do a program for us – singing or reciting poems – and that also gives us the opportunity to see the value in what we do," Friday continued.
Several hotels have been participating in the event since its inception and many attending Tuesday said they look forward every year to continue serving the youth of St. Thomas.
"We've been doing this for seven years, but this is the third for me," said John Paul Nel, general manager at Marriott Frenchman's Reef. "I love that it is part of our efforts to work within the community, particularly with the students, and that we all come together to make sure they really enjoy the holiday."
Friday said that throughout the year, HTA members also actively volunteer with the Club, either by helping the students with homework or organizing different activities.
"And with events like this, being able to sit and talk with them is also really wonderful," Friday added.
Students at the event Tuesday said the feeling was mutual.
"I think this event is great because these individuals are donating food and their time," Lockhart Elementary student Iyanna Lucas said. "I mean, we do have it at home, but it's very nice for them to want to be here with us; it's a program we all look forward to. I'm thankful for being here, for being alive, for my friends and family and for being able to go to this after school."