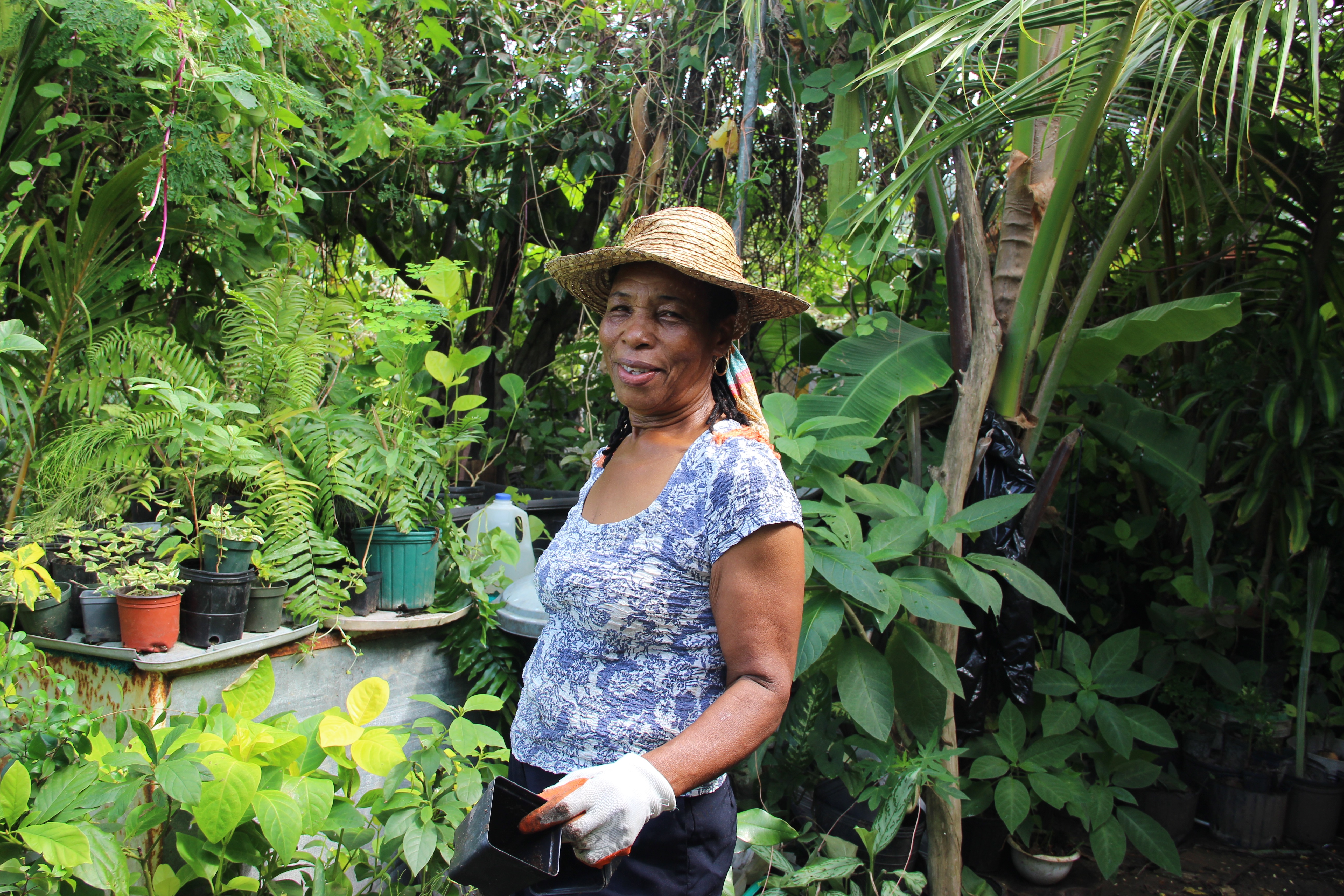 At Drina's Farm on a North Side hill in St. Thomas, cars regularly pull up and honk at the front gates, with drivers looking for fresh kale and other greens. But this week, the farm's owners, husband and wife Drina and Simon Anthony, don't have much to offer their loyal customers. After the heavy downpours this past week, the farm's soil is saturated to a point that's significantly slowing the growth of their plants.
When the Anthonys first got their three-quarter acre plot of land in 2007, its soil was nutrient rich and ripe for planting, since it had previously been used for grazing livestock. After a few years of growing on the land, they had to start mixing natural fertilizers into the soil like local manure and seaweed.
From decades of farming with their families in Dominica, the couple knew when the plants weren't growing as well as they should: They understand the significance of the soil and how to keep it balanced.
On Dec. 5 each year, the Food and Agriculture Organization of the United Nations celebrates World Soil Day. Taking stock of soil health is important, since it's the foundation of healthy food systems. According to the FAO, about 95 percent of the world's food is directly or indirectly grown in soil.
While the majority of food in the V.I. is imported, soil is still crucial to the survival of the territory's small farms. Soil supply essential nutrients, water, oxygen and root support, all of which are necessary for plants to grow. And soil health is directly related to the quality and quantity of the food that grows in it. Without the right nutrients in the soil, the food isn't as healthy for people.
Farmers here are up against a lot when it comes to maintaining their soil. They face issues like erosion, low nutrients, too much or too little water.
"The majority of soils in the V.I. are pretty steep and shallow, therefore making them prone to erosion and runoffs," said Manuel Matos, USDA a soil scientist who has worked extensively in the V.I. "Soils that have been intensively used and not properly managed show low organic matter content here."
For horticultural crops like vegetables you need 40 cm of soil for good root develop, but that's not really possible on St. Thomas and can even be difficult on St. Croix, explained Richard Pluke, senior technical advisor for Finrac, a St. Thomas-based consulting company that develops agricultural solutions to end hunger.
"St. Thomas is like a top of the mountain sticking out of the ocean and it's difficult to produce soils on rocks and slopes," Pluke said.
According to Pluke, St. Croix has significantly more agricultural land than St. Thomas and its soils are higher quality because it's not as steep and rocky. Like St. Thomas, parts of St. Croix are naturally dry or at least dry for part of the year, making it difficult to grow year round. Other places, especially on the northern sides of each island, can be too wet part of the year.
Drina's Farm has to be careful when there are heavy rains, which can destroy plants and cause soil runoff. That's why they grow in elevated beds and use mulch as an extra layer of protection to keep their soil in place.
"Building up the soil beds is better for drainage and retaining soil. If the water can't drain, it hurts the roots — that's why we build it this way. Too dry or too wet is no good for the soil," Simon Anthony said.
Nearby developments also pose problems for farmers. Runoff from the concrete that surrounds the new fire station just up the hill from Drina's Farm has led to increased soil runoff.
"That water just has nowhere to go, except through our farm now," Simon Anthony said, as he pointed to a small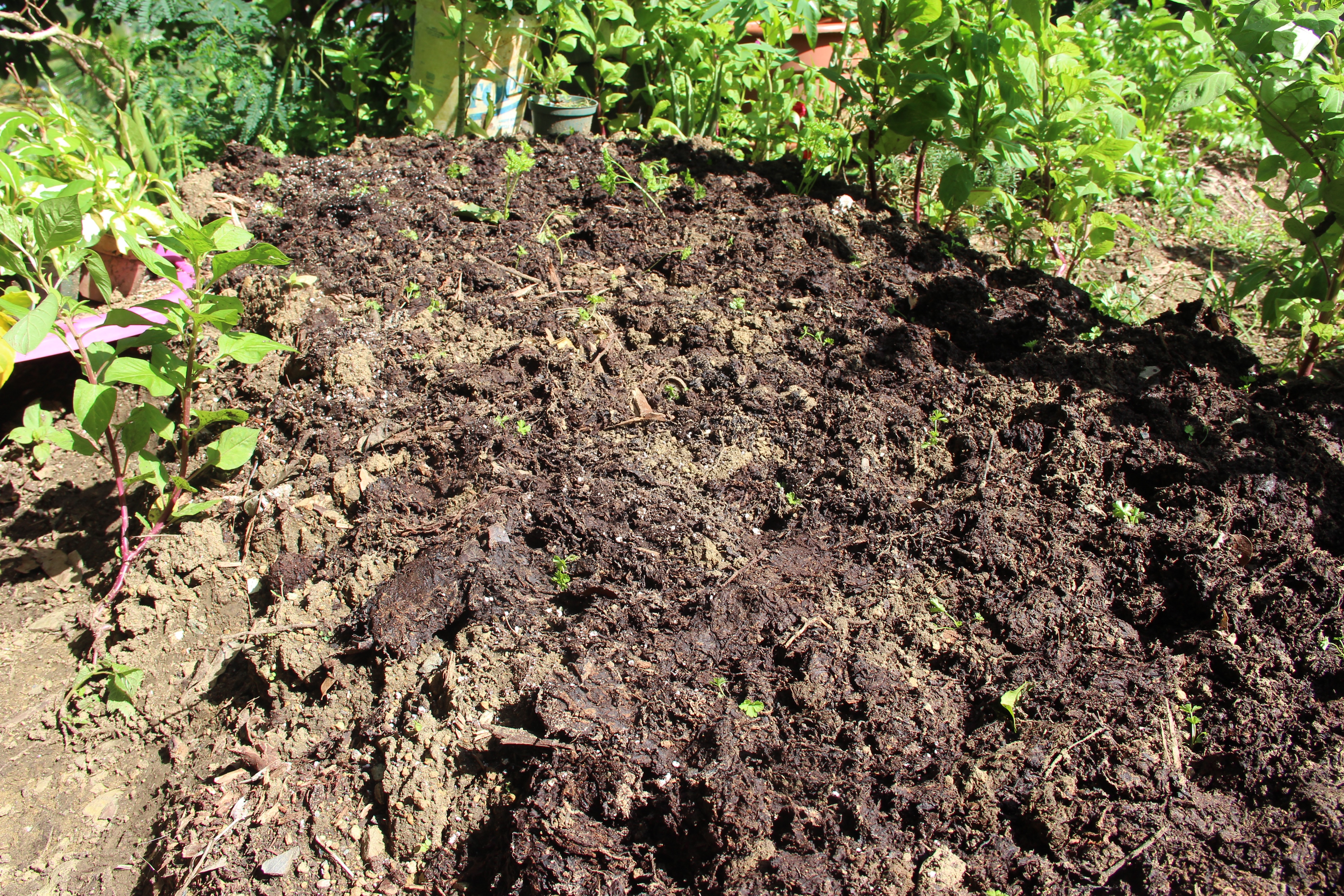 buildup of soil along a path that washed out of one of the beds.
"The lack of soil is number two issue right after water scarcity in St. Thomas," Pluke said.
It's more than just a soil deficit though. It also has to do with soil types. According to Pluke, the Virgin Islands has a lot of clay soils, which are compact and don't always let plants breathe, as well as sandy soils that don't hold onto nutrients that well.
Farmers have to understand their soil type to know what it needs to produce healthy food. "You have to protect what you have and build on it," Pluke said.
To date, the USDA hasn't completed a soil health assessment for the Virgin Islands, but as a part of the Caribbean Area Soil health Initiative it promotes four soil health principles: 1) Keep the soil covered as much as possible; 2) Disturb the soil as little as possible; 3) Keep plants growing throughout the year to feed the soil; 4) Diversify as much as possible using crop rotation and cover crops.
The first soil survey in the territory was published for St. Croix in 1932 and has most recently been updated for all of the territory in 2002. Soil surveys are detailed studies about the soil types in an area and contain maps, descriptions, properties and qualities that can be used to inform land management decisions and planning. The most current soil information can be viewed on the Web Soil Survey. (See Related Link below)
"Soil is creation — what would we eat without it? It's natural, the soil purifies and maintains life," Drina Anthony said.