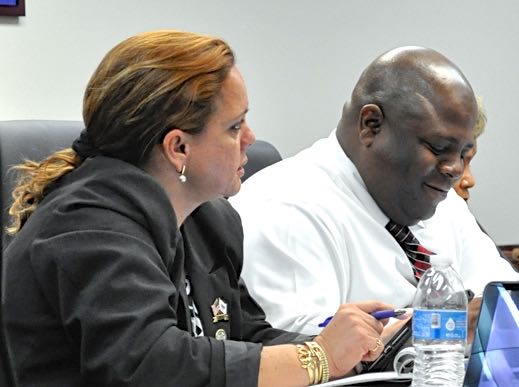 Two St. Croix businesses that were turned down for Economic Development Commission benefits by Gov. Kenneth Mapp last summer reappeared before the EDC on Thursday to apply for tax exemptions offered under the EDC's programs.
In the case of both businesses, Plessen Healthcare LLC and Carambola Golf Club LLC, the EDC had given favorable recommendations to the applicants prior to the governor's rejections.
St. Croix's financially struggling Carambola Golf Club went back to the drawing board after having its benefit renewal application denied in July on the grounds that the business was not in line with EDC eligibility requirements.
The governor also claimed that the golf club was overstating its financials.
At the time of his decision, Mapp stated that he may not have denied Carambola Golf Club's application if the company had requested something less than full EDC benefits.
On Thursday, Carambola Golf Club's attorney, Hunter Logan, said that the company's latest application reduces the company's request from a 90 percent income tax reduction to an 80 percent reduction. It also lowered its requested gross receipt, property and excise tax reductions to 90 percent instead of a full exemption.
The company also requested that its benefits extend for a 10-year term instead of a 20-year term.
"If Carambola closes it would be a severe loss to St. Croix," Logan told the EDC.
He said that although the club is not profitable, it offers an event space for various charity events on St. Croix and contributes to youth programs on the island.
According to Logan, the club will be forced to close if its EDC benefits are not renewed.
He said the membership of the club has been declining for years and currently stands at around 60. The company also does not have a large enough budget to invest in significant tourism marketing outside the Virgin Islands.
Logan also argued that the closure of Carambola Golf Club would have a detrimental effect on real estate values around it, including the devaluation of condominiums surrounding the golf course, which would be worth much less if they were simply surrounding "a field."
Carambola Golf Club is a separate entity from Carambola Beach Resort, which is owned by the V.I. Government Employees' Retirement System.
A second St. Croix business, an outpatient medical center called Plessen Healthcare that specializes in eye surgery, also reapplied for EDC benefits Thursday after being rejected by Mapp.
Reasons were not given for Mapp's denial in the company's presentation, but Plessen's attorney Renee Andre said all of the governor's misgivings have been addressed over the last several months.
According to Andre, Plessen is already performing approximately 100 surgical procedures each month and has invested over $2 million in its facility, located in St. Croix's new GERS building.
The fully accredited ambulatory care center now wants to expand by offering hemodialysis services, for which it has put in a separate EDC benefit application.
Andre said Plessen's business model is focused on both medical tourism and local care, and the center treats all patients regardless of insurance status.
The territory's hospitals have complained that ambulatory care centers in the territory have contributed to their high levels of uncompensated care by siphoning off high-paying, well-insured patients.
Plessen's founder and chief executive officer, Jan B. Tawakol, said during his testimony that he was keen to clear up confusion over what his company does.
Plessen Healthcare is not, he said, associated with another business on St. Croix called Plessen Opthamology, which he said began using the Plessen name without his knowledge or permission. Plessen Healthcare is also not a private physician's practice. Doctors using the facility, equipment and staff bill their patients separately from Plessen Healthcare itself, he said.
"The separation should be clear. We do not ask for physician income tax benefits. We do not ask for retail tax benefits," he said.
Despite confident testimony by Tawakol, two testifiers appeared at the hearing to recommend the EDC deny parts of Plessen Healthcare's latest application.
William Patton, executive director of Caribbean Kidney Center, testified that he was not in favor of the EDC granting benefits to support Plessen's expansion into hemodialysis. He said he was not opposed to the company receiving benefits to continue the surgical services that it already performs, however.
Patton argued that the Caribbean Kidney Center, which has provided hemodialysis services on St. Croix for 13 years, and the outpatient dialysis center at the Gov. Juan F. Luis Hospital are currently meeting the needs of St. Croix's dialysis patients.
"I'm here to go on record saying St. Croix simply does not need a third provider," said Patton.
According to Patton, Caribbean Kidney Center can treat 102 patients and the facility at JFL can treat 72 patients. St. Croix's number of dialysis patients, which has held steady over the decade, stands at approximately 120 he said.
Unlike Patton, Joel Mahepath, owner of Sterling Optical on St. Croix, testified against Plessen Healthcare's application in its entirety.
Tawakol said Mahepath's testimony was based partly on a misunderstanding of Plessen's business model that he had already attempted to clear up.
In addition to saying Plessen Healthcare should not get benefits as a private physician's practice, which Tawakol reiterated the business is not, Mahepath called Tawakol's advocacy for medical tourism "a farce."
"During the testimony, I've heard the term tourism raised a lot," Mahepath said. "And perhaps it's because our economy is tourism-based. Just adding that word to medical does not justify the scope of this business."
Tawakol said his research indicated otherwise.
"We do believe there is medical tourism potential because of our interaction with the West Indian Ophthalmology Society and their indication that certain islands down-island, such as St. Vincent, do not have the capacity to provide surgery. They have to bring patients elsewhere," he said.
The EDC will now begin the process of considering Plessen Healthcare and Carambola Golf Club's Reapplications to decide whether to maintain their earlier recommendations.
Also applying for benefits at Thursday's hearing was an employee recruitment business based on St. John called Atrium VI. The business is a branch of Atrium Staffing which has locations in New York, New Jersey, Massachusetts, Illinois, Pennsylvania, California and India. Unlike the other businesses testifying at the hearing, Atrium VI's application has not previously reached the governor.
Hearing testimony were V.I. Economic Development Authority board members Jose A. Penn, Philip Payne, Catherine Hendry, Juan Figueroa Sr., Haldane Davies and Avery L. Lewis. Simon B. Jones-Hendrickson was excused.