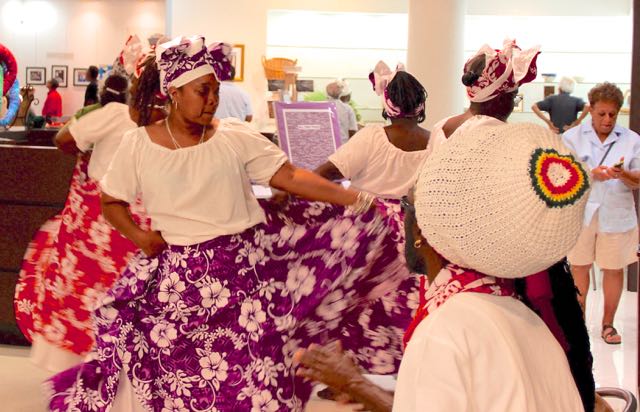 On Thursday evening, the opening of a pop-up art exhibition that memorializes the successful, nonviolent 1892 Coal Workers Strike was bustling with people interested in learning more about the history of the coal carriers of St. Thomas.
Running through Monday from 10 a.m. to 6 p.m., the exhibition at Yacht Haven Grande on St. Thomas is part history museum with photos of the coal carriers and newspaper accounts of the strike and part contemporary art show with paintings, installations and photographs.
Titled "An Ocean of Dignified Dust," curator Priscilla Hintz Rivera Knight said the exhibit draws its name from a poem by the Virgin Islands poet Cyril Creque.
The exhibit is a collaboration between the Gri Gri Project and Dollar Fo' Dollar Culture & History Tour, which is an annual reenactment of the 1892 Coal Workers Strike that brings together historians, dancers and storytellers to educate the public about the protest.
To mark Transfer Day on Thursday, Dollar Fo' Dollar director Ayesha Morris approached Hintz Rivera Knight about putting together an exhibition to commemorate the coal carriers, who were mostly women.
Hintz Rivera Knight curated the exhibit with her husband David Knight Jr. as a part of their Gri Gri Project. Through the project, the duo creates multidimensional, interpretative exhibitions that often meld art, culture and history.
"These women were seen as some of the lowest people in society by the merchants, government and steamship lines, yet they were able to band together with hundreds of others, taking to the streets of Charlotte Amalie to demand fair pay," Morris said.
Morris said she was inspired to create the historical walking tour after seeing an image of a woman carrying a 100-pound load of coal on her head. She wanted to know who this woman was and who were the women like her.
She worked with Jahweh David and Dara M. Cooper to start Dollar Fo' Dollar, which is funded by the Virgin Islands Council for the Arts.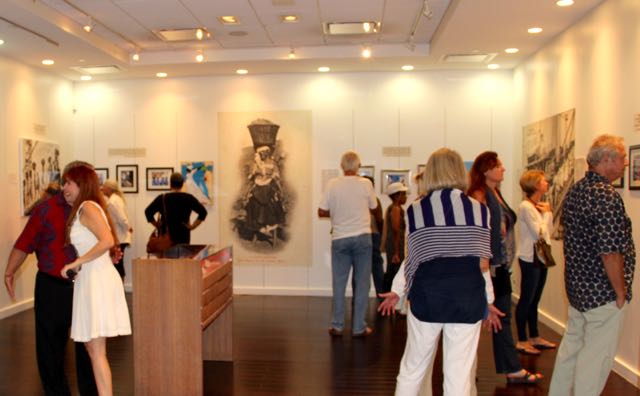 Throughout the opening evening, the Macislyn Bamboula Dance Company danced and drummed the beats of the traditional dance that has it origins in Africa. Founded by Mary Ann Christopher in 1986, the dance company's mission is to keep the unique culture and identity of the Virgin Islands alive.
"Many coal carriers were bamboula dancers and they were freedom fighters who fought for labor rights," said Allegra Christopher, the dance company's current director and daughter of its founder. She said that the coal carriers used bamboula dancing as a form of protest.
"We're helping put bamboula back where it belongs – it's the heart of our people," said Christopher. "Many of the coal carriers descendents say they wouldn't be who they are today without this history."
Painter Ensor Colon said, "The inspiration for my pieces is the injustice of the industrial era and human rights – these people were just told to fill up the ships with coal." Colon has two acrylic paintings on canvas in the show that depict female workers carrying baskets of coal on their heads.
For the exhibit, artist Janet Cook-Rutnik gathered historical photos of the coal carriers and altered them to look slightly antiqued. Her work uses archival images to explore the theme of transfer in the Virgin Islands to help connect people to the territory's colonial and post-colonial history.
"Most of these images are in postcards, so to see the assembly of visual arts, film, photos and journalism that's centered around coal workers in such a dynamic setting is really moving and powerful," Sen. Myron D. Jackson said.
Through the installation called "Signatures of the Gods," artist Jon Euwema explores the dynamics of obeah, a belief system practiced by some in the Caribbean. Obeah is characterized by magic rituals that can ward off bad luck or inflict harm.
Featuring rum, a cigar, candles and herbs, his piece is summoning of the spirit world to help restore labor rights in the context of the coal carriers.
"This is a traditional evocation to Papa Bones – an obeah spirit – that's trying to dismantle the monopoly of economies of colonial days," Euwema said. "Some of the older families on this island still have this monopolistic mentality today."
On Saturday at 5:30 p.m., the pop-up exhibition with host a Dollar Fo' Dollar panel discussion and documentary film produced by GriotLife and Dena M. Fisher.
The exhibit's full lineup of artists includes La Vaughn Belle, Aisha Zakiya Boyd, Mary Ann Christopher, Colon, Cook-Rutnik, Timisa Cree, Albert Daniel, Euwema, T'meed El, John Obafemi Jones, Mabel Maduro, Sulan Nilsen, Shansi Miller, Jessica Rosenberg, Doreen Walsh and Eunice Summer. The exhibition is funded by The Shops at Yacht Haven Grande and Guardian Insurance.
"People will get a sense of what we do and how we commemorate this event, how we bring that story to life," said Morris.
With funding support from the Virgin Islands Academic and Cultural Awards Endowment, Dollar Fo' Dollar is currently working on an oral history project to record the accounts of relatives of coal carriers. If interested in participating, call 340-473-7943.