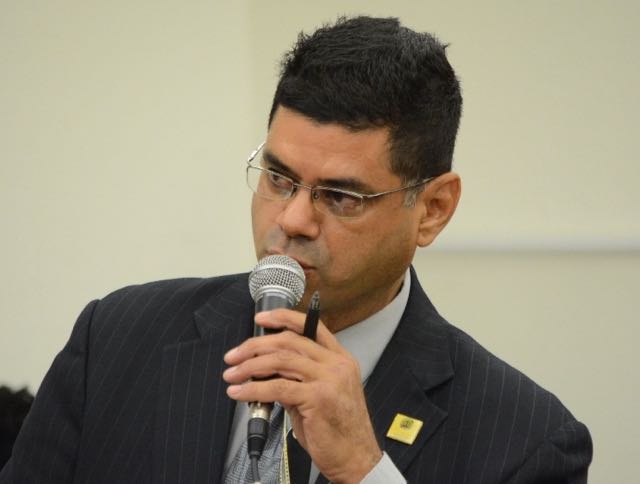 Updated: See Editor's Note below.
The V.I. Legislature voted without debate or discussion Thursday to override Gov. Kenneth Mapp's veto of legislation to redistribute the revenues collected from traffic fines to the V.I. Police Department, the courts and the Bureau of Motor Vehicles.
The measure sponsored by Sen. Sammuel Sanes automatically allocates 60 percent of traffic fines to the V.I. Police Department. Sanes and other senators argued during debate on the bill that this would give police an institutional incentive to more strictly enforce traffic laws and give it a new, stable source of revenue. Another 20 percent would go to the Bureau of Motor Vehicles and 20 percent of "fixed, non discretionary fines" would go to the courts.
Mapp vetoed the measure at the end of May, saying the revenues currently go to the Government Insurance Fund, which would lose a necessary source of revenue. There was no discussion of whether this concern did or did not have merit.
However, Sanes distributed a written explanation prior to the meeting that did address Mapp's concerns. He has submitted a draft amendment to allocate 20 percent of fines to the Government Insurance Fund and 10 percent to emergency medical services, reducing the portions to the VIPD, courts and BMV.
Legislators also overrode Mapp's veto to enact legislation reappropriating bond funding away from energy projects to spend instead on steel roofs on public basketball courts in Frederiksted's Estate Profit and in Estate Grove in the center of St. Croix.
In his veto message in March, Mapp said "constructing safer parks" is important but the funding was already obligated for energy projects.
"The funding the measure seeks to reprogram was earmarked for energy conservation initiatives. However, if the funds are reprogrammed, the Energy Office would be unable to meet its financial obligations to their energy service companies who have already performed investment grade audits at local agencies," Mapp said.
While was no public discussion during the hearing, Sanes previously gave senators a written explanation, saying he would be proposing an amendment changing the source of funding to the District Public Road Fund, which consists of fines and fees levied on vehicle users.
Senators voted 15-0 in favor of both overrides.
Editor's Note: This story has been amended to include information Sanes provided senators concerning his veto override motions that was not discussed during the hearing but was available to senators.