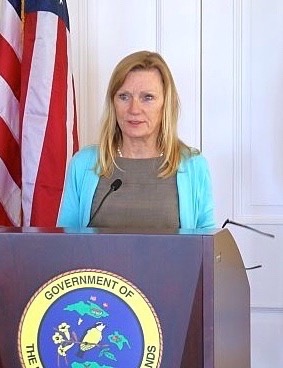 Gov. Kenneth Mapp is trying to force his former attorney general, Terri Griffiths, onto the Magens Bay Authority board, against the board's wishes, but the Senate Rules Committee voted Tuesday to hold the nomination for more review.
The senators at the Rules and Judiciary hearing all said Griffith, as an accomplished attorney with a record of work on environmental causes, was highly qualified for the position. But several raised concerns about whether there was really a seat to fill and whether a dispute with the authority over a nomination was productive or good for the Magens Bay Authority.
Griffiths was Mapp's acting attorney general at the time Mapp initially nominated her for the post in May 2015. She later left the attorney general position while facing a motion for court sanctions for trying to undo V.I. radio magnate Jonathan Cohen's plea deal in a tax case after it was signed. (See Related Links below)
Why Mapp wants to fight the board to put one member in place was a puzzle to several senators.
"It pains me that we are right now dealing with what I would term a pissing contest," Sen. Janette Millin Young said. "If in fact the board has been in existence for 70 years and this has never happened before that a governor tries to overreach into a board, it begs the question why now?"
Griffiths, for her part, said she believed the board was well-run, but that she could be useful on it and that there was a vacancy. She said Mapp had asked her to serve, not the other way around, and that she was honoring a promise to Mapp that if he nominated her she would serve.
Sen. Nereida "Nellie" Rivera-O'Reilly said she supported Griffiths' nomination and asked if she had "any agenda… anything you have been hiding?"
Griffiths said she did not.
"You haven't been asked by Mr. Randy Knight to be his hatchet man on the board?" Rivera-O'Reilly asked.
"No," Griffiths answered.
"I am asking you the questions no one wants to ask," Rivera-O'Reilly said.
Knight, a former V.I. radio station magnate, is Mapp's chief of staff and Mapp's appointee as head of the West Indian Co. Ltd. board.
Rivera-O'Reilly also asked if Griffiths had a position on a "cat cafe," a feeding site for stray cats at Magens Bay.
Griffiths said she was aware of one adjacent to, but not in, the park.
Millin Young later asked if Griffiths would ever vote to have a cat cafe "on the beach."
"No," Griffiths said.
If a seat is open at all appears to hinge on who gave whom notice that they were filling the spot first – and if it was in writing.
The Magens Bay Authority is a seven-member board that for many decades has overseen park operations at Magens Bay and more recently Smith Bay on St. Thomas. Board members are volunteers who do not receive per diem payments.
V.I. law gives the Magens Bay Authority board power to appoint its own members and to reappoint existing members for subsequent six-year terms as it wishes. But V.I. law also gives the governor the authority to appoint members, with Senate confirmation, if a seat is vacant for more than 60 days.
Sen. Kenneth Gittens, the committee chairman, said at the hearing's outset that member Aubrey Nelthropp's term had officially expired 10 months previously and "apparently the board failed to appoint anyone in writing."
Mapp sent the Legislature a letter nominating Griffiths to the seat on May 12, 2015 – almost a year ago, Gittens said. "Maybe 10 days later the board reappointed a member whose term had expired and that member continued serving. And as a result the authority continued its day to day operations … however, now we have an issue where the board reappointed an individual after the governor has named someone and appointed them to the board," Gittens said.
He read a letter from Magens Bay Authority acting Chairman Robert Moron, saying the board acted properly in reappointing Nelthropp, as a normal part of business. And he said it was the board that had not received written notice.
While Mapp may have written the Legislature about a nomination, the Magens Bay Authority "until March 23, 2016, had not received any official correspondence or other official communications directly or through the … governor's personal representative on the board," Moron wrote.
Senators asked Legislative legal counsel Sharlene Rogers about the legality of Nelthropp continuing to serve and whether Mapp was within his rights to nominate Griffiths.
Rogers said it was her legal opinion that the board's attempt to reappoint Nelthropp was void "because the governor has acted already. Although the Legislature had not confirmed the nominee, the governor has acted."
Rogers also said that some boards have provisions in law allowing members to serve once their terms expire until a new member is replaced, but the Magens Bay Authority does not. A member could not continue to serve on that board automatically, once his or her term expired, she said.
Several senators said many boards also lacked a specific provision like that and that might call into question whether some of them could make quorums and continue to act. Gittens said he was working on legislation to comprehensively address the issue and to consolidate and reduce the number of V.I. boards and commissions.
Gittens, Millin Young and other senators pressed Griffiths on why her nomination documents and statement were just recently given to the Senate when she was nominated a year ago.
"The delay in the documents … will hamper the movement of your nomination," Gittens said.
Griffiths said she initially held off when the Magens Bay Authority reappointed Nelthropp, waiting for that situation to be resolved. More recently, she has been off-island due to family matters and only just returned, she said.
Millin Young moved to hold the nomination until Gittens calls it again. Voting to hold the nomination for now were: Millin Young, Gittens, Sens. Jean Forde, Novelle Francis Justin Harrigan and Neville James. Rivera-O'Reilly voted no.
Afterward Gittens thanked Griffiths and said the committee will continue to work with legal counsel to work out their questions and, when it is resolved, she will not have to testify again before the committee votes.