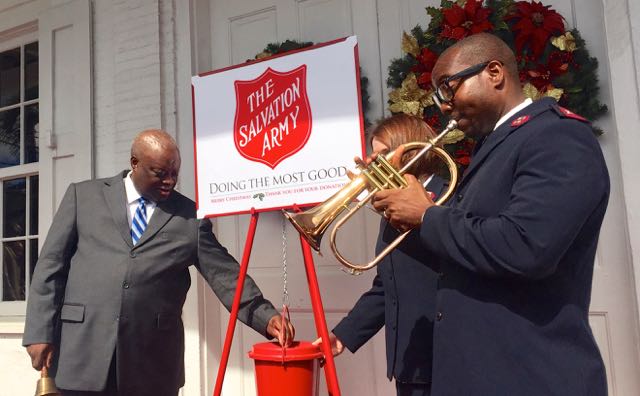 To promote the Christmas season as a time of giving, Gov. Kenneth Mapp commenced the Salvation Army's annual Red Kettle Fundraising Campaign with a short speech Tuesday morning on the steps of Government House on St. Thomas.
Standing alongside Captains Kevin and Christa Bryan, regional coordinators for the Salvation Army, Mapp, who served as this year's honorary chairman for the kickoff event, discussed the importance of being charitable during the holiday season.
"It's a season for giving – a season for those who are blessed to give so those who are not can receive," Mapp said. "Give to a worthy cause, give and give plenty."
Cherie Munchez, director of communications for the Office of the Governor, said that Mapp cares about making sure the less fortunate are provided for through the nonprofit sector.
"The governor has chosen to support nonprofits in the Virgin Islands and his platform encourages the private sector to support the nonprofit sector," Munchez said.
Donations made to the kettles during the holiday season allow the Salvation Army to help those in need throughout the year. With the bulk of funding going to its soup kitchen, the organization provides over 45,00 meals to the less fortunate each year.
Kevin Bryan, who played his trumpet during the brief ceremony, said the Red Kettle Campaign has been in the Virgin Islands for more than 40 years, while the Salvation Army has been in the territory for nearly 100 years – since the territory became part of the United States in 1917.
"The kettle drive is the main fundraising event of the Salvation Army and aids us in the provision of all our services to the community throughout the year," Bryan explained, adding that it's what keeps the doors of the organization open.
The red kettles can be found at Kmart, Cost U Less and Walgreens on St. Thomas and St. Croix and additionally on St. Thomas at Price Smart and the Alvardo de Lugo U.S. Post Office in Charlotte Amalie.
On Friday, the charitable organization Dinner and a Cause, St. Thomas is holding a all-woman dining event at in the ballroom at Government House to raise funds for the Salvation Army. For more information, contact Pamela Larsen at pamela@dinnerandacause.org.