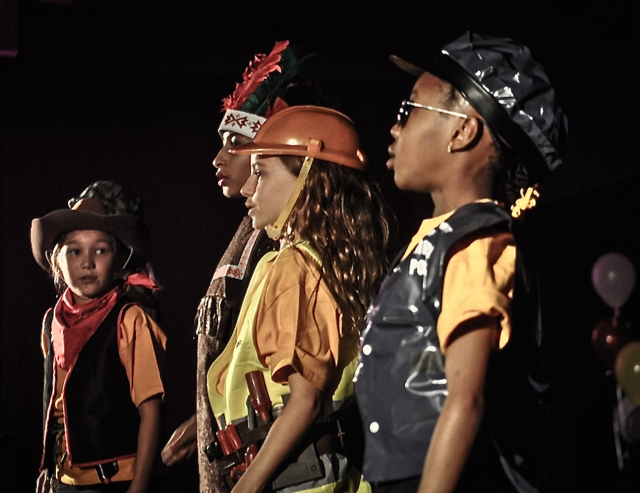 St. John's fourth graders took audiences on a musical journey through the last eight decades of American popular music Friday and Saturday, thanks to the St. John School of the Arts and the popular "Broadway Comes to St. John" program.
As the lights in the Westin Resort's ballroom dimmed for Saturday's fundraiser performance and dinner, a projected video set the narrative of the show in motion: A St. John student has stumbled upon a backpack that gives her the ability to travel through time. Acting out the role of that time-traveling fourth grader was St. John Christian Academy's Delisha Hill.
What followed was a series of 13 song, dance and lip-synching renditions of pop hits through the ages, beginning with 1941's war-era song "Boogie Woogie Bugle Boy," originally performed by the Andrews Sisters and revived this weekend by Julius E. Sprauve School students.
JESS students also did tightly choreographed dance routines to Michael Jackson's "Thriller" and Beyoncé's "Single Ladies." Christian Academy and homeschooled fourth graders made an appearance as The Village People performing "YMCA."
Gifft Hill School students boogied to early rock and roll hit "Rock Around the Clock" and performed a skit to Madonna's "Material Girl."
Students learned their moves at the St. John School of the Arts under the tutelage of four visiting Broadway actors, directors, producers and choreographers who traveled to the V.I. at their own expense for the seventh annual "Broadway Comes to St. John" program.
Riley Costello, Donna Drake, Rhonda Miller and John Tartaglia, who have had credits in Broadway shows including "Bye Bye Birdie," "A Chorus Line," "Nothing Like a Dame," and "Beauty and the Beast" helped students put together a production that would wow family and friends.
Students participating from JESS were Yoanna Calderon, Ke'Andra Hall, Phari Hubert, Samantha Jean-Jacques, K'Jahni Lewis, Nia Lewis, Joel Paul, Angel Perez, Keysha Perez, Elana Roberts, Yariel Robles, Ailin Santana, Cardea Thomas, Kahmari Thomas, and Keishliany Vazquez. From GHS were Sebastian Cortello, Mera Foster, Cody Hall, Elise Isenbeck, Nicholas Johnson, Onyx Reid, Justin Richards, Jacob Stevensen, and Dayen Smith-Webster. From Christian Academy were Hill and Dana Callwood. Participating homeschoolers were Shaiah David, Chione Love, Skylar Pruss and Tatiana Pruss.
SJSA Executive Director Kim Wild called the Broadway Comes to St. John program a "rite of passage" for fourth graders on the island.
"Seven years. And guess what? [The theatre professionals] have said that they will always come and do Broadway on St. John," Wild said. "Which means that all these children in waiting will have this experience, all these children who haven't even been born yet will have this experience."
At Saturday's fundraiser performance, the SJSA also gave out its Sis Frank Hero Award to Gifft Hill School for its support of arts curriculum and after-school programs.
"Every child knows from the minute they can talk and the minute they can move that they are an artist," said GHS Head of School Laurie Bottiger. "The arts are what bring humanity together."
SJSA also gave out a scholarship, as it does each year at its Broadway Comes to St. John show, to a student who excelled in the program. This year the scholarship went to JESS's Keishliany Vazquez.
"She showed great heart and professionalism, and I think she likes to dance," said Wild.
After the performance, Wild teared up as she introduced SJSA alumna Savannah Lyons Anthony, who gave a brief, heartfelt speech about the importance of supporting arts-related programs for St. John's young people.
"What I saw tonight was a diverse set of people working towards something, to make something. And I thought 'this is community, this is an example of that,'" said Anthony, who recently graduated from Bard College with a double major in dance and literature.
"As I witness St. John change before my eyes, it's really comforting to recognize that school on the hill, and comforting to witness the dedication to arts education for the students and children of St. John," she added.
SJSA, which was officially founded in 1981 but traces its roots to a decade earlier, is a non-profit that relies on private and business donations as well as volunteer support. It is also partially funded by the Virgin Islands Council of the Arts and the National Endowment for the Arts, which the administration of Donald Trump reportedly is considering eliminating.