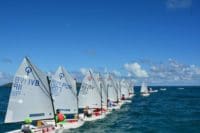 Junior sailors from St. Croix, St. Thomas, St. John, the British Virgin Islands and Puerto Rico will vie for honors at the 2017 Cruzan Open Regatta, Feb. 18 and Feb. 19.
Regatta committee member Morgan Dale expects 50-60 racers, ages eight to 18. Each skipper will have his or her own boat. While beginning Optimist sailors (the Green Fleet) will race in Teague Bay, advanced Optimists and 29ers will compete in the Buck Island Channel if conditions permit. Dale reports forecasts of winds at 10-15 knots.
Hosted by the St. Croix Yacht Club, the Cruzan Open serves as a team qualifier for the 2017 Optimist North American Championships in Toronto, June 25 through July 2. A one-design regatta, it marks the second of three events used to determine the ISV (Virgin Islands) team for the 2017 Optimist World Championships in Thailand, July 11-21.
The Orange Bowl International Youth Regatta in Miami and the VIODA Championships on St. Thomas help narrow down ISV team contenders, too. The Cruzan Open also kicks off the Opti Triple Crown Trophies Competition for the U.S. Virgin Islands and British Virgin islands.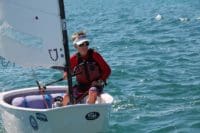 Thanks to lead racing coach Santiago Galan (Tino), St. Croix boasts a community of accomplished young sailors, three of whom competed in the 2016 World Championships in Paraguay. Unlike Optimist instructors in cooler locations around the world, Tino coaches year-round. And the kids benefit.
"From a parent's standpoint, it's dramatic!" said Dale. "Kids learn to focus critically on their skill set; they take responsibility for their gear and make independent decisions on the water. They build self-esteem and self-confidence."
For additional Cruzan Open info and registration: http://www.regattanetwork.com/event/13832.