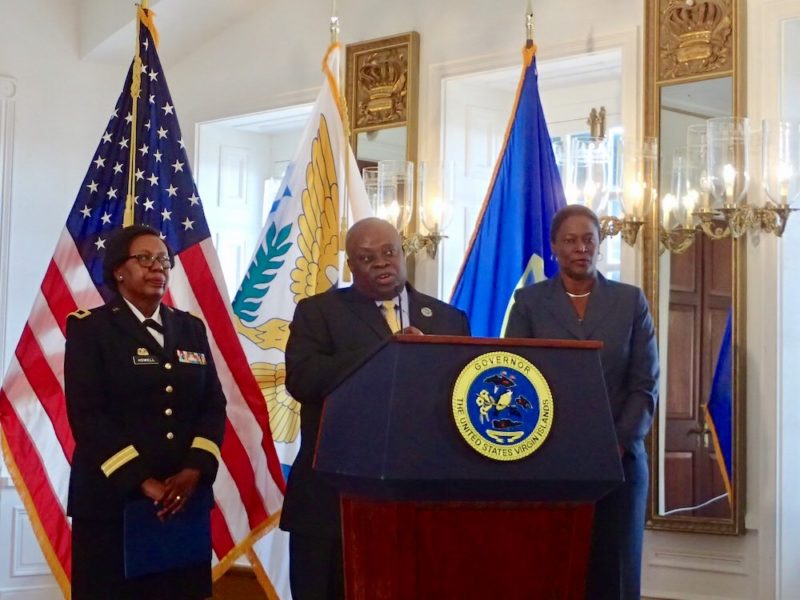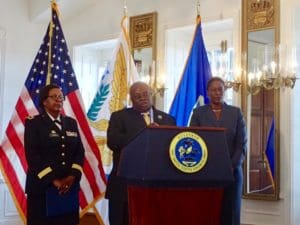 On Monday, government officials joined Gov. Kenneth Mapp to talk about the territory's upcoming participation in Vigilant Guard 2017 exercises from May 15 to May 19, sponsored by FEMA and the U.S. Northern Command.
The exercises will focus around a virtual 7.5 magnitude earthquake and a subsequent tsunami impacting St. Thomas and St. John and causing moderate damage on St. Croix.
Immediate response, search and rescue operations, medical, sanitation and evacuation abilities will be tested and fine-tuned. The V.I Police Department, Fire Service, Health and Human Services Departments, the Waste Management Authority, VITEMA, the V.I. National Guard and the hospitals will be put through their paces. Personnel will learn to streamline communications between local and federal agencies and respond to everything from illegal drugs to hazardous materials.
Emergency centers will be set up on St. Croix and on St. Thomas, and information will be passed out to motorists on St. Thomas.
Mapp said Vigilant Guard will allow the V.I. government to identify strengths and weaknesses in coordinating emergency response.
He was joined at a Monday press conference by Adj. Gen. Deborah Howell, Commander of the V.I. National Guard, and Mona Barnes, director of the V.I. Territorial Emergency Management Agency.
Barnes said the public should be aware of a VITEMA siren territory-wide at 8 a.m. May 15 announcing the virtual earthquake and tsunami and commencement of the exercises. With half a dozen sirens located on St. Thomas and St. Croix and several on St. John and Water Islands, the entire population should be alerted. Sirens will be used throughout the exercise by emergency vehicles as well, she added, and the public should not be alarmed.
"We're working to minimize disruption to public activity," Barnes said.
Howell said VING has been preparing for the exercises for two years and has a dozen objectives to evaluate their emergency response plan.
"At the end, we will be better than when we started," through hands on learning, Howell said.
Every year, four locations host the exercises, and this year, the Virgin Islands joins Georgia, California and New Mexico to practice first response to natural disasters with local and federal partners.